20 Nov 2009
An Event in Totnes for Transition Oral History Buffs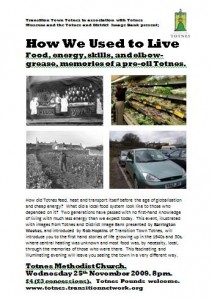 How We Used To Live – Food, energy, skills, and elbow-grease: memories of a pre-oil Totnes.
How did Totnes feed, heat and transport itself before the age of globalisation and cheap energy? What did a local food system look like to those who depended on it? Two generations have passed with no first-hand knowledge of living with much less energy than we expect today. This event, illustrated with images from Totnes and District Image Bank presented by Barrington Weekes, and introduced by Rob Hopkins of Transition Town Totnes, will introduce you to the first hand stories of life growing up in the 1940s and 50s, where central heating was unknown and most food was, by necessity, local, through the memories of those who were there. This fascinating and illuminating evening will leave you seeing the town in a very different way.
Wednesday 25th November. Totnes Methodist Church. 8pm. £4 (£3 concessions). Totnes Pounds welcome.