2 Dec 2009
Celebrating Winning the 2009 Green Community Hero Award!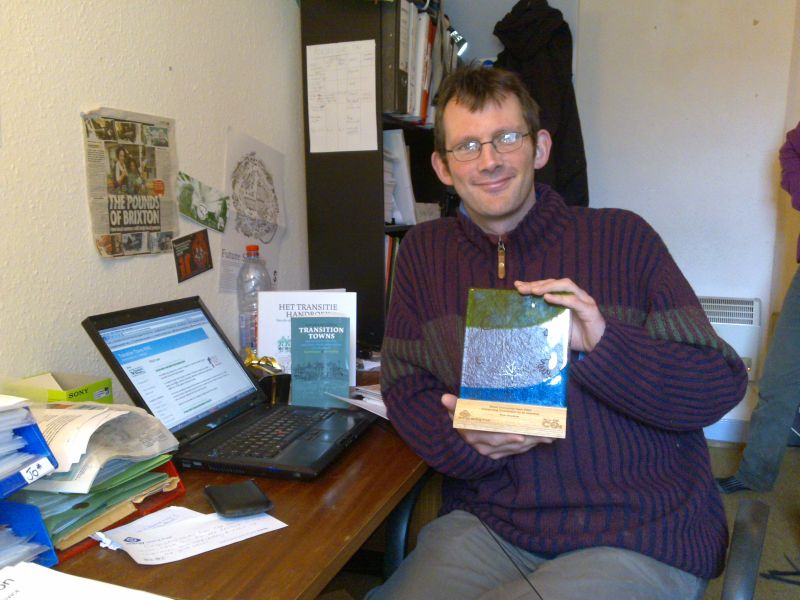 Just heard the other day that I won the 2009 Energy Saving Trust/Guardian 'Green Community Hero' award, for which I am hugely grateful.  There is a big spread about it in today's Guardian, and the award itself arrived in the post on Monday, a very nice piece of handmade glass. A big thanks to everyone who nominated and voted for me.  Once again I must say that this is actually an award for everyone out there doing Transition in communities around the world.  Although these kind of things have my name written on them, they are really an acknowledgement of the incredible work the wider movement is doing.  Well done all!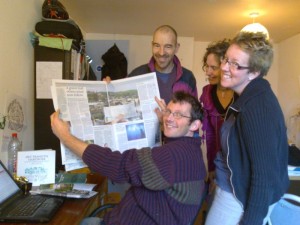 Here is a picture of some of the Transition Network crew, clearly high on the very posh chocolates that Rudy Dhont from Transition in Flanders recently brought us as a visiting-Totnes-present, celebrating the award.  Shortly after this photo was taken we did a lap of honour around Totnes, the award clasped above our heads, in the pouring rain.  Apart from me, from left to right it is Ben Brangwyn, Steph Bradley and Jo Coish.  Thanks also go to Peter North of Transition South Liverpool and author of the forthcoming 'Local Money', who kindly attended the award ceremony last week and recieved the award on behalf of myself (I was on the train back from Austria).