8 Dec 2009
Available Now! The 2 Disc Special Edition of 'In Transition 1.0'!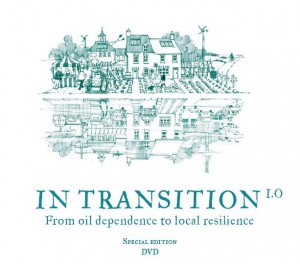 You saw the online test screening, you've seen it shown at a Transition initiative near you, you may even be in it, but now it is properly released….  'In Transition' is the first detailed film about the Transition movement filmed by those that know it best, those who are making it happen on the ground. The Transition movement is about communities around the world responding to peak oil and climate change with creativity, imagination and humour, setting about rebuilding their local economies and communities. It is positive, solutions focused, viral and fun.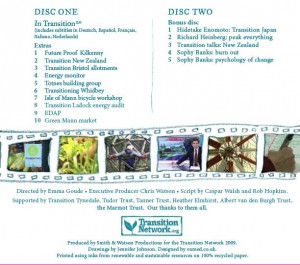 'In Transition' has been show in communities around the world to enthusiastic audiences, and is now available as a special edition 2 disc DVD set, beautifully packaged in entirely compostable packaging, featuring the film itself (with subtitles in Deutsch, Español, Français, Italiano,and Nederlands) and an embarrassment of outtakes and extras, with interviews, films about Transition you've been searching high and low for quality copies of, and other gems. It is a must-have for anyone with an interest in this new take on responding to the challenges of the 21st century.
Here are those extras in full….
DISC ONE
In Transition 1.0
(includes subtitles in Deutsch, Español, Français, Italiano, Nederlands)
Extras
Future Proof Kilkenny
Transition New Zealand
Transition Bristol allotments
Energy monitor
Totnes building group
Transitioning Whidbey
Isle of Mann bicycle workshop
Transition Ladock energy audit
Edap
Green Mann market
DISC TWO
Bonus disc
Hidetake Enomoto: Transition Japan
Richard Heinberg: peak everything
Transition talks: New Zealand
Sophy Banks: burn out
Sophy Banks: psychology of change
You can order copies and find out more here, including the great discounts that Transition initiatives can get for bulk buys.  We think you are going to love this, it truly is an object of great beauty.  As well as the DVD itself, the film will, from tomorrow, be available on YouTube in its entirety, as the Radiohead-style 'pay-what-you-think-its-worth-to-download-it' thing we wanted to do turned out to be unfeasible.  Of course it would be crassly commercial of me to suggest that this might make a wonderful Christmas present, so I won't stoop so low…..