7 Dec 2009
To Fly or Not to Fly? Transition Network debates…. what do you think?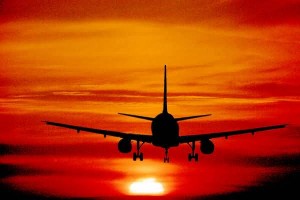 Regular readers will know that I don't fly, and that if I can't get somewhere by train, we use other means of communicating.  But should the same apply to everyone who works for Transition Network?  Should the organisation make a commitment that anyone who represents it similarly seeks alternative ways to get around?  This is a very live discussion within the organisation.  In order to move it forward, Naresh Giangrande and myself had an email exchange on the subject (see below), and now we'd love to hear your thoughts.  Should an organisation committed to modelling Transition also exemplify sustainable transport?  As the Copenhagen talks kick off, with many thousands of climate activists flying there, this is a very pertinent question.  Have a read of the debate so far, and then have your say too….
Hi Rob;
This is really a difficult one, as we both are fully aware of the necessity to reduce our carbon footprint and that flying has enabled a whole new level of energy and carbon over use. I don't fly for pleasure or holidays; the only exceptions I make are what George Monbiot calls 'love miles' However as far as Transition Network goes should we ban flying? I will lay out the pros and cons as I see them….
Allow flying:
* We can do things that would not be possible without it.
o A good example was our world tour. We couldn't have done that in a sensible time frame by any other transport option. And our strategy worked! We enabled more training to happen faster and we have stopped the steady stream of people from abroad who came to the UK to do our training.
* It makes us more effective, we can do things in less time.
* It enables face to face meetings which maybe have unquantifiable benefits over and above video conferencing or other forms of communication.
* It forces us to live in the world as it is facing the myriad, often bad, choices that everyone has in everything we do. This in turn gives us an opportunity to face ourselves and the choices we make (while we still have choice) and live with the moral consequences thereof.
* Allow the field to self organise. The banning route would lead to hierarchical control a bad precedent and in a almost paradoxical way leave us open to not walking our talk.
* High carbon
* Leaves us open to we are not walking our talk finger pointing.
Ban flying:
* Lowers our carbon footprint
* We walk our talk, leading by example.
* It stimulates us, and those we work with, to be more creative and or cutting edge in our use of technology such as webinars or video conferencing.
* Take choice out of our hands a big brother approach – David Holmgren calls this the brown tech path.
* Hinders our efforts in ability to have face to face meetings and makes us less effective in the ways listed above in allow flying.
Where this leaves me is that to be a truly alive organisation we need to be living Transition, and that means we- all of us- having to face making the sorts of (often) least bad choices in living everyday life. I would hope we all have the awareness and understanding that this is what 'living Transition' means; at least while we still have choice. When we no longer have a choice then Transition turns into something else.
I personally think that there are times you should go somewhere and speak even if it means flying, as you can be very inspirational (as it is having a deeply held belief- as you do- that you don't fly) but that's only my opinion and any case I can see the pros and cons. As Joanna Macy says, "That's how it goes in the Great Turning!"
Naresh
*******************************************
Dear Naresh,
Thanks for your thoughtful opening to this discussion. Your arguments, many of which I agree with, seem to me to boil down to arguing that of course we ought not fly, but for Transition Network to say that no-one who represents it should ever fly is a draconian removal of free choice, and that there are times when it is the most effective thing to do. I would seek to disagree with that (this wouldn't be much of a debate if I didn't!), and here's why.
I haven't flown since I formally decided to give it up 3 years, 1 month and 20 days ago, having resolved, mid-'An Inconvenient Truth', that I just couldn't do it anymore. I don't rule it out for life and death situations, but in all other circumstances, that's it. At least twice a week I get requests to travel to different parts of the world to teach, give talks, meet Transition groups. Any that would necessitate plane travel are politely told that I don't fly, but we would be delighted to set up some sort of video link, or to use the technology we have now. Of course, as you say, it's not quite the same quality of experience as my being there in person, but it does, for me, have the strong advantage of being low carbon, replicable, far less time consuming than flying (given that travelling by train taking longer is a reason you give for flying), and it sends a powerful message as well as setting an example.
I clearly don't try in any sense to fool myself that my giving up flying is going to reverse climate change. I don't think as I cycle to work or as I stand on Cologne train station that by doing so somehow some miraculous process is taking place, ice sheets magically refreezing and glaciers expanding. For me, the question about not flying is not so much one of thinking that by giving up flying I am having a big impact on the world. Rather it is underpinned by Vandana Shiva's thought that "these systems exist because we give them our support, and if we withdraw that support they can no longer function". My not flying makes little difference, but Ryan Air no longer existing would make some difference. It's the bit I can do. Withdrawal of support is a powerful tool the impact of which we often underestimate.
Recently I was a finalist in the CurryStone Design prize (see below), and they initially wanted me to go to Kentucky for the award ceremony. When I said I didn't fly, they went off and thought about it, and came back saying that all the finalists would now be presenting by videolink. That meant 3 peoples worth of CO2 saved, enough for 3 people living within their carbon allowance for a year as well as, I got the impression, quite a strong learning experience for the organisation (plus we didn't actually win!).
I am writing this on my way home from a meeting of European Ashoka Fellows in Austria, I travelled there and back by train, the only person who did. Everyone attending had been told in advance about this mad bloke who was travelling there by train from England, and it was the subject of a lot of conversation, with lots of people really admiring the stance.
The key point here, it seems to me, is that what Transition is about, at its core, is preparing, positively and imaginatively, as well as with a considerable sense of urgency, for a world beyond fossil fuel dependency. Therefore, it feels to me that we need to be modelling, as best we can, that organisational infrastructure now. As Heinberg puts it, the sooner we start living as though we were free from oil dependency, the easier the Transition will be. That, for me, is why not flying sets an important example. Of course, as you say, our daily lives are full of choices, and is often a process of seeking the 'least bad' option, but flying is a real biggie, and I think that is a key point here.
We can compromise on not buying local food, take the odd unnecessary car journey, leave lights on, have baths, but one return flight to the US wipes out all the good we may have done elsewhere in our lives, emitting carbon equivalent to 2 year's carbon allowance in terms of what we should be emitting. This idea of striving to live as though we were already there feels like an important one to me, and that we get ahead of the curve in terms of thinking and modelling how an organisation might work which has an international reach but in which no-one flies. I don't know of another organisation that does that, but it feels like a vitally important thing to model. Surely your argument that everyone ought to be able to do what feels like the right thing to them, and that we ought not intervene, is a bit like corporations arguing at Copenhagen for voluntary cuts in emissions?
Of course, were we to decide collectively that no-one representing the Network should ever fly, we would need to wear that with pride. If a tree falls in a forest and nobody sees it, it may just as well have not bothered. In the same way, if I spent hours on trains to Austria and back and don't tell people about it, it has a fraction of the impact. I heard from several people who saw the talk I did by DVD at the IGF conference in Washington who told me afterwards that they had given up flying as a result. If the Network decides collectively to have a no flying policy, it should be writ bold and large that so concerned are we about climate change, and so determined to start modelling post-oil practices today, that we have collectively decided not to fly, and how it has improved our quality of life as an organisation. We would be like the organisational equivalent of The Man at Seat 61, our experience of how to function effectively without flying would be a first, and would be very inspiring.
I find myself increasingly disillusioned by the army of climate experts and sustainability advisers who are continually flying from conference to conference. Surely Transition Network should be modelling a different approach, if for no other reason than because nobody else is? I feel we need to set an example. Saying "we think in principle that flying isn't great, but everyone should be able to decide on a case by case basis" is reminiscent of lots of corporate green wish lists, voluntary green commitments, 'carbon friendly' type greenwash. It can be used to cover a multitude of sins, and it hardly represents the best practice that Transition Network aspires to. Surely we can do better than that? You argue that such an approach 'forces us to live in the world as it is', but to me that feels like a cop-out. We all live in the world as it is on a daily basis, but that ought not be an excuse for not leading by example and walking our talk.
What I am suggesting isn't a ban, rather it is that those who currently represent Transition Network, whether the core organisation, the Training and/or Consulting arm, or whatever, decide collectively that we need to lead by example. You wrote that "I would hope we all have the awareness and understanding that this is what 'living Transition' means; at least while we still have choice. When we no longer have a choice then Transition turns into something else". I disagree. It is the setting of an inspiring example now while we still do have a choice that is where the leading by example, the breaking new and innovative ground happens. We have a position of considerable thought leadership at this stage, and, I feel, a duty to be bold and deliberate. That is, after all, why Transition has generated the respect it has so far. Of course your Training Tour was great, and set up a great infrastructure, but had we decided to try and do such things without flying, might we have been able to apply some innovative creative design and resilience thinking to the question, and come up with something actually more innovative, replicable and appropriate than the flying around the world model.
If we take this decision, it needs to be writ large, and we need to discuss how else we got places. It needs to be a central aspect of Transition Network, one we are all capable to wear with pride. Having already dipped my toes in the life-after-flying pool, I can confidently say "come on in, the water's lovely!"
Rob
***************************************
After this exchange, Naresh got in touch to say that he pretty much agreed with the points I had made, and that it would be good to throw it open for wider debate.  So, what do you think?  Would a decision to no longer fly make Transition Network naive, ineffectual, less effective, more isolated, or alternatively, more effective, more inspirational and enable it to do some powerful walking of its talk?