25 Feb 2010
Frank Field Tells It How It Is: "This Mega Debt Crisis Which Threatens Our Very Existence"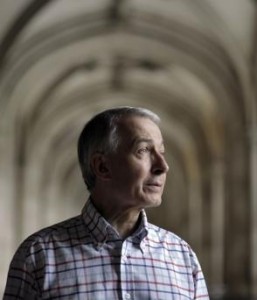 Amazing times. Last week's headline of one of the papers I saw at the station was that the UK's national debt is now worse than that of Greece. On Tuesday I spent the morning with Chris 'Crash Course' Martenson, whose view is that last year's 'banking crisis' was just the first of many, which will get steadily worse. The interview I did with him will be posted next week. Then yesterday morning, in the middle of a piece on Radio 4's Today Programme about immigrant workers and why so few unemployed people here want any of those jobs in spite of rising unemployment, enter Frank Field, Labour MP, who delivered a verdict on the state of Britain's economic health so withering that it made Martenson's predictions look positively rosy. Rarely do I hear politicians on the radio and feel the need to transcribe every word, but here it is. After my meeting with him, Martenson went to give a talk for the All Party Parliamentary Working Group on Peak Oil and Gas at the Commons… I wonder if Frank Field happened to wander in on Chris's session?
(You can hear the piece on the BBC's Listen Again for the next few days here. It raises fascinating questions about The Great Reskilling, and the scale on which it needs to happen.  I found his rant very thought-provoking… Field is second guest in a conversation that has looked at a BBC programme where unemployed UK residents were invited to do jobs usually done by migrant workers, and lots of them didn't turn up for work, and those that did struggled to do the work).
"Largely your conversation up until now has been backward looking. It assumes that we aren't in this mega-debt crisis which threatens our very existence, that we can somehow have policy options that we might have discussed 10 years ago. I think we need to look at this at different levels.  On the one level, we have schools who are producing people who are unemployable. In my own constituency, something like half the young people can't get minimum school-leaving requirements. We are educating them for a life of unemployment. Secondly, we have tried to rectify that by the New Deal, and many of the young people, some clearly want to work, but others, who have no intention of working, know how to run that system.
Late in the day, but thankfully late in the day, the Government is actually doing a Job Guarantee Scheme, where people who are desperate for work will jump at that opportunity, and it will test others that maybe they have to adjust their expectation of the labour market. Some young people I speak to In Birkenhead (his constituency) quite openly say they have no intention of working unless a job offers up something like three times their benefit level, and I am talking about people who can barely read or write after 13 years of state investment in their education.

(At this point the interviewer points out that Field is delivering a withering critique of his own party's 10 years in office, and how it has failed in education. Field retorts that this is not a party political issue, it is too serious for that….).
The big issue the country now faces, we're in the period of maximum danger for our economy, our lifestyle in this country. The Government has been forcing banks to buy Government debt, and has been printing money to buy Government debt. We are now in a period where the 'funny money' has run out, although the Bank of England Governor yesterday said maybe he would start printing money again.
We do not know whether the rest of the world will lend us the money to maintain our debt levels, and therefore hopefully readjust to a lower standard of living, which is what this crisis actually means. In that situation, though we keep cheering and saying we should force these policies on Greece, nobody in this country is talking about those similar adjustments, about how do we cut our public expenditure, which includes welfare, to ensure that the money markets lend us that money.
I would prefer that we did this rationally, that we said to people "you are going to have to take those jobs which up to now immigrants have taken" …. One small part of this major readjustment we have to make as a country that has a wall of debt sinking it, is that the welfare rules are changing, there will be a job guarantee, but if after 4 weeks you don't take the job guarantee there is no benefit. We have to change attitudes on that level".