15 Mar 2010
The Economic Potential of Local Building Materials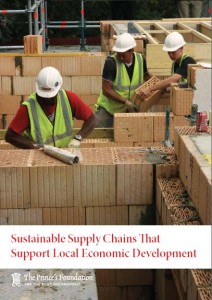 A while ago now I was in London for the launch of the Prince's Foundation for the Built Environment's 'Building a New Green Economy' conference, where I was a speaker alongside Tim Jackson, David Orr and Stewart Brand.  You can read about the event here, and films of our talks will be posted soon.  I mention it today because I want to draw your attention to the report launched at the conference, Sustainable Supply Chains that Support Local Economic Development, available to download here.  As someone who has, for many years, been fascinated by local, natural building materials, this is a fascinating piece of research, one of the first things I have seen which starts trying to calculate the financial benefits to an area of moving towards more locally-sourced building materials. 
In particular, the paper focuses on the use of locally manufactured aerated clay blocks. As well as analysing the potential of this one product, the authors reflect on the potential of scaling up the approach of using local materials more widely;
"Although this study only explored a single element of the building supply chain – structural clay blocks – these findings suggest that certain general lessons include tailoring construction techniques to local skills, designing building components which provide a range of secondary and tertiary benefits, and taking advantage of the positive impacts of simplified, generalisable approaches to complex, high-tech, specialised ones" (page 18)
The paper identifies a range of benefits that such an approach would bring:
The simplicity of the systems means "it enables a local workforce to be used … this ensures that a greater proportion of economic value is captured in the local economy"
Jobs would be created by the manufacturing of the materials
It would also result in professional skills development
a heightened sense of personal dignity and respect resulting from long-term professional employment
enhanced social well-being
improved social capital
healthier buildings
a more resilient building supply chain
reduced CO2 emissions and
increased longevity of the building stock (page 15)
While many of the natural and local building materials and techniques outlined above have advantages from a Transition perspective, what has almost never been mentioned in the natural building literature is the potential for local materials in the retrofitting of existing buildings, arguably a more pressing concern than new build homes. This theme is, however, picked up in the Prince's Foundation paper;
"beyond new build construction, a natural approach to materials sourcing means many of the products identified are equally suitable to retrofit in buildings of traditional construction" (page 19).
It also sets out to calculate the financial returns to an area through the use of these materials, the first example I have seen of such a calculation, based on some case study developments the Foundation is involved in.  It is also intended for developers and architects, and presents the argument that more sustainable building need not necessarily mean more technical building, that more of a focus on materials could still produce buildings of a very high level of energy efficiency.  This fascinating report is highly recommended and of great relevance to those exploring the relocalisation of construction.