26 Mar 2010
Embarking on a Transition Tales Quest… on foot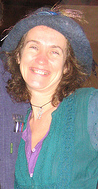 I won't be in Totnes on Monday, so I won't be able to be part of the send-off for Steph Bradley of Transition Tales, as she sets off on the Transition Tales 2010 Quest, a six month walk around England to collect stories of positive change.  Armed with a raincoat, a pair of flipflops, a notepad laptop and, hopefully, a map, she will roam the land, collecting and telling stories. Given that I'm not around, I'll wish her a safe, dry and inspiring trip here instead.  Please donate to support the walk here, you can find out more about her itinerary and whether she might be going anywhere near you here, and also Steph will be blogging from her travels, you'll be able to follow the blog here. Here is the more detailed press release about the walk. 
Steph Bradley of the Transition Towns Network sets out on an epic walk through the long summer days via: Southampton, Forest Row, across London, Cambridge, Nottingham, Yorkshire, Appleby on the Scottish Borders, Kendal, Wigan, Wolverhampton, Hay-on-Wye, Bradford on Avon, to environmental project Embercombe on the edge of Dartmoor, down through Cornwall to Lostwithiel and back home to the Market Square of the town "that is not too big and not too small…".
Like the Pied Piper of Hamlin she is inviting people along her route to join her for a long or a short stretch of the route. She will walk every step of the way, staying with hosts from the Transition Towns movement and from other networks of similar persuasion. Her hosts are asked to try to give her seasonal and locally produced food, which "does not harm any" and to find her a quiet place to write her blog, which we hope will be followed by many on the soon to be launched Transition Tales microsite of the Transition Towns Network site.
She will wherever possible be walking along the green lanes and bye-ways which used to connect our settlements, guided by local people who join the walk or using map and compass. She will thus be reconnecting the old energetic network between the places she visits and making a tremendous statement of "it is possible" – we are not as dependent on cars and other transport as we think we are.
Along her route she will be offering to work with people from each town or community to co-create their story of Transition to a better, more sustainable, resilient and hopeful future than the present crisis of climate change and diminishing oil supplies appear to offer us.
She asks to be met at the outskirts each town by a local story teller, to meet herbalists and craftspeople and all those with an interest in working towards positive change for the future, and to be given a present of some craft object to offer to the following town.
And when she finally comes home, in September, around about the time of the Autumn Equinox, she will write up all the wonderful and hopeful Transition Tales she has gathered on her way, and indeed her own inspirational journey.
So if you know anyone along her route, if you wish to join any part of her walk, to see her off from Market Square on Monday 29th March, to donate money for her journey, please do what you can to support this adventure.