31 Mar 2010
A Couple of Days in Dublin…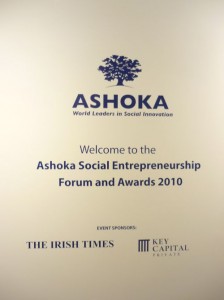 Readers of my Twitterfeed thing will have been following the trials and tribulations, as well as the highlights, of my trip to Dublin.  Invited by Ashoka Ireland for their Social Entrepreneurship Forum and Awards, it was also an opportunity to catch up with the Transition Ireland folks and to have an incredibly packed day full of meetings which, in spite of ever-present toothache, was very exciting and useful. 
So, I arrived the previous night off the ferry, somewhat queasy (it had actually been a smooth crossing but hey, I get seasick getting in the bath), and went out for supper with the Transition Ireland lot who happened to be meeting in Dublin.  Very enjoyable, and good to catch up with how things are going.  Then we headed to the Library Bar and the Central Hotel and chatted by the fire.
Next day I woke to snow!  Heavy snow was falling on the city (not settling though) which was somewhat unexpected…  My day started with a meeting with Karl Henrik Robert of the Natural Step and with some of the guys who have been working with Dublin City Council applying the Natural Step to their work.  The meeting looked at the similarities and differences between Transition and the Natural Step, and whether there might be some scope for working together on a project at some point.  Then I met with Mick Kelly of GIY (Grow It Yourself) Ireland, a fascinating initiative which is taking the country by storm, getting people growing food.  We talked about how Transition and GIY might overlap, and I offered insights from Transition in terms of how to enable GIY to become as self-organising as possible.  Mick has found himself in the position of starting an idea a year or so ago and now having 60 groups nationally, and finding himself very stretched, similar to where I was a couple of years ago with Transition, so it was good to share some of what we did to address that.
Then, with Karl Henrik and Johannes Hengstenberg, both visiting Ashoka fellows too, we did an interview and photos for a piece for the Irish Times next week, and then I dashed off to the Greenhouse, the Cultivate Centre's new home, for a 'Lunch and Learn' session called 'Greening Our Communities – introducing the Transition Model'.  There were probably around 60 people, including Trevor Sargeant TD and quite a few familiar faces from my time in Ireland.
It started with Davie Philip and myself doing an sort of live interview thing, where he asked me questions about Transition.  Then the group broke down into World Cafe groups and I moved around the tables for a short while before I had to head off again, for another meeting, picking up a copy of the 'Peak Everything' edition of Adbusters magazine from their wonderful shop as I passed through.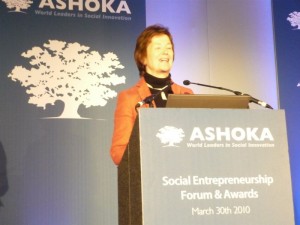 The next meeting was with the NTR Foundation, which was potentially interesting, and then it was off to the 'Ashoka Social Entrepreneurship Forum and Awards 2010' at Connaught House.  Presented by Mark Little, the first speaker was former President and UN High Commissioner for Human Rights, Mary Robinson (see right).  She spoke of her work in the developing world, and the link she makes between climate change, human rights, soical justice and women's rights.  She spoke of meeting farmers from the developing world who are on the frontline of climate change, and how any international response needs to put the notion of what she terms 'climate justice' to the fore.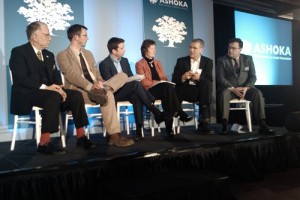 Then Karl Henrik Robert talked about the Natural Step and the work they have been doing with Dublin City Council.  TNS, he said, offers a strategic framework, a science-based perspective that can enable organisations to look at their work systematically, and to embed sustainability at its core.  Then 5 of us were invited onto the stage as a panel, myself, Johannes, Mary Robinson, Karl Henrik and Dan Boyle TD, deputising for Eamon Ryan.  Johannes and I discussed our work and our different approaches to responding to climate change, and then a wider ranging discussion, prompted by questions from the audience, led to some very interesting thoughts about the role of entrepreneurship in dealing with climate issues.
Then it was over to the awards, the inauguration of the two 2010 Ashoka Fellows.  First was Steve Collins of Valid Nutrition.  You can see a short film about his work here, it is really fantastic and vital work, and he's a lovely guy to boot.  Second was Mary Nally of the Third Age Foundation, who works with older people in Ireland, drawing them back into society through a range of projects.  Both of them are real powerhouses and an inspiration.  They discussed their work and what becoming an Ashoka Fellow means to them.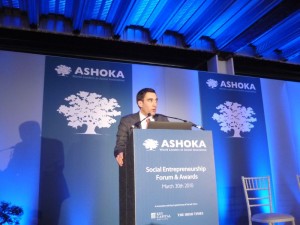 Finally, to wrap up, Paul O'Hara, Director of Ashoka Ireland (see right), rounded up and thanked the event's various supporters and sponsors.  (Here is how the Irish Times reported the event).  Then it was off for a meal to celebrate, and I found myself sat opposite Mary Robinson, although the noise levels in the restaurant were such that conversation was limited.  We did talk about her thoughts on how Transition in the west and development in the developing world sat alongside each other, and she agreed that building resilience and increased localisation in the West needed to be accompanied by the same thing in the global South.
The next morning, i.e. today, I was meant to catch the 8.45 ferry, but it was cancelled due to high winds.  Therefore I now have to wait until the next one, which isn't until 9.30pm this evening, meaning I arrive in Holyhead at 12.30am, and need to sleep there before heading on home.  So, an unexpected day in Dublin, and a chance to catch up on a few things.  A worthwhile trip, and some fascinating meetings.