27 May 2010
Book Review: 'The Ministry of Food' by Jane Fearnley-Whittingstall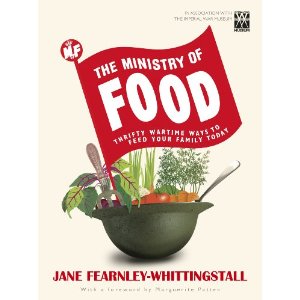 The Ministry of Food: thrifty wartime ways to feed your family today.  Jane Fearnley Whittingstall.  (2010) Hodder & Stoughton and the Imperial War Museum.
I hadn't heard of this until a couple of weeks ago, when a group of folks visiting from the US dropped by, en route from London, where they had visited an exhibition at the Imperial War Museum called 'The Ministry of Food' (which runs until January 3rd 2011), gave me their copy of this book.  Having read this book, I will definitely make a point of going to see the exhibition next time I am in London.  The book is the exhibition catalogue, but it is also a superb stand-alone publication, offering many useful insights on how the British people managed during the war, how the Ministry of Food successfully promoted the Dig for Victory/Kitchen Front campaigns which kept the country from starvation, and, ironically, led to the healthiest population in the country's recent history.
Fearnley-Whittingstall was granted unprecedented access to the Imperial War Museum while preparing this book, and it is packed with posters, booklets and other memorabilia from the time.  Prior to World War Two, the UK was at its lowest level of food self-sufficiency at any point during the 20th century, and it had to try and rebuild food self reliance in a very short period of time.  It needed to get people growing food on any spare patch of ground, it needed to revolutionise output from the nation's farms, and it needed to ensure that people were still able to cook healthy meals in spite of rationing and the unavailability of some key foods.  One of the keys to this was the Ministry of Food, and the book offers numerous insights into what it looks like when government creatively attempts to promote thrift, and what a Great Reskilling might look like in practice.
The author is also careful not just to write a historical piece, but to also draw lessons out for today.  That same ethic, she argues, of not wasting food, eating seasonally, and growing some of your own food, is just as relevant today.  She writes "today, instead of fighting Hitler, we are combatting economic recession.  But unlike our forebears, we are fighting on several fronts – against waste, junk food and the depletion of fossil fuels.  In hard times the battle for survival can be exhilarating, and it does bring rewards: the satisfaction that comes from self-sufficiency; pride in seeing children grow up strong and healthy; and the friendships that develop through co-operation with neighbours".
The book is divided into three section.  Section 1, 'Dig for Victory' focuses on the revolution in food production that took place, both on the nation's farms, and in the backgardens and allotments. Between 1939 and 1945, food imports to the UK were halved and there was an 80% increase in the amount of land in cultivation.  As well as writing an informed and fascinating history of the times, illustrated with quotes from diaries of the time, she also includes recipes and some great gardening guides.  For people with no gardening experience, the booklets clearly explained how to dig, how to set out an allotment and so on.  There are also some of the wonderful posters created by the Ministry of Food, and the rather odd one I am still trying to figure out which says "The Radio Doctor says 'an ounce of cabbage is worth an inch of lipstick'"!
Although some advertising at the time was pretty rudimentary, with none of the pyschological tricks we are so accustomed to in advertising today (there is a Marmite advert which simply says "Marmite definitely does you good and you'll enjoy it too"…), it was very powerful.  There is a story about how in 1942, the Ministry introduced 'the National Loaf', similar to today's wholemeal bread, because scarcity of wheat and the push for national self-sufficiency in wheat, meant that every part had to be used, and the National Loaf was more nutritious and less wasteful than the white bread most peopel favoured.  Some saw the National Loaf as the source of every ailment, calling it "this nasty, dirty, dark, coarse, indigestible bread".  The Minister of Food, Lord Woolton, started a rumour that it was an aphrodisiac, which seemed to help with its acceptance, and by the end of the War, 20% more bread was being eaten than in 1939. Just imagine the banning of white bread and other similar processed foods today, and the resultant health benefits (and the potential political suicide of the government that introduced it!)
The second section of the book is called 'The Kitchen Front' and looks at how people made their food rations go as far as possible, what shopping was like at the time, and how people coped with celebrations (birthday cakes, Christmas and so on).  This section, again, offers a fascinating history of the times, and an insight into a culture with a different attitude towards food.  Looking back from a culture today that wastes 30% of our food, Lord Woolton's approach to overcoming wastefulness in the population is fascinating, stating "above all – whether you are shopping, cooking or eating – remember "Food is a Munition of War". Don't waste it".  That culture of not wasting any food at all lasted into the early 1960s, and many people I talk to who grew up during the War still hold it strongly. The culture we inhabit today is as far from that as possible, but as Fearnley-Whittingstall notes, with the resurgence in interest in food growing, allotments and so on, perhaps we are starting to see its return.
The final section 'Turning Over a New Leaf', focuses on the practical gardening advice given to people at the time, and offers a month-by-month guide to food growing. It is an excellent and clear guide, offering useful insights into how gardening can be communicated in such a way that people could pick it up quite quickly.  Not one for the no dig gardening fraternity, but again, fascinating insights into how such things can be communicated (although how many of you reading this can honestly say that after every time you work in the garden you clean your tools afterwards?).
The exhibition behind this book is also accompanied by an excellent blog, with some of the information films from the time, and other useful stuff too.  As someone who is fascinating by the period 1939-1945 as the most recent example we have of a national government-led, intentional 'Powerdown', (something discussed in 'The Transition Handbook'), this book is one of the best histories of the time, but it also draws out lessons and comparisons to today.  In full colour, packed with images from the time, this is much more than just a cookbook of wartime recipes, it is a historic case study showing how thrift, adaptability and self-reliance are key aspects of resilience, and that frugality had many benefits.  Above all, it shows what it looks like when government promotes those values, rather than the ones that dominated from the 1960s onwards, of consumerism at all costs.  'The Ministry of Food' is a superb book, rich in insights and learning, yet also one only too aware of its relevance to today.  I can't recommend it highly enough.