13 Jul 2010
The Unleashing of Transition Town Tooting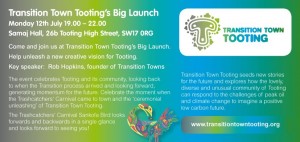 Every community that organises an Unleashing produces a very different event, a unique reflection of place, culture and people.  Last night's Unleashing of Transition Town Tooting in London was no different.  Following hot on the heels of last week's extraordinary Trashcatchers' Carnival, the event marked the arrival of Transition Town Tooting, and signalled a collective statement of intent for the future.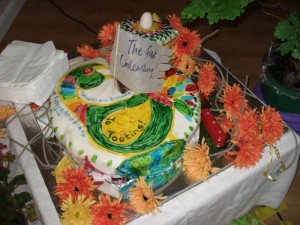 I arrived in Tooting early, and, as usual, got lost, walking around Tooting High Street looking for the venue. I wandered through Tooting Market, a dynamic reflection of this highly diverse community, stalls selling saris, halal meat, Afro-Carribean hairdressing, Islamic texts and a wide range of foodstuffs from around the world.  It is in this context, one of the most diverse parts of London that Transition Town Tooting has been working for the last couple of years, innovatively thinking their way through how to embed Transition with the community.
Events so far have included the Earth Talk Walk, which visited every centre of worship in Tooting to explore how each tradition looks at care for the earth, the soon-to-be-in-its-third-year Foodival, where local growers bring their surplus produce and 6 local restaurants use them to prepare dishes, a celebration both of local food and of the area's cultural and culinary diversity.
Most spectacular though was the Trashcatchers Carnival, which brought 800 people out onto the streets as a carnival on the theme of caring for the Earth, using an alleged million plastic bags and half a million crisp packets to make amazing floats, in an amazing community celebration.  The story of how the Carnival came to be, how it found its way around red tape when, with only two days to go, it looked like it may well not happen it all, is an amazing testament to persistence and determination, and which I hope to get someone from TT Tooting to write up soon.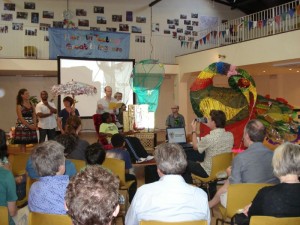 So, to the Unleashing.  The hall was decorated with great handmade banners, with photos of what TT Tooting has done so far, with local Indian food on sale at the back, and some of the amazing creations produced for the Carnival adorning the hall, most prominently the Sankofa bird, a West African mythic bird, which carries the seeds of the future in an egg on its back, and which looks forward and backwards in a single glance, a fitting symbol for Transition.  And of course an amazing cake, of which more later.  The evening started with a cycle rickshaw riding into the venue, up to the front of the stage, where the rider welcomed everyone, and then the boy sat in the chair at the front told a short story (see right).
Lucy Neal then welcomed everyone, and the film below was shown which captured some images from the Trashcatchers Carnival, and also included interviews with a range of people from around Tooting answering the questions "what do you love about Tooting?" and "what could be done to make Tooting a better place?".
Then three people came up to the stage and talked about what Tooting meant to them, and why they loved living in the place.  Then it was my turn to speak.  I started by saying how one of the things I love about Transition is how people take it and make it their own in each different place.  I said that the best people to know how to do Transition in each particular place are the people from that place, and that if someone from Tooting had come to Transition Network 2 years ago and asked how to do Transition in Tooting, we would never have said "well, you need to get a million plastic bags, half a million crisp packets, some shopping trolleys, and march it all down the street".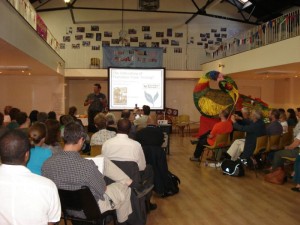 I then gave an overview of Transition, of peak oil and climate change, and an introduction to the work in progress that is Transition, using the Pattern Language project to explain it.  I wrapped up by saying that in the face of peak oil, climate change and the unravelling debt crisis, we have a choice.  Do we choose to look at them from a place of concern for self, a fearful response of protecting what we have, of putting our happiness above that of others, a more materialistic take, or do we respond with compassion, seeing that our future lies in becoming better connected, more engaged, more skilled and less focused on materialism?  A wealth of studies show that people who have a less materialistic world view tend to consume less, recycle more, be more mindful about energy use, and, ultimately, be happier and healthier.  The question is whether we can do better than how we do things today, and of course we can, the Trashcatchers event giving a great insight into what is possible.
After me, a young lad came up and sang a song which the audience were invited to join in with, which they did with great energy.  Then people from the different TT Tooting working groups talked about what they have been doing, and invited people to join them to discuss what else their groups might do.  There was then a 10 minute period where people were invited to mill around and go to whichever group interested them, after which everyone came back together again for the Unleashing itself.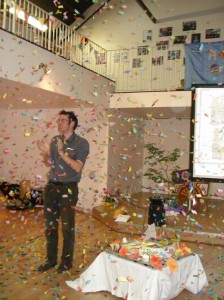 The amazing cake, adorned with the Sankofa bird from the Carnival, was brought forward, topped with a fantastic sparkler, and the idea was then for me to say "I hereby announce that Transition Town Tooting is now Unleashed!" while steamers fell from the heavens.  Unfortunately, the woman charged with discharging the banger/steamer thing couldn't get it to go off, so it took a minute or so for help to arrive and ensure that the cake was cut amid a storm of multicoloured streamers!
Then each working group came back onstage and talked about ideas that had emerged from their conversations.  Finally Lucy Neal thanked everyone for coming and asked "can we do this?" which was met with a resounding "yes!"  And that was that.  People stayed around chatting for some time (always the sign of a good event when nobody wants to go home), before heading out into the warm London night.
One of the hand-stitched banners that had been part of the Carnival said "here in Tooting, great things are".  When I first saw it I was looking for the accompanying second banner which completed the sentence, but at the end of this wonderful celebratory evening, I realised that it was a self-contained statement and with the work of Transition Town Tooting, now Unleashed, great things, indeed, are. (You can see Mike Grenville's photos of the event here….)