23 Sep 2010
Transition as a Pattern Language: Unleashings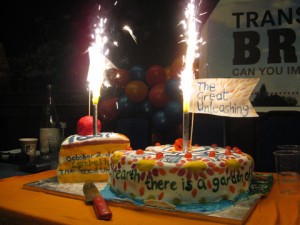 An Unleashing is the culmination of your initiative's AWARENESS RAISING work, offering the opportunity for CELEBRATING what it has already achieved, where it might go, as well as the culture of the place. As you start BUILDING STRATEGIC PARTNERSHIPS an Unleashing can be a powerful way of publicising those new connections.
The challenge:
If a Transition initiative doesn't make a bold, inspirational splash, which celebrates both its work and the local community itself, many can be left unaware of its existence, suspicious of its motives and not feeling involved.
Core Text
An Unleashing is designed to be a celebration, of place, history, the potential of a Transitioned future. It is designed to be the event that future generations will put a blue plaque up to celebrate the day when the Transition process really began in earnest. How to actually do one is work in progress, and every community that has one does it differently, which is as it should be. The question is often asked "when is the best time to hold an Unleashing?", to which I would suggest that the best time is when your awareness raising work feels like it is starting to influence a significant number of people, when you feel some sense of a 'buzz' coming back to you.
At the time of writing, there have been 12 Unleashing events in the UK and 5 in the US that I am aware of. I haven't been at them all, but I will try and give a sense of how each one varied, to reinforce the point that each one is different, and reflective of each community.
Transition Town Totnes1 held the first, in September 2006, after 9 months of awareness raising work. It featured an introduction from the local Mayor, two talks, and lots of getting people talking together and visioning (but no cake) . The next one was Transition Penwith in Cornwall, who found out Richard Heinberg was able to give a talk, and so decided, having done very little previous awareness raising work, to make that their Unleashing. Next was Lewes, whose Unleashing was a huge event which packed out the Town Hall, featured a 'market' of stalls of many local groups and organisations, a big community celebration2.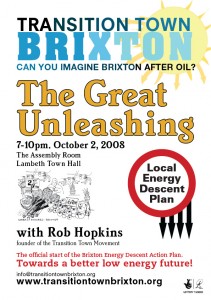 The next two were Transition Town Brixton and Transition Norwich3. The Brixton Unleashing was the first to feature an impressive cake, as well as lots of community visioning and inspiring talks. Transition Norwich's, also featured lots of Open Space and bringing people together to discuss the future4. Transition Chepstow's featured a man in a polar bear costume, local ales and a raffle5, and Transition Narberth's brought together local campaigners on a wild, wet and windy night, leading to a local headline "Storm heralds great success for Transitionarberth's Unleashing".
Transition Langport took a different tack, opting for a daytime event rather than an evening one. Their event ran from 10-4pm, and featured a wide range of stalls and events, workshops and food6. Over 250 people turned up for Transition Town Kingston's Unleashing, which featured an amazing cake (a marzipan allotment!), short talks, Open Space, the premiere of a film about TTK7, and music and dancing into the early hours8. Transition City Lancaster's Unleashing was in two halves, a first half of talks and then a second half of celebration including the cutting of a ribbon which enclosed the whole audience9 (see left).
One of my favourite Unleashings was that of Transition Malvern Hills. It was held in the largest theatre in the town, featured 3 choirs, many speakers, films and music, the highlight of which for me was 'Transition Endorsements', where 11 people spoke for 30 seconds about what Transition meant for them, including the head of the local police force, the CEO of the local Council, principal of the local college, the local MP and so on (see right). Transition Town Tooting held their Unleashing off the back of their Trashcatchers Carnival, and the evening featured local ethnic cuisine, an amazing cake, storytelling, and streamers10.
In the US, there have been 5 Unleashings. The first, run by the Sandpoint Transition Initiative, filled the 500-capacity local Parida Theatre, for a mixture of talks, music and networking11. The whole thing was streamed live online, and was followed the next day by a big community Open Space day. The Great Unleashing of Transition Whatcom was a huge event12, with bands, speakers and stalls, on an amazing scale. Transition Bloomington's Unleashing took the form of a large Open Space event, and they are seeing it as being Part 1, Part 2 to take place in a year's time. Transition Carrboro-Chapel Hill's attracted 150 people and led to the formation of a mightly 21 working groups! Transition Laguna Beach's 'Great Unleashing Party'13 attracted over 500 people to a celebration with food, music and dancing, which built on a year and a half of awareness raising work14.
An Unleashing should feel dynamic, colourful and celebratory, and balance the informative with the playful, the factual with the inspirational.
The solution:
Organise an Unleashing at the point where you feel you have some momentum behind your work, and when you feel that it needs to have its arrival marked and celebrated. It should be designed to be remembered as the day future generations will look back to as the point when the Transition began. At their best, Unleashings are a celebration of local culture, and are informative, inspiring and celebratory vents, with music, food, laughter and also a sense of history in the making.
Connections to smaller patterns:
An Unleashing offers a great opportunity for STANDING UP TO SPEAK, inviting as many people in your initiative as want to to present some of the event. Make sure you include some element of VISIONING in the event, possibly by utilising THE ROLE OF STORYTELLING. An Unleashing can be a great way of ENGAGING THE COUNCIL and COMMUNICATING WITH THE MEDIA. Some Transition groups use their Unleashing as the occasion for FORMING WORKING GROUPS. And of course, don't forget the vital role that TRANSITION CAKES can play!
References:
1. The Totnes Unleashing makes a passing appearance in Transition Network's film 'In Transition 1.0'.
2. You can see a film of my talk at the Lewes Unleashing here, and my write-up of the event here
3. You can read a more detailed account of both here
4. The evening was captured in a film
5. Transition Chepstow big launch report
6. Transition Landport's Unleashing is captured in a great YouTube film
7. A film about Transition Town Kingston's story so far
8. Shaun Chamberlin's write-up of TTK's big launch party
10. See more on TT Tooting's Unleashing
11. A review from the local media of the Sandpoint Transition Initiative
12. A film of Transition Whatcom's 2 day Unleashing celebrations and another one here
13. Take a wander round Transition Laguna Beach's Unleashing party
14. There is a good write-up of the last three US Unleashings on the Transition US website
* * *
Please leave any thought, comments, anecdotes, stories or feedback here.