20 Dec 2010
Needing your thoughts for a 'Transition Enabling Act'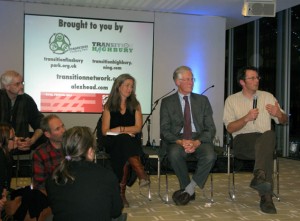 Well now, here's an idea.  At last week's 'Confronting Change' event in London (see left), a question was asked about politics, and how Transition might be accelerated in terms of mainstream politics.  Polly Higgins, who is a barrister, and who is promoting the idea of international legislation to outlaw 'ecocide', suggested that, in the same way that certain key pieces of enabling legislation have led to great advances in the past, perhaps the time is right for a Transition Enabling Act, designed not to ban lots of things, but positive legislation that enables all that needs to happen in order for Transition to scale up rapidly over the next 5 years.  This was met with much excitement, with Michael Meacher MP saying that were such legislation to exist, he would be happy to help drive it through the House of Commons.  So, how about it?  What we need now is your input, debate and discussion…. (read on…)
Polly emailed me the next day saying "my head has been spinning all night on this! How an umbrella Transition Enabling Act could open the door to food/community land trusts, guerilla gardening/incredible edible, education/ transition universities, training, jobs – oh just oodles of things…."  The next step is that we really need to hear the thoughts from Transition initiatives on the following two questions:
1. What have you or your Transition initiative been unable/hindered in doing to create successful transitioning in your community?
2. If you are able to say, what would enable your proposal to happen?
Polly is going to assemble a team of lawyers to help draft this, it will hopefully be ready in time for the next Transition Network conference, and be able to be put before MPs by May/June.  Nearer the time we will be able to also get all Transition initiatives approaching their MPs for their support.  Anyway, for now, we need your thoughts on these two questions.  Let's make history here …