30 May 2011
A May Round-up of What's Happening out in the World of Transition
Welcome to the May monthly roundup of what's happening in the world of Transition. We hope this issue will lift your spirits and inspire you to continue working within your communities – wherever they may be!  We start with Kinsale in Ireland which was the first ever Transition Town in the world! Kinsale's plans for a bio-waste project is leading the way for Ireland's first community run, eco-friendly anaerobic digester (AD). The project has recently been boosted by a grant of €37,500 from the Department of the Environment under its Rethink, Recycle, Remake (Rx3).TTK also recently posted a couple of videos about their work, here's the first:
…and then, for some odd reason, is another version which is twice as long…
Over the water in England, at the University of Essex May Green Fair, Transition Wivenhoe and Transition Colchester had stands with info about Transition, energy and local food as well as a pedal powered playstation! Later on in the day Transition Wivenhoe and the Revolutionary Bicycle Powered Cinema transformed the University Lakes into a giant, outdoor cinema for a screening of 'Home', the awe inspiring film from the extraordinary photographer behind the Earth from the Air series of books and exhibitions, Yann Arthus-Bertrand.
Also in Essex, Transition Town Romsey attracted hundreds of visitors to their stand at the Green Fair where mayor Mike Curtis took part in a pedal powered smoothie challenge!  Great news for Transition Wanstead who despite only getting off the ground 6 months ago were awarded a grant. With the money they aim to generate more publicity and their ultimate goal is to turn Wanstead in to a Transition Town. We wish you the best of luck with that positive vision!
Many people enjoyed the film of Transition Bath's talk by Pam Warhurst entitled "how can we grow more food locally?", well the previous one in the series was by Will Anderson, was called "What can we do to make our homes warm and cheap to heat?" and here is a film of it…
Transition Town Marlow whose efforts to get 100 homes fitted with solar panels continues. Twenty three homes are now the proud owners of solar panels and Philip Ditchfield who has overseen the project over the past year is confident that their target will be met. Read the full article here.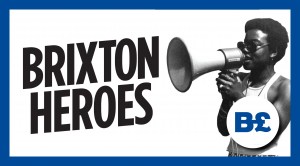 In London, Transition Town Brixton want your votes by the end of the month to help them secure a grant through the Coop Join the Revolution Award for their BRIXTON HEROES project which aims to challenge negative stereotypes often portrayed about this unique multiethnic and multicultural community. Transition Town Wandsworth have been setting up a new community garden.. here is a very short film of someone wandering around it with a camera…
Transition Town Bridport in Dorset joined forces with a local school and helped them grow their own vegetables in the school greenhouse. Students then showcased their veg plants outside the Arts Centre and even gave away plants to youngsters in a bid to encourage them to grow their own (see left).  The Transition Town Worthing film-makers have been at it again… here's a film about a reskilling event they ran recently:
Transition Town Cheltenham have been super busy during May with a jam packed events diary including workshops on mending and sewing, crocheting and knitting, upcycling old jeans and bag making via  upcycling old bicycle inner tubes!  There were also talks on bee keeping and vegetable growing as well as a talk given by Jonathan Porritt on "A sustainable world: reasons to be hopeful" (see right). More pictures from this event can be viewed here.  From Worthing, here is a film of a talk given by Steve Last from the group following a screening of Chris Martenson's Crash Course on 29th March 2011.
Transition Llambed in Wales held a Financial Capability Event for free friendly advice on concerns around benefits, food and fuel bills, the cost of education and even ideas on how to revamp your wardrobe on a budget!  Then, from Germany, here is a presentation about Transition in German from a workshop presented at an event there: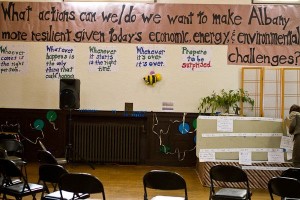 In the U.S.A. we start with the great unleashing of Transition Albany (California) where around 75 people gathered to share an abundance of ideas on how to make their community more resilient. Keynote speaker at the event was Richard Heinberg who reinforced the need for efficiency, innovation and conservation in the face of challenging times ahead.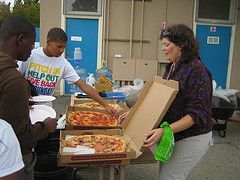 In a neighbourhood in Los Angeles, Transition US organised a 350 Garden Challenge which finally saw a once thriving former community 'ag' plot which had sat disused and weed infested for 11 years return back to its roots. 105+ volunteers turned up to weed, mulch, plant trees and build walkways with a local pizza business was on hand to reward people's efforts. Overall the event looks like it was a resounding success which also helped generate renewed interest in 38 other precious community garden plots (see left). What a feel good story!
Music, exhibits, and lights snacks preceded an event to raise awareness of Transition in York Pennsylvania. York County citizens were invited to a presentation by members of the nearby Transition Harrisburg which was followed by an open forum group discussion about how York could set about starting their own Transition group. This newsworthy event was picked up by the local York Daily Record.  Good Luck York!
Jamaica Plain New Economy Transition (Boston, MA) held a community conversation around the rising costs of food and fuel and asked Are We Ready? For Orion, who helped facilitate the event, it is "getting to know more JP folks who care about the future of this community" that make these community conversations worthwhile. This is a sentiment echoed consistently via Transition initiatives worldwide.  Transition US is ahead of the game with their very own May monthly roundup so without further ado and for a deeper insight in to the many other things happening across the US, please click here.
In Port Alberni (BC), Canada, Alberni Valley Transition Town held a screening of the film Fresh by Ana Sofia Joanes followed by a discussion around the theme of how we feed ourselves. Although produced in 2009, this film continues to make waves and provoke healthy debate around the issue of food production and consumption. If you haven't already seen it, here's the trailer: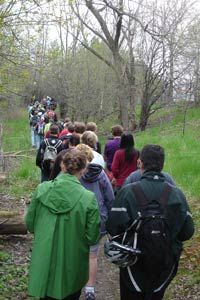 Transition Ottawa (Ontario) launched a series of five Urban Wild Tours as a way for people to become familiar with the city's natural environments and learn about urban nature in a fun and unique way (see right)!  Transition Casey in Australia held an awareness raising event with the support of the local council to encourage residents to set up their own transition groups within the municipality to tackle a range of projects from organising local food swaps, car share schemes or community gardens for food growing.
Neighbouring Transition Towns New Zealand held an afternoon of discussion around permaculture and the theme of bio regional alternative currencies which was held in Wellington and was followed by a pot luck meal and film screening.
We'll end with an interesting article. It centres on that well known old adage – you can lead a horse to water but you can't make it drink. This article looks at how behaviour change is at the heart of sustainability.
We hope you've enjoyed this month's roundup.  We are conscious that in general, these roundups tend to be weighted heavily with stories from the UK and the U.S. and we would like to redress that balance.  If you have any events coming up in the month of June that you feel should be featured in the next issue, please e-mail Amber at pa.robhopkins@gmail.com.  Thanks and see you next month for more Transition news from around the globe.