5 Jul 2011
The potential of natural materials in retrofitting our homes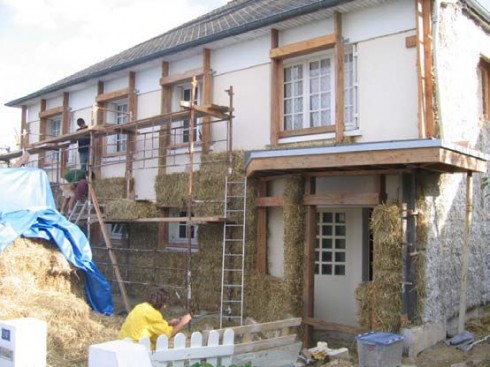 I have, on occasion, reflected here at Transition Culture about how the natural building movement, with its leaning towards natural building materials such as straw, clay, hemp and so on, has yet to really explore how those materials might be used to retrofit existing homes.  Virtually all of the work done around those materials focuses on new build, but finally, it seems some work is happening on retrofits.  An MPhil dissertation done at University of Cambridge by Keven Le Doujet entitled "Opportunities for the large scale implementation of straw based external insulation as a retrofit solution of existing UK buildings: how much of a good idea is it to externally insulate existing UK buildings with straw bales?" explores this very question.  It is a fantastic and comprehensive piece of work which is a pleasure to read.
Keven's research is very thorough, and looks at the practicalities of using external strawbale cladding to externally insulate the millions of poorly insulated homes and workplaces in the UK.  This is not the work of a romantic idealist, he is clear about the challenges of doing so on a meaningful scale.  He concludes that it "is a good idea but even if it reaches its full potential it will not be sufficient in itself to improve the sustainability performance of UK buildings to the level required to tackle to combined challenge of energy security, climate change and the sustainable use of natural resources".  It is not, he argues, a "silver bullet", something that would address the entire retrofitting challenge we face, but it could prove an excellent solution for around 5% of the UK's housing stock.
The study looks at some amazing case studies (look at the back of the report), where unappealing buildings are transformed.  His sense of realism extends into his setting out of the obstacles to this, which include:
Thickness (these walls are thick, and require a substantial roof overhang)
Installation time (it's a big project)
Seasonality (you want work outdoors with strawbales all year round)
Aesthetics (you can use them to make an ugly building more attractive, but not to retrofit a building considered attractive)
Financial barriers (it is a realistic option for self builders, but quite pricey if you get contractors in to do it)
Skills and knowledge gaps (it may prove tricky to find builders who know how to do it)
Lack of persuasive information (in other words, there isn't yet a robust knowledge base around this approach)
However, what shines through this excellent study, unusually for an academic study, is a real taste of what might be possible, and what it would actually look like if we used local strawbales to retrofit some of our worst housing stock.  The benefits, in terms of reskilling, locking up carbon, supporting local farmers, hugely increasing energy efficiency and so on would be huge.  Unfortunately the trend over the past 30 years in the UK has been to build houses with virtually no roof overhangs at all, which makes this very difficult for many homes.  However, I reached the end of Keven's study with a sense of this being something that has just scratched the surface of the potential here.  How about pre-fabricated straw panels which can be made offsite and then put up against the wall?  Hemp and lime or hemp and clay bricks?  If we applied some of the creativity and research support that other approaches get I'm sure we could come up with all kinds of things.  If you are interested in natural building, you will find this a timely and fascinating study.