15 Feb 2012
Voices from the previews of 'In Transition 2.0′: Lyttelton
'In Transition 2.0's closing story is that of Project Lyttelton in New Zealand.  So how did the screening go down there?
Margaret Jefferies from Project Lyttelton also sent a short write up reflecting on how the screening went: "Over 20 people packed into the Project Lyttelton office early on Thursday morning to watch 'In Transition 2.0' simultaneously with many communities around the world. It felt good to be doing this together. Still in summer, for us it was almost unbelievable to think that the Italian Transition group was having -15°. We missed them even though we couldn't tell who was watching in. Lyttelton since the earthquakes (we now have reached over 10,000 since the September '10 event) doesn't have very many places left for people to gather. Hence we were in this small space. There were babes in arms up to grannies in attendance.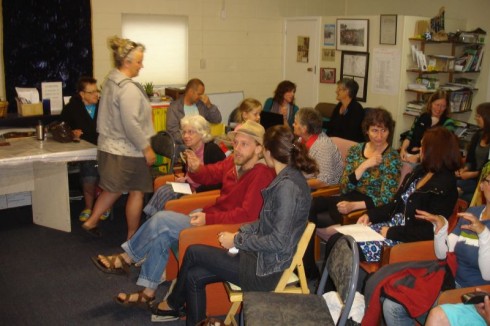 The film is excellent. Rob and Sophy setting the structure, then various examples of transitioning worldwide were interspersed. After the screening, conversation flowed. The film has sparked our imagination. It is great knowing that we are not alone, that communities world wide are hungering for a change and are doing something about it.  Since it was a morning screening, people had to leave to go to work after the viewing and some conversation. But we have much to think about. We are looking forward to viewing the film again as there is so much in there to learn. For me some of the highlights were the Brixton Pound via cell phone, the Italian relationship building with their council, the co-op shop, the door knocking and the leaders in streets drawing their neighbours in, and the solar panels".