20 Feb 2012
When the hop fields come to town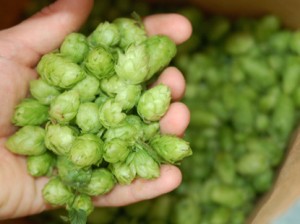 Sometimes the simplest ideas carry with them, when thought through, such a powerful taste of how the future could be that they are quite irresistible.  One such idea has led me to spend the last couple of days immersed in trying to find out as much as I could about it, and it has been time well spent, which I want to share with you here.  The idea came in a post on the City Farmers website, entitled 'Brixton Beer'.  The idea is a simple one: rather than breweries in London buying their hops from wherever they can source them (sometimes as far afield as New Zealand), people across London grow hops in their back gardens, on their patios and balconies, allotments and community gardens, which are then used by local brewers.  As they put it, "we want to grow hops across a network of individual and community gardens, get local breweries to make beer out of them and drink the result. Simple!"  As someone involved in efforts to create a Totnes Community Brewery, the idea held huge promise and intrigue and warranted further exploration.
Brixton Beer
I started my investigations by catching up with Helen Steer from City Farmers.  She told me that the idea had first emerged at the AGM of Incredible Edible Lambeth in October 2011, inspired by the 'Brockwell Bake' where people grow urban wheat on allotments which is then milled to make local bread.  She met with the Independent Brewers Association in London who were very enthusiastic, in fact as she put it "they bit our hands off!" when the idea of their buying and using these locally grown hops was raised.
One of the unexpected side effects they have found is that the idea acts as a great way to get men involved in gardening, a nice antidote to the fact that the majority of people involved in community gardens apparently tend to be women.  The plan is to pilot the idea over the 2012 growing season in a number of gardens across London, and to produce a starter pack of rootstock and tools, as well as instructional videos for backyard hop growing.  The idea then is to gather the harvest together in September and to brew a beer from the hops, which would then be shared at a harvest party.  Longer term plans include the possible launch of a Brixton Brewery.  Here is the longer interview I did with Helen (I am trying an approach in this post of mixing audio with writing, and making my research available for you to go into more depth if you're interested: I hope it works for you):
The idea in practice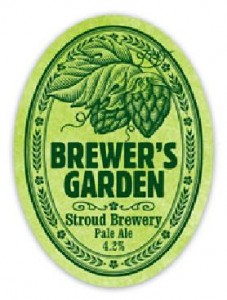 This is a wonderful and very attractive idea, especially as a way of making a community brewery truly feel like a community brewery. But is it practical?  What are the obstacles such a project might encounter?  Well it turns out it's already being tried in at least one brewery.  I spoke to Greg Pilley of the Stroud Brewery, and it turns out he's been growing hops in his garden (40 plants), as have a number of other people close to the brewery.  On one day in September, the hops are harvested, brought to the brewery, and a pale ale called 'Brewers Garden' is created which everyone involved then gets 9 pints of when it is ready.
Stroud Brewery describes it thus:
"These hops have been grown by members of our 'Hop Club' in their gardens and allotments. The hop bines were harvested on Sunday 5th September 2010, and members congregated at the brewery to hand pick the hop cones, and enjoy a few ales. Hops are dried in our home made 'oast' and go into this years brew of 'Brewers Garden'".
Starting with the basics: a crash course in hops
Let's go back to the beginning and have a quick crash course in hops.  One great place to start is with an episode of BBC Radio 4's 'Food Programme' that looked at the revival of the UK hop industry.  It would appear that the first hops to arrive in the UK turned up in 1524 when Flemish planters arrived and started growing them here.  Initially they were grown for their medicinal and herbal properties.  They were introduced into brewing as a preservative and also to introduce a bitterness to the beers, replacing the use of herbs and other bittering agents, such as bog myrtle, that was used up to that point.
The role of hops in brewing is two-fold.  According to Ray Daniels in 'Designing Great Beers':
Hops provide bitterness to counteract the sweetness of malt, this making the beverage more palatable.  They also provide some antibacterial properties that at one time increased the safety and potability of beer.  Today this quality still aids the preservation of beer.  Hops also contribute more than just bitterness.  Although it seems incredible that a single element of one plant could do so much, hops also contribute appealing flavours and aromas to been when handled in the proper way by the brewer … hops are indeed a source of tremendous richness and variety in beer flavour".
I spoke to Martin Crawford of the Agroforestry Research Trust (who has produced an essential fact sheet about hops), who told me that traditional varieties grow up to 6 metres tall, but that there are dwarf varieties which grow to 2 metres which are better suited to back gardens.  According to Martin, there is only one dwarf hop that is commercially available, called 'First Gold'.  Here's my full interview with him:
At the moment, almost all the hops grown in the UK are either grown in Kent (as was documented in George Orwell's fantastic "Keep the Aspidistras Flying") or in Herefordshire.  I spoke to Dr Peter Darby, who is in charge of the National Hop Association for Wye Hops, and is one of the UK's leading experts on hop breeding, and asked him why that was.  Does it indicate that those are the places with the best soils and the best microclimates for hop growing?  Apparently not.  It turns out that with the industrialisation of brewing, and the demand for large amounts of beer that was generated by the British Empire, that large workforces of pickers were required, so the large urban centres of London and the West Midlands provided that, and it fitted in nicely with the picking of other crops, most notably apples.  Prior to the British Empire hugely increasing demand for beer, hops were grown in most parts of the country.
He told me that the UK hop industry is now relatively stable after years of decline, due mainly to a shift from growing hops to add bitterness to growing hops to add flavour.  This has been helped by the emergence of a strong microbrewing culture and more craft brewers.  About a quarter of hops grown in the UK are exported, and the UK imports about a third of what is used here.  Current production, were it all to be retained for UK brewing, would only be enough to meet two-thirds of demand.  Most brewers like to use a mixture of UK hops and imported hops, because, he told me, imported hops grown in sunnier climes, can give beers a 'high impact flavour'.  Traditionally though, they were grown in every county in the UK, and could be again.  Here is the interview I did with Dr. Darby:
The advantages and disadvantages of growing urban hops
In some ways, growing hops in 'patchwork farms', that is, a number of gardens across a city, is ideal.  According to Martin Crawford, the two main challenges that affect hop growing, aphids and mildrew, will sweep through hops on a field scale, but in a more dispersed context, in a more biodiverse setting, should be less of an issue.  They can be grown in containers, although they would need to be pretty deep containers as hops need a deep soil.  Again though, growing them in containers could actually be a benefit, as it prevents them from suckering, something they are prone to.
Also, given their inclination to climb and to clamber, being able to grow up buildings and other structures, so long as they are accessible for harvesting, can be an advantage.  Dr. Darby added that hops are well suited to urban growing because they are classed as horticulture, rather than agriculture.  He also stated that hops are a plant that needs quite a lot of attention, something that is easier to provide on a small scale.  He added another dwarfing variety that would be suited to urban growing, called Golden Tassels, or 'Diva'.  There are others too, but they are fiercely protected, and can only be grown under licence from the National Hop Association.
Dr Darby cautioned, however, against the idea that growing hops is an easy thing for the amateur to pick up.  The pests and diseases to which hops are vulnerable can be dealt with, but knowing what you are looking for and how to deal with it takes some training.  City Farmers are already assembling their team of volunteer hop growers, and have been surprised by the levels of interest, and the quarters from which it is coming.  One of their local councillors has asked be become one of the growers.  It will be interesting to see the degree to which the skills required to to prevent pests and diseases trashing their first harvest can be communicated through videos and leaflets.
Another key challenge revolves around drying herbs on a community scale.  On the large scale, hops are dried in huge warehouses where warm air is blown through them.  According to Dr Darby, hops must either be used straight off the plant (what is known as "green hopping") or dried within about 4 hours of being picked.  This is to avoid them becoming musty or losing a lot of their volatile oils.  To dry them they need to be warmed at 30-60°C, in a long steady dry (10-12 hours), with a high air throughflow in a darkened space in order to bring their moisture down from 80% to 10%.
On the home/community scale this is tricky.  It is too low a temperature for the domestic oven, and more like a greenhouse on a hot day (hardly reliable when you have only 4 hours to get the drying underway!     Martin Crawford suggests a blacked-out polytunnel or the use of an attic (this is September we're talking about remember, attics should be pretty hot then).  He also states that building a thermostatically controlled medium-sized drier shouldn't be too complicated.  Greg Pilley at Stroud Brewery dries some, but only on the domestic scale.  Here is my interview with Greg:
Another challenge for brewers using green hops is that as brewers they are, in effect, flying blind, in that hops usually arrive having been tested for bitterness and so it is not clear what they are introducing into their brew. For this reason, when Greg Pilley brews his 'Brewer's Garden', he still has to use some bought-in hops for the bitterness, and the garden-grown green ones for flavour.
Another practicality is how much could actually be grown in urban gardens.  Greg grows 40 plants in his garden, which he reckons yield him 5kg of green hops, which would dry to 3kg.  Each year his brewery requires 600kg of hops for its brewing, by which calculation he would need 200 other gardeners doing the same if he were to be drying and using Stroud-grown hops.  Do-able but ambitious.  The beauty of hops is that, as a climber, you can still grow other things underneath them, and allow them to clamber up buildings or ramble through trees.  You can also, as Martin pointed out, eat the young shoots, lightly steamed, they are sometimes referred to as "the poor man's asparagus".
So, should the hop fields come to town?
Looked at in isolation, encouraging lots of untrained amateurs to take on planting  potentially demanding crop in a dispersed way across a city doesn't perhaps seem like the brightest idea.  However, placed in the context of creating a community growers, sharing their experiences, focused around a community brewery initiative in which they have an interest, it starts to make a lot more sense.  As a way of land use and gardening helping to build social capital, it is very valuable.  As a story to unpin and help promote a social enterprise it is fantastic.  Me, I'm intrigued, and think that certainly for our initiative, this will be a central part of what we are planning to do.
Greg Pilley will be speaking, along with Dan McTiernan of the Handmade Bakery, at one of the events that Transition Network is convening at The Guardian Open Weekend in London March 24th at 1.45pm.   My thanks to Jonathan Smith, who sent me a really good guide to growing hops on the small scale which you can download as a pdf here.