1 Apr 2012
Danny Boyle, in surprise move, buys rights to remake 'In Transition 2.0'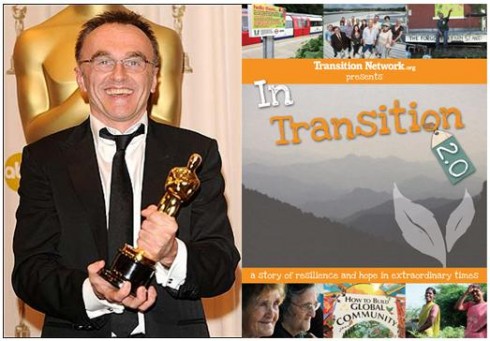 In a surprise move that could bankroll the Transition movement for many years to come, Transition Network can reveal that it is in the final stages of discussions with Danny Boyle, director of 'Slumdog Millionaire', to buy the rights to remake 'In Transition 2.0'. Boyle, who saw the film at its preview in Tooting, London, stated "as soon as I saw it I recognised its potential for a remake. It would need recasting, but for me it's the ultimate feelgood story".
"Negotiations have been kept under wraps until now", said Transition Network's Ben Brangwyn, "but we're very excited. We're really just dotting the i's and crossing the t's, and this seems like as good a day as any to break the news. Five years ago, when we started Transition, we could never have imagined anything like this".
Boyle is believed to be hoping to cast Mickey Rourke as Transition Town Lewes' Dirk Campbell, Kenneth Branagh as Transition Lancaster's Chris Hart, Helena Bonham-Carter as Sophy Banks, and Robert Downey Jnr as Rob Hopkins. George Clooney is in the frame to play Cristiano Bottone, and work is believed to have already begun on a film set re-creation of Kilburn underground station at an as yet undisclosed location. Filming is due to begin in September, once Boyle's role co-ordinating the opening of the London Olympics is completed.
While some Transition purists may balk at the sequence in the current version of the script where the launch of the new Brixton Pound pay-by-text system is greeted with a huge Bollywood-style dance routine involving over 1000 dancers in a CGI version of Brixton High Street, and one where Penelope Cruz singlehandedly decarbonises Portugal, Boyle is confident that his remake captures the essential spirit of the original. "Ultimately", he says, "it's about ordinary people being extraordinary, and that's what I love about it. I think we'll capture that really well".
Boyle is understood to have paid over $4million for the rights to 'In Transition 2.0'. Nicola Hilary, Transition Network's fundraiser, had to be revived with smelling salts upon hearing the news. 'In Transition: New Dawn' is slated for a summer 2013 release, in both 2D and 3D.