12 Jul 2012
'Can Totnes build itself?': a new paper from Atmos Totnes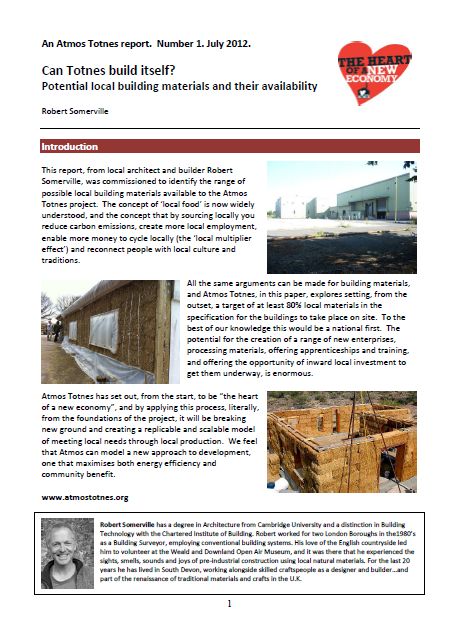 [Here is a press release just put out by Atmos Totnes] When it comes to building houses, which offers the best return to a local economy, concrete blocks or straw bales?  Gypsum or clay plasters?  Imported timber or local timber?  Atmos Totnes today announces the release of a ground-breaking new paper, 'Can Totnes build itself?' (a kind of successor to 2009's 'Can Totnes and district feed itself?' study), which looks at the local building materials potentially available for the construction of the Atmos Totnes development.
Atmos Totnes is a community-led initiative seeking to bring the former Dairy Crest site into community ownership to develop it as 'the heart of a new economy'.  Its patrons include Dr. Sarah Wollaston MP, the Eden Project's Tim Smit, Kevin McCloud and broadcaster Jonathan Dimbleby.  It is currently in negotiation with Dairy Crest over the details of an Exclusivity Agreement that would see the site withdrawn from sale and Atmos then able to advance their plans for the site.  Here is a short film telling the story of Atmos so far:
This new report is a national first.  Atmos Totnes' Rob Hopkins says:
"The idea that local food is more beneficial to a local economy is well established by now.  Everyone understands that by buying locally produced food we are supporting local businesses, putting more money into the local economy, reducing food miles and carbon emissions, creating more opportunities for training and livelihoods for our young people, and making our local economy more resilient.  What we want to do with Atmos Totnes is to apply that thinking the building materials.  Totnes is a town whose very fabric is defined by the building materials local to this area, stone, slate, timber.  This report asks what are the materials at our disposal in this area that could allow us to meet our target of using 80% local materials in the construction of Atmos?"
The report was written by building surveyor, building conservation specialist and teacher of natural building techniques Robert Somerville.  It identifies the 5 principal materials that can be sourced within a 15 mile radius of Totnes as being crushed stone aggregate and sand, sub soil appropriate for cob walling, rough-sawn green timber, bales of waste sheep's wool from Buckfast spinning mills and straw bales.
It also explores the materials that could also be sourced from within Devon and Cornwall, the natural building materials available nationally, as well as materials that could be salvaged from the dismantling of the existing Dairy Crest facilities.  The Atmos team will be seeking to design buildings which reach the highest standards of energy efficiency while also maximising the potential of local materials to revive and regenerate the local economy, and this report will form part of their brief to potential architects.
Dave Chapman of Atmos Totnes says:
"Atmos Totnes is about returning control over development in this town to its residents.  It will be a community-owned development in which everyone will be able to invest.  It is about maximising the social return to this community of the development that takes place within it, and the materials we choose to build with will be a key part of this.  What we are modelling with Atmos Totnes is what localism means when taken to its logical conclusion.  Totnes can lead the way here".
Additional information
The report can be downloaded from www.atmostotnes.org/the-project/can-totnes-build-itself/, and the latest developments on Atmos Totnes can be found at www. atmostotnes or on Twitter at @atmostotnes.
Downloadable MP3 files of 'Atmos Voices' interviews can be downloaded from http://atmostotnes.org/interviews/ and you are welcome to use any of them in any audio pieces you are creating.
The story of the Atmos project, and of the Dairy Crest site since its closure, can be found at http://atmostotnes.org/the-project/the-story-so-far/