17 Jul 2012
Can Britain Farm Itself?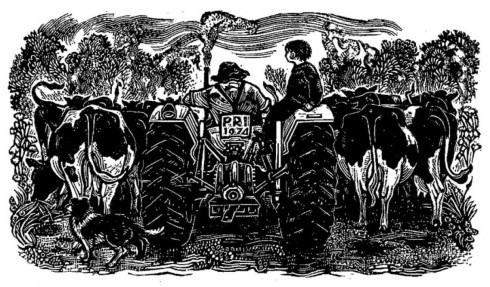 In 2007 we published Simon Fairlie's seminal study "Can Britain Feed Itself?" (which originally appeared in The Land journal), the first study since 1975 to ask that question.  In spite of being a back of the envelope stab at the question, the study proved hugely provocative (although sadly not in government circles) resulting in a number of "Can [insert name of place] feed itself" studies and seemingly endless debates about whether it could be done in a way that pleased vegans, meat eaters, vegetarians and so on.  Five years later, The Land, the journal that published Fairlie's original study, has published "Can Britain Farm Itself?" (which you can download as a pdf here or read online here), written by Ed Hamer, smallholder and writer (a noble combination).  The question it explores is the extent to which agriculture, if approached in a different way, could create land-based employment in a time in desperate need of employment opportunities.  It is a fascinating piece of work.
One of its key conclusions is that "cutting exports and replacing imports with domestic production would result in a, not insignificant, increase of 66,315 full time equivalents in the farming sector".  This picks up on Vicki Hurd's quote which appears in the report:
"That the UK could be entirely self sufficient in all products is not being suggested. Yet when it is not even self sufficient in produce suitable to its climate and soil, and when considerable social and environmental problems arise from the current production and importation, there should be a significant shift in policy towards promoting production and consumption of home grown produce".
Like "Can Britain Feed Itself?", it acknowledges that it is a back-of -an-envelope study designed to stimulate debate and discussion (given that the article at The Land's website has no comments section, feel welcome to have that discussion and debate below (the editors have said they will follow what happens with interest).  I find it really heartening that the localisation movement is now starting to build (through studies like this, the forthcoming  Economic Blueprints for Totnes, Hereford and Manchester, and other similar things underway) an economic case for localisation and resilience.

The paper mentions that "Farmers' Weekly reported in May 2012 on the unveiling of John Deere's first driverless tractor which can plough, seed and harvest a 1,000 acre field if you want it to – controlled entirely by a GPS computer".  "Can Britain Farm Itself?" is essential reading for those who feel that we need a vibrant, diverse, resilient rural economy that creates meaningful work for people, rather than a people-free automated industrial farming system.