15 Aug 2012
(Almost) everything you could want to know about the 2012 Transition Network conference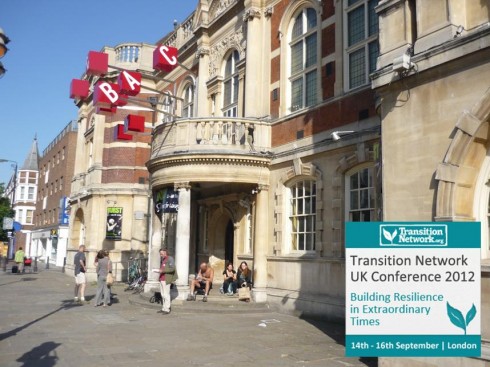 A month to go until the Transition Network conference 2012, and it is all getting very exciting.  The idea here is to put some flesh on the bones of what looks set to be our most stimulating conference yet.  Although things are still being finalised, here's what we know so far (y0u can book your tickets here and the main page for conference information is here).  The event has 5 key elements, you can choose a combination of them:
You can see more about each of those by following the links, but I'm going here to tell you more about what is planned for the main Transition conference (brace yourself).  In terms of the overall programme, you can now see that here.  As in previous years, it features as many opportunities as possible for you to meet from and share ideas, experiences and learnings with other Transitioners, some great workshops (which I'll tell you more about in a minute), Open Space, and a still-under-wraps event for Sunday morning where we will create a virtual Transition High Street, armed with nothing more than cardboard, sticky tape and a mountain of brilliant ideas.
One of the highlights will be Cabaret on the Saturday night, which will also be open to the general public. It will be hosted by poet and performer Matt Harvey (see above), star of BBC Radio 4's Wondermentalist Cabaret, who will act as compere as well as introducing an eclectic collection of performances, and hopefully perform his poem about slugs.  James Marriott from pioneering arts and activism organisation Platform will talk about his recent experiences walking the oil pipeline that brings oil from the Caspian Sea to northern Europe, what he calls "a journey to the heart of the oil economy".  Actor and performer Ben Mellor will perform an extract from his show Everything We Need Now.  There will also be a performance of the social arts project In Your Own Skin with live vocals from Juliette Russell.  Beat that, Olympics closing ceremony.
The workshop programme is packed with so many great choices that, as in previous years, it will be a very tough call to decide which ones you want to go to.  Highlights include a reflection on how Transition is emerging in the countries hit by the debt crisis could inform Transition elsewhere, Sophy Banks on creating a happy, healthy human culture, Nick Osborne on getting Transition beyond 'the usual suspects', an exploration of the question "is peak oil dead?", the role of research in Transition, mentoring, diversity and privilege, dealing with conflict, an opportunity to learn from those who have set up community energy companies, local currencies and food-based social enterprises, insights on leaderships, what it looks like when Transition says "no" (with Transition Heathrow and a speaker from the No to Costa campaign that recently ran in Totnes), REconomy and Transition Training and an overview of the Transition Learning Journey (a 1 year immersion in Transition for young people).
There will also be a workshop where three leading social entrepreneurs from a diversity of fields outside Transition (working with young men leaving prison, teaching financial literacy in schools and harnessing the power of mobile phone technologies) will share their thinking, as well as an exploration of the powers that communities now have thanks to the localism agenda that they didn't have before.  And more are still to be added…
In short, it's going to be brilliant.  Things you can do to help, other than booking your ticket, is to put the conference buttons on your website, tell your Transition initiative about it, tell your friends.  There will be more announcements to follow, but that's the rough shape of what's going to be an amazing event.  See you there.