16 Aug 2012
Costa Coffee and the Market of Hope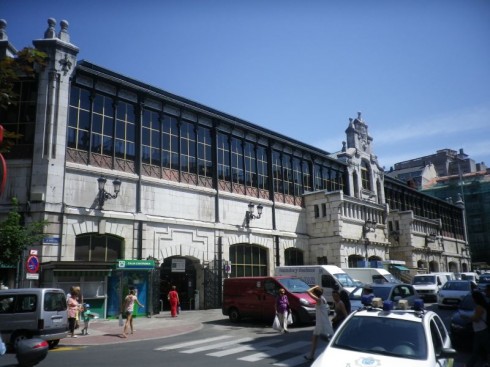 I was recently in Santander, a major port city on the northern Spanish coast.  While my kids were waking up in the hotel, my wife and youngest son went out in search of breakfast.  Bereft of a map, we wandered in search of some fruit, and some pastries perhaps?  Eventually, glancing round a street corner, I spotted what looked like it might be the corner of a market stall.  On closer inspection, it turned out we had stumbled across one of the most remarkable food markets I have ever had the pleasure to wander around, El Mercado de la Esperanza, or 'The Market of Hope'.
The market opened in 1904, and is widely regarded as one of the finest examples of iron architecture in Spain, being declared a historic monument in 1977.  It is the largest market of its kind in Cantabria, the region of Spain in which Santander sits.  Outside the market was a clothes market one had to pass through in order to get inside the building, which had little that was memorable, apart from a very tight-looking pair of men's briefs with a picture of a large space rocket on the front and the word, erm, "rocket".  I didn't buy them.
The market was on two floors.  The lower floor featured seafood ("mariscos") and fish ("pescados"), freshly caught from the Calabrian Sea.  Shrimps, prawns, squid, muscles, big eel-like things, plaice, salmon, something called 'bonito' which I'm not sure what it is but it would take you a few meals to get through one, sardines, and some amazing-looking things that I had only ever seen in fossils.  All laid out on ice, stall after stall after stall.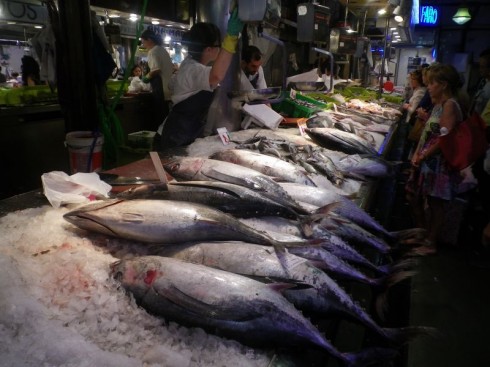 Upstairs was a more eclectic array of food.  Fruit, vegetables, an amazing array of cheeses, bread and pastries, meats, cakes, eggs, honey, preserves, huge hams, all manner of pulses laid out in baskets.  Rather than the kind of market I'm more used to, that sets up on trestle tables and is gone by the end of the day, this was a permanent market.  It was open 6 days a week, all day (bar the traditional siesta break in the middle of the day), and each stall was its own business, each one probably kept within families for generations.  There we no empty stalls.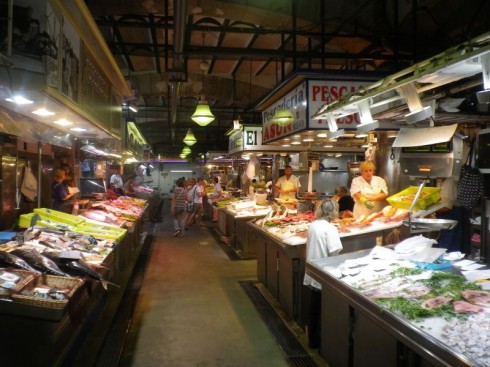 We wandered around, buying a creamy goats cheese, some beautiful flat peachy things that are particular to that area, a bag of amazing greengages that dripped with a juice as sweet as honey, some local brie-type cheese that smelt like the worst teenagers' trainers you ever had the misfortune to be in close proximity to but which tasted amazing, and some bread.  I have been to similar markets, The English Market in Cork in Ireland, St. Nicholas Market in Bristol, and perhaps a couple of others, but El Mercado de la Esperanza blew me away.
The previous day news had reached me that Costa Coffee, the global coffee chain, has succeeded in getting planning permission to open a branch in my home town of Totnes in Devon, a story told brilliantly in a piece in today's Guardian.  Nothing unusual in that you might say, Costa are opening new branches everywhere, every day.  What was particular to the Totnes Costa was that nobody wanted it.  The 'No to Costa' campaign, which Transition Town Totnes was one of the key drivers of, had fought a creative, positive and very high profile campaign against the planning application to turn a former health food shop into a Costa.  It also presented itself very much in the context of the positive vision of how our local economy could be that TTT has been working to achieve for the past 6 years, and which will be outlined in its forthcoming 'Economic Blueprint' for the town.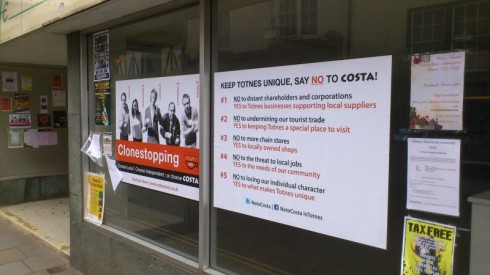 Our case was that our town has a unique culture of independent businesses, the Campaign for the Preservation of Rural England (CPRE) recently describing it as having "an extraordinarily rich local food web", before warning "one large store can overwhelm a small town by capturing trade and threatening the viability of smaller traders in the town and nearby villages".  We were concerned that it would lead to the 'Clone Town' syndrome so visible in other towns and cities up and down the country, and would put local independent cafes out of business as well as creating a precedent that would lead to more chain businesses following them onto the High Street.
We had run the 'Totnes Independent Coffee Festival', a celebration of the 41 independent coffee outlets that the town already contains.  The Festival concluded with a barista competition, where prizes were awarded for the best coffees produced and huge crowds turned up to celebrate the town's independent coffee culture.  A petition was signed by 5,700 people, out of a population of just over 8,000.  The campaign's 'Clonestopping' poster became iconic, appearing in most shop windows around the town as well as on t-shirts.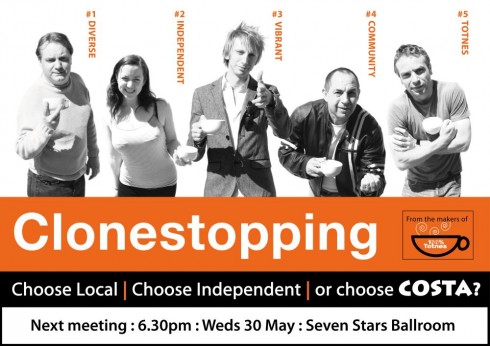 A large demonstration marched to the Council's offices to demand the application be refused.  The Town Council voted unanimously against it.
When Costa sent in their planning application, it was 300 pages long, crammed with case studies of planning cases they had won on appeal, clearly making the somewhat threatening point that it really wasn't worth turning them down, as they always win on appeal.  The campaign was widely praised as being one of the best such campaigns run anywhere.  In the end, the District Council planner in charge of the decision recommended its approval, arguing that from a planning perspective, there is no difference between an independent coffee business and a chain one.  The Mayor of Totnes told the BBC "I'm an extremely cross mayor and very disappointed and upset. We're desperately striving here to try and keep the town as unique as we possibly can", and the local MP said "Costa should recognise the damage they do to their own brand as well by imposing where they're not welcome".
Costa told the local radio station, "we are very excited to be opening a new shop in Totnes and very much look forward to becoming a strong part of the local economy".  Yet there is a distinct difference between the two, and a business such as Costa can never really be a strong part of the local economy.  Here's why (none of this will be new to regular readers but is useful to this piece).
You can think of a chain business like Costa as an extractive industry.  It doesn't source its milk (which it allegedly imports from Belgium), its coffee, its cakes or its biscuits locally, they are all delivered from Costa central.  It doesn't employ local solicitors or cleaners.  When I spoke to Andrew Simms of new economics foundation, he told me:
"… they are interested in one thing, and that is sucking consumer spending to be extracted from the local economy, shuffled off to head office to pay to centralised logistics, and the expectations of remote, disinterested investors in the city.  True independents bring economic health, they bring social glue, and they being a strong sense of place and identity".
It might just be one branch of Costa, in one small town, but it is part of a larger story.  8,000 supermarket outlets now account for 97% of total grocery sales in the UK.  Have a look at this graph from the recent Portas Review, showing the percentage change in UK store numbers between 2001 and 2011:

This is a trend, the closure of independent family businesses in droves while a small number of chain businesses come to monopolise our High Street, that diminishes local resilience and leaves us all more vulnerable.  While we may be able to have a gingerbread mocha or whatever, around us families whose kids go to the same schools as our and who are committed to living in our community are losing their livelihoods, and our local distinctiveness is in decline.  It's not a good trade.  In the Guardian piece, a Costa spokeswoman is quote as saying that the Totnes Costa will boost the town's character "by adding vibrancy, complementing what Totnes currently offers".  In the comments section below, someone has written "True, that. Whenever and wherever I see a Costa, I think to myself: "Oh, look. That's boosting the character of this place by adding vibrancy"."
Walking round El Mercado de la Esperanza with my shopping, I was struck that the combined floorspace of the market was around that of a city centre supermarket for a city that size.  Yet rather than one single business filling the space to service the interests of their distant shareholders and investors, here was a model for feeding the city from which many hundreds of families derived their livelihoods, in such a way that they had ownership over the destiny of their enterprises.  While you could, if you wanted, buy well-known brands of fizzy drinks and  of crisps there, they were generally tucked away on shelves at the back, the huge majority of what was available was locally sourced, intimately connected to the farmers, food producers and fishermen of the region.  There was no Costa at the Mercado de la Esperanza, nor indeed did I see any chain coffee shops anywhere in the city centre.  It was wonderful to see the diversity and the richness of what flourishes in their absence.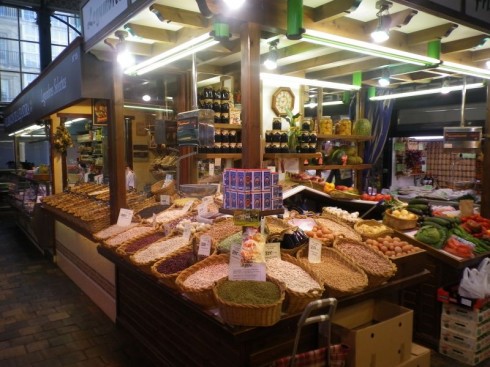 One of the arguments that had been aimed at the No to Costa campaign had been that this was an issue of choice, that Costa had the choice to come to Totnes and people had a choice whether to use it or not.  The impression is given that to refuse a business such as Costa access to your fragile local economy is a negative thing.  Yet wandering around the market in Santander, this argument falls away.  What overrides it is the positive sense that it is a celebration of local food, local culture, fresh produce that you can have a relationship with, a shopping experience that allows you to meet people, to laugh and smile, to hear local news, to ask about what you are buying and how to cook it.  This was a Market of Hope.  A market where I could taste a future that brought the best of the past and the present with it.  If the Totnes story marks a fork in the road, I only hope that in years to come we can look back and say that in terms of the Totnes Costa, we lost the battle but won the war, and that the Market of Hope had become the model for our local food economies, embodying David Cameron's recent words:
"For our high streets to thrive they must offer something new and different.  But for this to happen it is local people who must take control, developing the vision for the future of their high streets and putting their energy and enthusiasm into making it a reality".   Let it be so.