11 Feb 2013
When the view outweighs common sense: Naresh Giangrande on the Totnes Community Wind Farm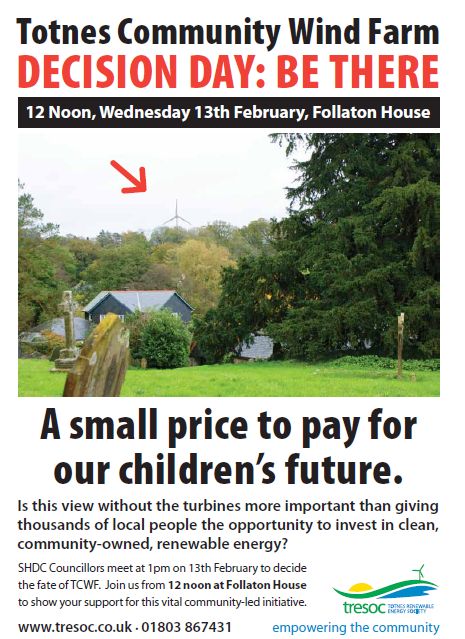 Today's guest post is from Naresh Giangrande, and explores the story of the Totnes Community Wind Farm, which is reaching a crucial stage in its planning application for two wind turbines near Totnes.  He explores how sometimes, it appears, even unprecedented levels of community support just aren't enough, and how it appears local planners have decided the view from one church and a listed building outweigh the economic and community benefits, not to mention the benefits to future generations:
Yes the small sleepy town of Totnes in South Devon is again in the latest, the hottest front line of cultural dissonance, this time over wind turbines. The Totnes Renewable Energy Society (TRESOC) is seeking planning permission to erect two 2.3 megawatt wind turbines in the best location for wind energy generation in South Devon, itself one of the windiest part of England. Some people love 'em some hate 'em (wind turbines that is), and we are well endowed with many in both camps.
Letters to the planning officer are running slightly ahead in favour of the application, but as someone pointed out, generally no one writes to planning authorities to support an application, it is always to object, so to have that balance is, in itself, a display of unprecedented support.
However, the local planners appear to have decided to not back the proposal. This is despite submitting an application that Jonathan Porritt  described thus:
"…of all the schemes we've looked at or worked on, TCWF (Totnes Community Wind Farm) is right up there as one of the most well-designed and well-supported we've ever seen.  The commitment of the 500 members of TRESOC is extraordinary, and their relationship with Infinergy (TRESOC's technology partner) is a 'role model' that we have often advocated to others struggling to find the right kind of partnership base for their projects."
TRESOC has had a good working relationship with planning officers right the way through the three years of the planning process, only to be hit with the 'we are not recommending the planning application for approval' bombshell last week. What happened?  The reason given is an objection from English Heritage to the 'loss of amenity' to the view from the church in Harberton as shown in this picture: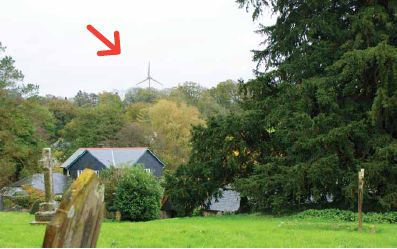 Now that the coalition's nuclear policy is in complete disarray following Cumbria council's withdrawal from a nuclear waste dump plan, and with North Sea oil and gas in precipitous decline, the only indigenous energy resource we have available are renewables. I wonder if George Osborne and his fellow climate deniers in the Tory party are still listening to the Siren song of fracking when even those in the industry see it, at best, making a minor contribution to UK energy needs? At least a fracking proposal for South Devon would unite the community!  A recent tweet from DECC observed that planning applications for gas fracking in the UK would make on-shore wind proposals look "like a walk in the park" in comparison.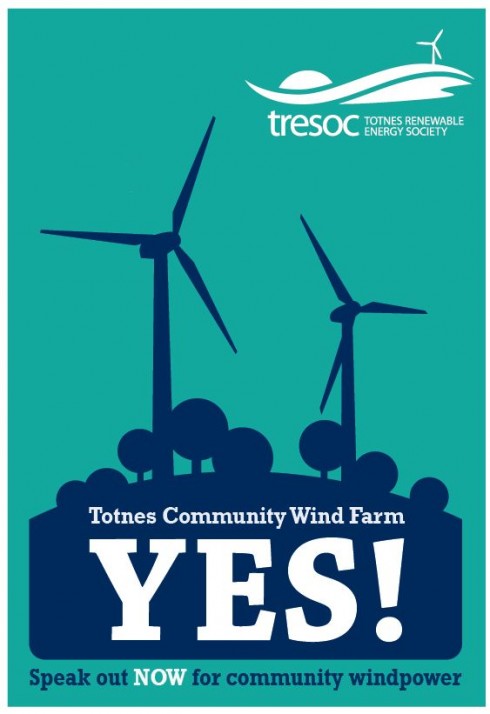 Why not just stick with solar? We have just had one of the first large solar farms proposed just outside of Totnes. The proposal covers 42 acres (yes, that's right forty two) with solar panels and coincidently is the same rated capacity of our wind turbines- 4.5 megawatts. But here's the rub, it will only produce 1/3 the KW hours of energy as the load factor of solar is so much less than wind. It is sailing through the planning process with hardly a murmur of dissent. Can we afford to cover prime farm land with solar panels? TRESOC has just installed its first solar panels on the roof of the local doctors surgery, and is developing an array of other renewable energy technologies. But wind is key.
And here's the rub, we have the best wind resources in Europe. The UK will never produce a fraction of its energy needs from renewable energy without it.  Ed Davey MP, the UK Secretary of State for Energy and Climate Change, has said that "he wants nothing more than a community energy revolution". Without wind, that revolution will be more of a wash out than the summers we have been having in the last few years here in Devon.
No report on the 'community revolution in energy' would be complete without mentioning the hate filled, negative tactics of the anti wind lobby. Unfortunately, ordinary folks are taken in by the hysteria whipped up by the anti-wind organisers. I have heard the most extraordinary things said at local parish meetings. "The wind turbines will produce vibrations that will knock all of our houses down", sickness, and mental health problems have all been blamed on wind turbines without a shred of evidence; it's all just the lies and sheer nonsense that pours from the sewers of anti-wind web sites.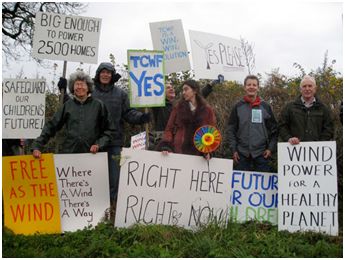 It's clear that people living near the proposed site (I am one of the closest) have valid concerns and fears. It's just a shame that we have not been able to have a reasoned debate based on facts, because I am acutely aware that we are all in this together. And in times like these it's important to pull together, and I know everyone involved in TRESOC wants to do the right thing and foster good community relations in the process.
We can still have a community-led energy revolution but only if we have a government framework to back it. We need clear pathways for planning approval, and the economic support that we have been arguing for to enable it. Good partnerships between local government and community owned schemes are a necessity. Otherwise the grand plans of giving power to the people just won't happen.  Green jobs? David Cameron recently said that we are in a "global race" which, he argues, will be won by the "greenest and most energy efficient".  We have gone the extra mile, Mr Cameron, now its time for you to as well.
Join us at 12 noon February 13 outside the council offices at Follaton House when the final decision will be made.
Transition Network recently joined charities and co-ops to urge government not to pull the plug on large community energy projects, and to support them in different ways to large commercial projects.  You can read more about that here.