17 Dec 2005
The Totnes Energy Descent Dialogue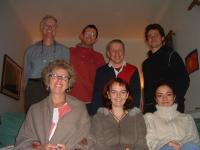 On Friday 16th December in Totnes, members of the Global Eco-Village Network, GAIA University, Sustainable Ireland Co-Operative, Transition Culture and others came together to explore the 'heart' aspect of energy descent planning work. The meeting was part of the initial work to design an Energy Descent process for Totnes, and invited people with relevant experience to share their ideas in a day-long dialogue. The day explored four main areas.
The first looked at how an awareness of peak oil had afffected each person themselves, and how our lives and work had been changed by it. How had this awareness affected each of us on a heart level? The second session looked at where we saw peak oil leading us. Did we see it as The Great Turning or The Long Emergency? Was this a spiritual or an ecological crisis? The third session looked at how best to approach communities so that they feel drawn to act positively to the challenge. The final session tried to pull out a number of tools or approaches that we could each go off and use in our work promoting this kind of work. The day was recorded and will be transcribed and posted here when that is done.
For now, some of the ideas that came up were;
1. One useful area of research would be a collect peoples' 'transition stories', what was it that made them decide to commit to living more sustainably? What was their 'eureka' moment? Identifying what it was that made them resolve to live differently is an important thing to understand and is of great relevance to getting communities to change.
2. We looked at a number of tools that one might use in a PeopleCare Toolkit, from Reevaluation Counselling to Open Space and Spiral Dynamics. The core idea was that in order to assist the community in making the steps to moving beyond oil, you first had to help them to overcome their fear of change.
3. We looked at what the curriculum for a Living Beyond Oil course might include, and felt the best way to see it was as a combination of energy awareness raising, 'trailers' for aspects of sustainable and holistic living that people could explore deeper later, and Open Space to enable people to start applying the ideas to Totnes. There was a feeling that the first step would be to train up a team of people who could facilitate Living Beyond Oil workshops, so as to build a team. This was a great idea, build your support resource first.
4. We talked about addiction counselling, and that the work we need to do to begin to address our addiction to oil. There is much that we can learn from successful approaches like the 12 Step Programme, perhaps we need Petroholics Anonymous? There will certainly be some useful tools there to explore.
5. We explore the possibility of Totnes becoming a University town through Gaia University, so that people working on energy descent can also be working towards credits for degrees.

**Back left to right; Andy Langford (Gaia University), Rob Hopkins (TransitionCulture.org), David Johnson (student Naropa Institute), Davie Philip (Sustainable Ireland). Front row left to right; Liora Adler (Gaia University, Global Eco-Village Network), Emma Schofield, Raven LeFay (beginning an energy descent project in Cornwall).**
These are just a few of the things that were discussed. As I say, I will post a more detailed record of the day when I have had it transcribed. It was a very positive and solutions focused day, which opened up a wealth of new areas for me to explore in this work. My deepest thanks to all those who participated.