18 Aug 2006
The Dream Double Bill.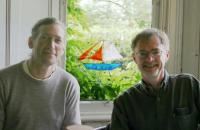 If I were able to design my dream double act to appear at a venue near me, it would have to be David Holmgren and Richard Heinberg, the two best thinkers around on the whole area of peak oil and what we can do about it. Richard is one of the best speakers on peak oil around, he addresses the subject with such compassion and insight, and is a great orator, that any opportunity to hear him is always very illuminating. David Holmgren, co-founder of permaculture, is an amazing thinker on energy and sustainability, and how permaculture's role is as a design science for this period of energy descent. The opportunity to see them together at one event is a rare occurence, and I would heartily recommend it.
Richard is in Australia for 6 talks with David. Unfortunately it is taking place at the opposite end of the globe from me, but if any of our readers at that end of the Earth are able to go, don't miss it. Of course if I were to be able to design my dream double bill in music, it would have to be Can jamming with the Velvet Underground, but I disgress. Below you can see the press release from Holmgren Design Services with all the more detailed info.
**Australia Aug 20 to Sep 6: Richard Heinberg & David Holmgren on Peak Oil & Permaculture.**
Holmgren Design Services
In August-Sept 2006 David Holmgren will be joined by Richard Heinberg, leading environmental educator from California on a public speaking tour explaining the truth and opportunities from the coming end of cheap energy. As well as taking the message to a larger public audiences in big capital city venues, this tour aims to make clear the sustainable alternatives to the "war that will never end in our lifetimes" and the "something will save our unsustainable addictions" stories which are the default reactions to the realities of peak oil.
This tour will provide resources for the sceptical to get up to speed on the coming changes as well as inspiration and empowerment for those already on the path of a more productive and saner way of life. It aims to cement the connections between emerging peak oil activism and 25 years of permaculture inspired activism on creative bottom up solutions to energy crisis.
While the historic peaking and decline in world oil supply is becoming more widely discussed in the media, it is a bad news story to rival climate change. Heinberg and Holmgren make a great team to distill the key understandings behind the avalanche of confusing information and empower people to take Peak Oil as the upheaval which will call us to refocus on opportunities to rebuild personal and household self reliance and relocalise our community and economies using a diverse range of familiar and novel strategies pioneered by the permaculture and related movements over the last 30 years.
Heinberg, author of two best selling books on *Peak Oil: The Party's Over* and *Powerdown*, grapples with the geological, ecological, economic political and psycho-social implications of Peak Oil which is holistic and down to earth.
Holmgren, co-originator of the Permaculture concept in the 1970's and author of *Permaculture:Principles and Pathways Beyond Sustainability*, shows how permaculture is much more than a form of organic gardening; in fact an empowering design system for the energy descent future.
**Tour Destinations:**
* Sunshine Coast (Sunday 20th August)
* Brisbane (Wednesday 23rd August) – What happens when we can't afford oil and water & Local Solutions to the Decline of Oil
* Perth (Thursday 24th – Friday 25th August)
* Adelaide(Monday 28th August) – Further details
* Sydney(Tuesday 29th – Thursday 31st August) – Further details
* Hobart (Friday 1st September)
* Melbourne (Monday 4th – Wednesday 6th Sept) – Peak Oil Debate & Peak Oil and Food Security – highly recommended all day workshop.