18 Aug 2006
ASPO 5. Robert Hirsch scares me out of my wits…
**Robert Hirsch. Mitigation of Peak Oil: Making the Case: more numbers and some questions.**
**Bob Hirsch** is the author of the deeply influential Hirsch report which has been referred to here on many occasions. I had really been looking forward to hearing him speak but found his talk hugely disappointing. You can see his Powerpoint slides here. I will give you my notes of his talk first, and my reflections on it at the end. It was one of those talks where you sit there thinking "did he really just say that?", and eventually realising that yes, actually he did. Anyway, this is (reconstructed from my notes) what he said*.
What happens when world oil supplies decrease? The oil shocks of 1973 and 1979 caused inflation, unemployment, recession and high interest rates. What we are about to face now is the world's first forced energy transition. Growing oil shortages will lead to world demand destruction.
Forecasting is very difficult. If we look at previous peaks (i.e. US 48, UK) we can see that even a year beforehand it was not obvious that it was going to happen. Texas, North America, UK, Norway, all had steep declines after their peaks, 2 – 10%, which is very hard to model. The Hirsch Report looked on a worldwide basis at 3 scenarios, firstly that no action is taken until the peak is reached, secondly that mitigation is started 10 years before the peak, and thirdly that mitigation is started 20 years before the peak. It assumed a crash programme implementation as the most optimistic case.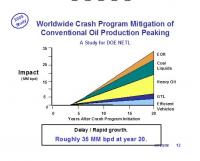 In the new study, due out very soon, we looked at vehicle fuel efficiency, and at options for mitigation in relation to that. We looked at heavy oils, tar sands, coal to liquids, gas to liquids, vehicle efficiency and enhanced recovery. Why did we look at those things? They are all ready for implementation, now. Our model assumes a 20 year preparation time, and depletion rates of 2%. This decline rate would be bad enough, but Slumberger are predicting depletion rates of 8%, which would be terrible.
The problem with transport is a liquid fuels problem, and is to do with what it is that you have to put in in order to get clean liquid fuels out. The new study, "Economic Impacts of Liquid Fuel Mitigation Option