27 Oct 2006
TTT Energy Open Space in the Local Paper.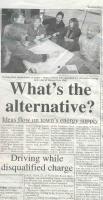 Just thought you might like to see this, a rather nice write up of last weekend's Open Space Day on Energy, together with a picture of Totnes Open Spacers having fun…. taken with thanks from this week's Totnes Times. Just to show we're not making all this up!
We had a great evening with **Bob Flowerdew** in Totnes Civic Hall last night, over 200 people. He was very entertaining and a real showman. I also did an interview with him over a pizza beforehand which I'll post here as soon as I get it typed up. Next week sees the launch of our building events, I'll post more about them on Monday.