27 Mar 2008
Positive Energy: creative community responses to peak oil and climate change. Day 5. Megan Quinn & Jonathan Dawson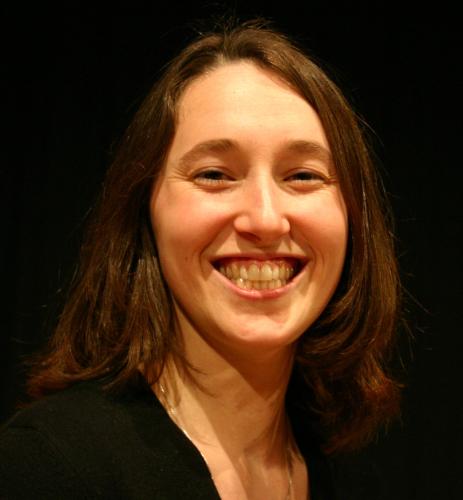 I realise I am proving a fairly hopeless Positive Energy blogger, as I am already a day behind with my blogging duties (Rowan is being far more productive than I!), so I will try and catch up. On arriving at Findhorn it was suggested to me by Jonathan Dawson that I might in fact tear up the presentation that I had brought with me and instead do something which reflected the journey that the event took me on. It turned out to be a great suggestion, but it did mean that most of yesterday afternoon, the Open Space sessions, I missed, as I was working out my presentation. The morning, however, featured two wonderful presentations, by Megan Quinn (left) and Jonathan Dawson.
Seeing as the official Findhorn blogger is doing a far more sterling effort at actually capturing some kind of a reliable record of events, and my derisory efforts are both a fraction of theirs and are also taking lots of time that I probably ought to be spending chilling out on the beach and generally not communing with my laptop, I will offer more my reflections than a verbatim account.
Megan Quinn works for Community Solution in the US, and was involved in the making of the Power of Community film. She is also wonderful in that she represents the next generation of speakers on this topic, well informed, passionate about the subject and a gifted speaker. Her talk looked at the strategy that Community Solution are developing, which they call Curtailment and Community.
Curtailment is the dramatic reduction in consumption, and is a more realistic term than the rather fuzzy 'sustainability'. The time has come to ask what we actually want to use fossil fuels for? Does it make sense to use them to sustain something inherently unsustainable? Even if we could sustain all this, say if a new energy source were found, should we?
She went on to explore the difference between change by choice and change imposed from outside, talking about Cuba, and how those changes were imposed by necessity, and although some of them, such as urban food production, have stayed, the move to bicycles was shortlived once the petrol started to flow again.
She mused on why change has been so slow, attributing it to the degree of denial out there and to what she called the Saviour Mentality, the belief that someone will come riding to our rescue. Future generations will come to rely, she argued, not on national security, rather on community security.
We need to be realistic about where we can affect the most change, she argued. Green new build will only be a fraction of the housing stock, retrofitting is much more important, it needs to be low tech and low cost. In terms of transport, hybrids won't make a great difference, sharing your car with 3 other people is far more efficient than any hybrid on the road!
In terms of food, the farmers of the future will be respected above all other careers. Indeed, it is the whole system that needs overhauling, we need to replace the industrial model with the local. What, she asked, is community? Community is the benefit, it is what we get, when we consume less and are happier.
We are still separated from neighbours and life has become such an abstraction, if we could walk through the clearcut forests or the sweatshops of China, we would change our practices, yet it is all still very abstract. Yet as people lose confidence they still perceive that they have no alternative, yet community will become their only source of security. When our focus shifts to the local, it becomes about sharing and conserving scarce resources rather than having a perception of seemingly abundant global resources.
There is a perception that in Cuba the changes were all state driven, yet 80% of agriculture is now organic, they are decentralising energy production to the community, and the reality is that Cubans didn't wait for their Government, they just got on with it, and the State had to help. This change will not come from Governments, it will start with those who are inspiring others.  (You can read the official blog account of her talk here).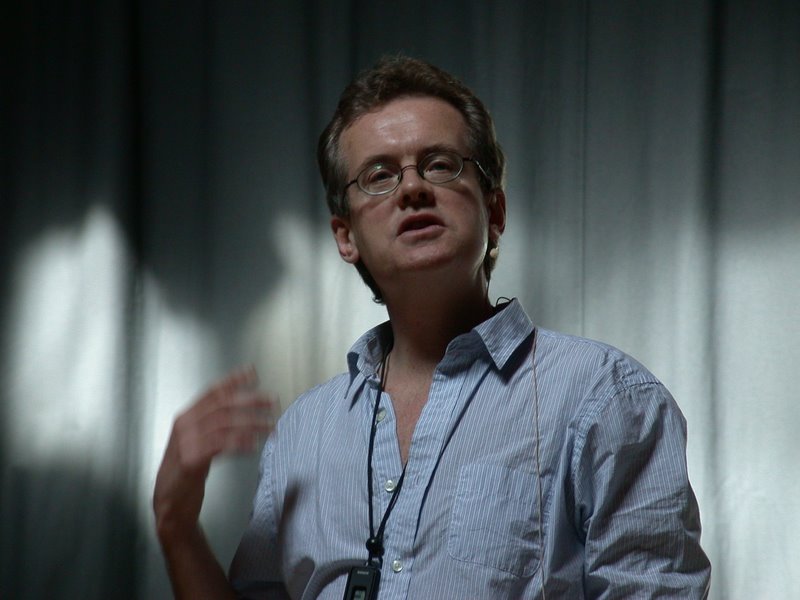 Jonathan Dawson has been a long term resident of Findhorn and is the President of the Global Ecovillage Network. His talk was called "Moving Outside the Bubble: the Ecovillage Contribution to the Sustainability Movement". Ecovillages, he argued, are places of vision, and are generally the product of pretty stubborn people. They exist in service of something different from themselves.
Findhorn recently had its ecological footprint assessed and it was a fraction of the national average, in part due to the fact that people don't need to commute (because, he said, they are paid so little they can't afford to!). Perhaps a better way to think of eco-villages, he mused, was like the Irish monasteries of Glendalough and Skellig Michael. They are places where people can take time out to breathe and to find inspiration.
Many of the ecovillages that now exist began in the 70s and early 80s, when planning was more relaxed and land much cheaper. The paradox now is that they have never been more influential, yet never harder to do. Findhorn which 10 years ago was off the map as far as local Government was concerned, is now much more accepted.
So, as monasteries, ecovillages are places of deep refuge where you can stop, which are beautiful, safe and holding. They are a place where one can step aside from the concerns of daily life, and reimagine what we are for. They are also research, demonstration and training centres, and as such are more like monasteries than villages.
He closed with the quote that opens the Kinsale Energy Descent Plan, "if you want to build a ship, don't herd people together to collect wood and don't assign them tasks and work; but, rather, teach them to long for the endless immensity of the sea". In terms of looking at the difference between Findhorn and BedZed in this context, we could see BedZed as a boat yard, and Findhorn as a dream factory.
The conference was joined by videoconference by students in Sweden, who were able to ask questions. The idea had been to have Sao Paolo too, and a couple of other places, but they didn't work. A great way of bringing people in from elsewhere.
The afternoon was all Open Space, and I disappeared to prepare for my talk today. I did make the final session which was a networking session where people arranged themselves in terms of where they come from geographically. It is wonderful being here with such enthused, positive people, and the event itself has been designed with enough space built into it that it does not feel too intense and overwhelming. By the end of the day, I had my presentation sorted for the next day, and was able to have a relaxed couple of bottles of ale in the cafe to wrap up the day.