8 Oct 2008
Learning to Live with Solar Panels
The title of this post makes solar panels sound a bit like some unfortunate ailment, but moving from the instant hot water world to the solar world is definitely a process of learning a new way of doing things.  It is now nearly a month now since our solar hot water system was installed by Sungift Solar of Exeter, as part of the Transition Town Totnes Solar Heater Challenge scheme.  We went for flat bed panels, not for evacuated tubes, and the installation took a couple of days and was pretty painless.  So now we rely on the sun for hot water, and our gas boiler sits looking slightly put out, its role now reduced to topping up the tank when requested (you can almost here it mumbling, grumbling about "the good old days"…).  Although it has taken a bit of getting used to, I think having solar panels is quite wonderful.
In our hallway, which was always a fairly dull place you just passed through to get to other places, there is now a digital box which gives you certain key bits of information, and makes it a fascinating place to spend some time.  It tells you the temperature in the panels, the temperature at the bottom of the tank, the temperature at the top of the tank, and how many hours of collecting heat from the sun we have had since the system was installed so far (172 so far, and counting…).  It has now become the first thing that I do when I get home to check how much solar heat has been harvested in my absence.  On a good sunny day it gets up to over 60 degrees, but on a cloudy day it doesn't get much above 35 degrees.
One of the first things that has been useful for me has been getting my head round what those temperatures actually mean, being a fairly innumerate kinda guy.  Anything under 45 is a pretty tepid shower, and over 60 is the kind of bath that hurts to get into (the kind I like but which are a pretty rare occurance nowadays).  My teenage sons have become rather keen on spending hours lolling in hot baths, seeing showers as a fairly poor substitute.  Now when the question comes "Dad, can I have a bath?", my reply is now "I have no idea, check the box". I haven't yet told them that if there isn't enough from the sun I can still top it up with the gas… we'll just leave that piece of information out for now I think….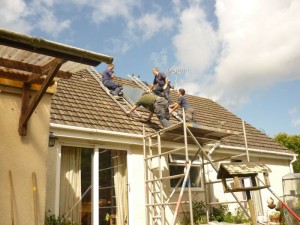 Our longer term idea, as finances permit, is to add a woodstove (installers of which are apparently run off their feet at the moment, such is the number of people installing woodstoves as fuel prices rise), which will have a backboiler to heat the water in the tank.  What I like about having solar panels (especially when you try, as we are doing, to not use the gas as a top up, using hot water when we have it and doing without when we don't) is that it is one of those self-imposed restrictions which actually makes life far more interesting, connected and satisfying.  I am coming to feel more in tune with what the weather is doing, more connected to the seasons and the world around me (in much the same way that having a garden does).
I have found, since having them installed, that I have entered the extraordinary community of people with solar panels.  I meet the kind of people who have kept Excel spreadsheets of the performance of their panels every day since they were installed, and can regale you with stories of the sunniest day of '06 and so on.  It is a fascinating community of people who have fallen in love with this most simple and efficient of technologies.  We had hummed and ha'd for months about installing them, but now they are up I wonder how we ever lived without them.  If you are thinking of installing some yourself, as they say, come on in, the water's lovely (well, at least it is when the sun's been shining…).
***********************************************************************
You can read the account of another TTT Solar Challenge person here, which is great, but not as good as what Transition Town Lewes and the Ouse Valley Energy Services Company are doing, installing solar panels with funding from Lewes District Council which means that for people on benefits the installations can actually be free (our local Council wasn't interested).  You might also enjoy a fascinating, if somewhat worrying, story from the US which will give me a few sleepless nights listening for the sound of solar panel thiefs crawling across the slates…. .  Also, Sami Grover over at TreeHugger just had solar panels installed, a similar kind of experience….