7 Jan 2009
Five Months and Counting…. the realities of giving up driving
I often liken breaking our collective and individual addiction to oil as being like giving up any other addiction.  My family has now passed its fifth month without a car, and the process of getting used to life with no car has been very similar to giving up drinking or smoking.  I can't for a moment say that it has been easy and hassle-free, but at the same time, we are still here, no-one has starved to death or died of boredom, life goes on, and we are, in many ways, the better for it.  What I want to do here is not to give some rosy 'it's been so easy' account of the process, but rather to give a warts'n'all account of where we have got to, in order to stimulate discussion and debate. 
It maybe useful first of all to set the scene.  We live about 2.5 miles from the centre of Totnes, and about the same distance from the different schools my kids go to.  We live in a small cul-de-sac of houses, and there is a general store with a post office about half a mile from the house.  We have 4 kids, all at school, and I work in Totnes.  We had a car until just after the summer, when the car we were car sharing stopped being available.
We decided at that point that we would just see if we could make it for a week without having to buy a new one.  This goes back to the alcoholic thing.  If we were to decide to give up having a car for ever, that would be too much, we would have panicked and bought one.  So we just decided to see if we can get to the end of each week without one, and when we get there, to look to do the same the following week.
My eldest kids walk or cycle to school, and the youngest two go on the bus, walk, or get lifts from passing parents of kids who go there too.  I cycle to town and back, and if I need to go further afield I go on the train.  Some things are easy to do, other things harder.  So here, as a condensed overview, are the Transition Culture Pros and Cons of Not Having a Car.
The Pros
Obvious things like it saves you money, makes you less carbon intensive and is better all round for the environment and society (but you knew all that stuff already…)
You no longer find yourself dashing about to places just because you can
None of that messing around with tax renewals, spending hours on the phone to insurance company call centres and so on
Walking and cycling mean you get to see more of the world around you, feel more connected, and have good space to think and form thoughts ( I find that cycling to town and back is when I get to think through talk I need to give or things I need to write)
Children walk and cycle without moaning now, because they know that it is not going to make any difference!
The Cons
Some things become very difficult.  In terms of children socialising after school, you become quite dependent on the parents of the other kids in terms of dropping kids home again.  It also is very hard to do drops-offs and pickups of 'stuff', i.e. taking stuff to the recycling centre, picking up manure and other materials for the garden, stuff we need for the house and so on.  What increasingly happens though is that car-owning friends let us know in advance when they are going to certain places and we get lifts with them
Getting to the beach in the summer will be a great deal harder (although not impossible)
Getting shopping back to the house can be difficulty, as we are about half an hour's walk from the shops.  Big shops tend to come home with my wife in a taxi or on the bus
The weather.  The cold is really more of an enemy than the rain.  Rain is far less of a problem than many people think; over the whole of last year, there were probably only 3 times when I got soaked cycling in.  Getting kids excited about walking to school when it is freezing is much harder.  Luckily there is a country bus that goes from very near our house up to near the primary school
Visiting friends in surrounding villages, which means we tend to invite people to visit us more, as they still do have cars.  Clearly this is not a long-term solution, as it would not work if they also gave up their cars.  It also means we tend to do more of the cooking, and hosting of get-togethers, which has its own pros and cons (although fortunately we rather enjoy doing that…)
I never really suffered from the Clarkson-esque male torment about not having a car.  I don't associate with my car, it has never been something I have become especially attached to.  I hate driving, and I always have.  A car has always been purely a way of getting from A to B, one which, in an ideal world, has a good stereo in it.  I know for some, the idea of driving much less feels almost like a personal insult, an affront, a diminution of one's masculinity, which would of course make giving up the car much harder.  All those records about driving south on Highway whatever do very little for me.  I consider myself lucky to have never suffered from that one myself.
At the end of the day, not having a car affects me less than it affects my wife.  For me, the main impact is that I cycle everywhere, which I did mostly anyway, whereas my wlfe looks after more of the home matters, shopping, children etc, and even sourcing things for the building work/retrofitting we have been doing recently which can prove to be quite tricky, in fact some elements of it would have been nearly impossible were it not for one very helpful friend (with a car) who has been very generous with her time driving around collecting stuff and sourcing materials (thank you Nina!).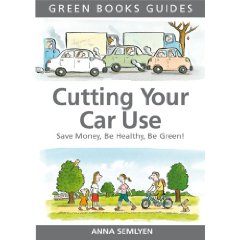 In times like this it is very useful to have some support, some words of wisdom.  Mine came in the form of a book I have had for years, and which I blew the dust off recently, Anna Semlyen's Cutting Your Car Use, a good, concise, practical guide for the aspiring car rejecter.  In it she writes;
Planning is vital to success.  Look at your lifestyle.  Is it feasible to give the car up?  Look at alternative ways to do things, including work, shopping, leisure and escort journeys.  Do you have everything else required at your fingertips?  An umbrella, waterproofs, alternative travel plans, good shoes, taxi numbers, public transport details, the relevant maps and car hire details etc.?
It is this aspect of being organised that is key to it, I think.  When you have a car, the car gives one the freedom to be less organised.  You can, on the spur of the moment, decide to go somewhere or do something having done absolutely no planning in advance for it. You can just pop to the shops because you need a pint of milk, nip to to Moors for a walk, pop to meet a friend for tea in the next town.  It requires no advance preparation.  Yet when you have no car, you need to think ahead.
One of the things that has been coming across time and again in the oral history interviews I have been doing over the last month or so, which have focused on the period from 1930 to 1960, has been the degree to which less energy availability, more localised economies, and the lack of personal transportation meant that people were far more organised in their daily lives.  People had their days quite tightly timetabled, people outside towns only came in once every week or two, and needed to make sure their shopping was done in such a way that they didn't need to 'pop out' for stuff.
Being organised doesn't come easily to us, but we are having to learn.  Doing a weekly big shop, planning meetings with friends, pick ups, drop offs and so on.  It certainly makes life harder in some ways.  Yet, as Richard Heinberg argues, the sooner we start learning to live without oil, the easier it will be when it simply isn't an option.  In my family's attempt to cut our carbon by 9% a year, having already stopped flying, then the car is the next thing to drop.
The other great thing in Semlyen's book is the section that invites you to calculate how much having a car actually costs you.  We had sat and done something similar, thinking to buy a second-hand car large enough for my family might cost, say £4,000, which would last us 4 years, so let's say £1000 a year for the car itself.  To tax it for a year would cost £120, and to insure it, say £300.  There's the MOT too, I can't remember the cost of that.  Then say £1000 a year for fuel, £400 for repairs, that's £1,820.  That's about £35-40 a week.
By our reckoning we spend about £8 a week on bus fares, which leaves us the possible use of 4 or 5 taxi rides a week if necessary (in reality we rarely take more than 2), and still staying below the £35.  Of course all this changes if we take longer trips, but having a family railcard and buying tickets in advance helps greatly with that, and it is a much more relaxing way to travel with children than all being squished in a car.
The thing that will make it all much more effortless would be to be part of a car share scheme, something like this one.  That would mean that on days when we fancied a trip to the beach, or needed to haul stuff around, we could.  There are moves afoot to start one here, I think it would be a key factor in lots of others letting go of their cars.  We are also still keeping the option open of going on a friend's car insurance, in order to have access to occasional car use.  So, for now, we are taking it a step at a time, but with each week that passes, the resolve grows stronger that actually we really don't need a car after all, and that perhaps we might actually manage without one.  It is still early days, but from here, life without a car doesn't look too bad.