2 Sep 2009
2012 and the Return of the Alarmingly Gullible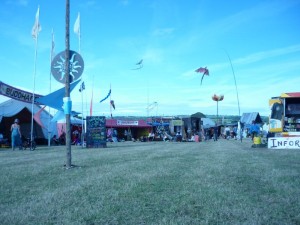 I spent a few days last week at the Sunrise Off the Grid Festival near Shepton Mallet.  I had been invited to go and give a talk, and went along with the Hopkins family en masse.  It was a small and intimate affair, with some great things; the Transition area in the Tin Village was fantastic, the talk I gave went fine, the weather was mostly kind, and it was all quite relaxed and pleasant.  I haven't been at a festival since 2007's Big Green Gathering, and there was one key thing I noticed that has changed since then, and which left me feeling very uneasy and with a profound sense of disquiet, so I wanted to give it some attention here.  It was the alarming rise of the 2012 doomsters….
There were many workshops and talks at the festival about this idea that 2012 is somehow significant and that, depending on who you talk to, the world will either end, transcend to a higher plane (or plain?), get smashed to pieces by a comet, or some other deeply meaningful, world changing event will occur (check out websites like this, for the kind of drivel that 2012 devotees swallow down whole…) . The bookshops were full of 2012 books, and on the way home we went to Glastonbury town (which makes Totnes look like Slough) where every bookshop seemed to have a 2012 section, full of books with titles like 'Planet X Forecast and 2012 Survival Guide', 'Beyond 2012: Catastrophe or Ecstasy – A Complete Guide to End-of-time Predictions' and '2012: The Return of Quetzalcoatl'.  As I sat in one of the tents while the gear was reorganised for the following band, a song played over the PA which was a quite groovy, upbeat tune, but the words were all about 2012, and how 'the positive energy will heal the world'.
Now the alternative scene has always offered a particularly safe bolthole for the alarmingly gullible, but this 2012 stuff really gives me the heebygeebies.  Some of the speakers, who elsewhere wouldn't even be given the time of day but at an event like Sunrise are hailed as sources of great illumination, mix 2012 stuff with conspiracy stuff with spiritual warfare David Icke type stuff and whatever other daft nonsense is in vogue that week.  It is the 2012 stuff though that is most alarming, and here's why.
Firstly, it is, of course, utter nonsense.  The idea that 5,000 years ago, the Mayans (good astronomers, but fairly brutal and unpleasant in many other ways) were able to predict that on December 12th 2012 something of extraordinary significance was definitely going to occur is bonkers.  Here's how my logic goes anyway.  Everything that happens arises based on the causes and conditions that preceded them.  Nothing happens without something causing it to happen, whether it is chance, random chaotic occurences, or conscious interventions and actions.  What happened to me today was in part predictable, and in part entirely random.  Thinking about what might be happening next week is like the long range weather forecast, it may turn out like that, but the best laid plans oft go awry…
As for a year ahead, we may have aspirations and desires, but the elements of chaotic intervention are such that we really have no idea.  Great sequences of unimagined events can intervene, complex patterns of events arise chaotically, and with all the best intentions, we find ourselves doing completely different things.  Life changes course regularly, sometime subtly, and sometimes dramatically. The idea that someone 5,000 years ago had the supernatural powers to be able to predict definitely what would happen 5000 years later is thoroughly illogical.
Of course people have been predicting the end of the world almost since it started.  The Religious Tolerance website has a great list of all the predictions that the world was going to end in 2006, including one from the book 'The Bible Code II', which you may have seen in remindered bookshops recently, that in 2006 there was meant to be a world war and a nuclear apocalypse.  I must have missed those.
Adam Rutherfold, writing in the Guardian last year, pointed to the absurdity of two more of the 2012 predictions.  The first is that 'the Earth and the sun will come into alignment', when surely, he writes, two objects are always in alignment with each other?  As he puts it, "if the sun and the Earth are coming into alignment in 2012 what the deuce have they been doing for the past six billion years?"  The second is the idea that the Earth's magnetic poles will shift, leading to huge tidal waves and all kinds of wild meteorological carnage.  The Earth has actually shifted its poles many times thoughouts its history, and it has never caused any significant problems for anyone, other than perhaps a few birds getting slightly lost and water going down the plughole the other way.
One could dismiss this, of course, as a load of harmless, fanciful nonsense which gullible folks inclined towards New Age/alternative culture thinking will immerse themselves in with no real detrimental effect on anyone else.  But as I sat there in a field in Somerset, I felt concerned.  We are 3 years away from December 2012, yet already for some people this is a big deal.  I met people there making their financial decisions around the thinking that they had to be 'ready' for 2012, and when it is woven in with some of the other conspiracy stuff that was doing the rounds, it all gets quite alarming.  When people think that beyond a particular date there is either nothing or there is chaos, then all kinds of behaviour become acceptable.
In 1969, Charles Manson managed to convince his acid-addled followers that end society was about to dissolve into chaos, and that their role was to help bring it on.  The results were dreadful.  There have been many others, the sarin attacks on the Tokyo underground, the mass suicides of Jim Jones, and the Heaven's Gate suicides, when followers of a cult in the US believed the Haley's Comet was being trailed by a huge spaceship and they had to leave their bodies in order to get to it (the idea of there being a spaceship behind the comet was a popular one on New Age/conspiracy websites at the time).  When there is a perception of no future, any kind of behaviour becomes acceptable.
Feels to me like this 2012 thing is something with a powerful attraction to some, yet it is something that is easy to refute with just a small amount of logic.  Problem is that Hollywood is now gearing up for 2012 too, with the film, 2012, doing for 2012 what The Day After Tomorrow did for climate change.  Check out the trailer below, fantastically absurd, there is, of course, nowhere near enough water in the world to come even close to doing anything like this, but it makes great cinema.
What was of gravest concern to me, as I looked at this event that supposedly represented 'alternative culture', was what a huge distraction this whole 2012 thing is from what we actually need to be doing.  Here was an event which supposedly represented 'alternative culture', which believes that it holds most of the ideas and thinking that actually know best what society needs.  There was recycling, it was off grid and so on, but at the same time there was all this 2012 stuff.   Peak oil, climate change, actually doing things, actually rolling up our sleeves and getting our hands dirty, can all end up being dismissed.  As the song I heard playing put it, 'positive energy will heal the world'.  Not that we need to do anything, you understand, we just all have to tune in to it, be in the right space for it, be 'conscious to the changes', and magically we will enter some kind of transcendent world where everything that we always believed in somehow has magically come to be everyone else's reality too.
Sorry folks, the future we create will arise from the results of the actions we have already done and from what we do now, not thanks to some great cosmic forces beyond our influence (and beyond the understandings of any kind of scientific thinking).   In terms of climate change, it is not December 2012 we need to worry about, but December this year, when the Copenhagen talks take place.  As to when we need to start living in a carbon constrained way, that was about 15 years ago.  In terms of peak oil, was it last year, next year, or 2013?  No-one yet knows for sure, although official estimates continue to creep closer, but again, the sooner we start building local resilience and getting on with it, the better.  There are no cosmic forces that are going to do all this for us, it is down to us.  Some arbitrary date on an ancient calendar is not going to magically reduce concentrations of atmospheric CO2, refill the world's fast depleting oil wells, overcome challenges of water, resource and land scarcity, rebuild genetic and biodiversity, rebuild depleting soils, feed the starving and overcome the very real constraints of a population with expectations of perpetual abundance living on a finite world.
What ideas like 2012 do, is to allow an abdication of personal responsibility.  "There are greater forces at work and we just have to go with it", "it's out of our hands", "all bets are off as to what is going to happen".  No mystic space people, nor some ancient powerful energy, are going to come to our rescue.  It is down to us, here, now.  It is a huge distraction, one much easier to believe (because at the end of the day that's all it is, a belief, an article of faith) than to believe that we need to actually do stuff in an organised way.  I look forward to December 13th 2012, when it will be clear that the whole 2012 industry was another spectacular waste of paper, bandwidth and human energy.  Unfortunately by then, due to the inactivity of the preceding 3 years, the world will be 43 months from catastrophic climate change, the UK may well be experiencing blackouts, and those gullible enough to have spent their time 'preparing for 2012' (a difficult task as none of the people who write or speak about it have the foggiest idea what might happen, other than that it is 'something big') will emerge blinking into a world that is actually still just the world, albeit an increasingly fragile one.  We must challenge this nonsense with logic and reason wherever we encounter it.