8 Sep 2009
Responding to Ted Trainer's Friendly Criticism of Transition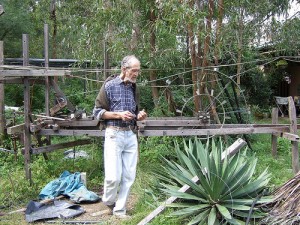 Ted Trainer (right, author of, among other things, the utterly indispensible 'Renewable Energy Cannot Sustain a Consumer Society' just published a long and detailed piece which offers his thoughts on the Transition movement.  He sent me an earlier draft which I, in return, sent him some detailed thoughts on.  Given that the final published piece didn't seem to take on many of the points I sent, the comments I wrote still stand as a response to it, and I offer them below in the hope that they offer a reasonable companion to Trainer's considered piece.
Dear Ted,
My sense is that ultimately we agree on most things, just where we might part company is on where to be most skilful in applying our energy in order to make it happen, and in particular on the way in which to engage with other people who don't look at the world in the way in which we do.  The first thing I wanted to pick up on was some of the language you use, which we try very hard to avoid in Transition.  You write that "people will come across to join us", and "people will see that they must either take up our examples or starve".  My sense has been that for years, in the green movement, we have held just that kind of thinking, that we are right, that everyone else is wrong or misguided, that we have the answers if only people weren't too stupid to see them.  This kind of thinking has really been encapsulated for me in the film title, "The Age of Stupid" and its 'Not Stupid' campaign (I think since I wrote this letter that that campaign has since morphed into the far better 10:10).  For me, the most fascinating areas looking at this now, such as Tom Crompton and Tim Kasser's forthcoming 'Identity Campaigning' paper, see it as being much more complex, that we are all a mass of contradictions, compromises, complexities and core values.
I don't see the nature of the challenge in quite the way I get the impression you do. I don't think that we (i.e. the green movement) have all the answers, and that it is just a case of getting everyone else to see how right we are.  Many of the answers we need are to be found in people who we might, in a more judgemental moment, see as being part of the 'system'.  In my town, there are business people, lawyers, church groups, local history groups, and thousands of ordinary people with busy lives, bills to pay and children to raise.  Many of them may be keen on some aspects of Transition but not others, many have never heard of it, and some don't care, and many of them have feet in both camps.  Does that make them stupid, or in need of 'our example'?  What is important, it seems to me, is that we get people to become healthy manifestations of wherever they are at… in fact in my view it is not a case of people "taking up our examples or starving", rather that unless we, as a small minority with some good and powerful ideas, learn to engage respectfully and creatively with that mainstream, we will starve too.
Your statement that 'only an anarchist form of government' could ever be successful also caused me great alarm. Who's to say? As a starting position, to wear such a position on one's sleeve is a great way of having absolutely no-one else other than anarchists get engaged at all. I can't say what would be the best form of government, but I do know that whatever it is, it has to be one that the majority of people in the community want, and creating that requires a great deal more humility and openness than a starting position that one form of governance is right, and anything else, whatever it is, is wrong.
To go through a couple of your concerns.  Firstly the one about Transition initiatives building 'havens', insulating themselves from the rest of the world, and seeing that building their own resilience is enough.  I haven't met a single person actively involved in transition who sees it like that, indeed that is part of the reason Transition Network was established, as a way of making sure that people saw that it was not enough for just one town to do this.  I must challenge though your point that unless Transition initiatives make explicit the fact that they are about the end of capitalist/consumer culture they will be doomed to failure.  I disagree.  There is, it seems to me, a key tension between what is made explicit in Transition and what is kept implicit.
We are often criticised, like in the Trapese Collective document about Transition, for not starting out with an explicit position that capitalism has to go before we can do anything.  My sense is that, if we are to actually engage people on the scale necessary, making an explicit position about capitalism and consumerism is the best way to fall at the first hurdle.  You write; "it is to do with developing town economic self-sufficiency.  The supreme need is for us to build a radically new economy within our town, and then for us to run it to meet our needs".  Indeed.  But that is a huge task, and one that needs a large proportion of the town onside.  I have long felt that in the green movement we have lost any perspective as to how we come across to those we need to bring onside.  Making our starting point that we want to see the end to capitalism and consumerism will alienate our work from the business community, from those whose livelihoods depend on those businesses, and local government, all key players.  It would sideline Transition into just the kind of impotence that you fear would arise from its not doing so.  Surely we can be more skilful than that?
Further, this is absolutely not to imply that we have a subtle and secret master (mistress?) plan behind the scenes to which we're working. It simply means that when we talk about (for example) economic growth, consumption and globalised trade we seek to do so in a way which invites people who might well disagree with us on some or all of these issues to see other benefits from joint working.
Transition does a great deal of thinking about how it relates to power structures. This was indicated, in part, in the visit to the 2009 Transition Network conference by UK Secretary of State for Energy and Climate Change, who was invited as a 'keynote listener', and who did just that, came and listened. For me, one of the goals, of Transition Network in particular, is a broadening of the understanding of the concept of resilience. We discussed for a while here how Transition Network might best participate in the upcoming elections here, given that we have long taken an avowedly non party political stance, how it might relate to power structures. We feel that part of our role, at least, is to put forward a strong vision of what resilience means in a positive sense, and in a way that addresses peak oil and climate change. There is an increasing talk about resilience in Government circles, but at present it can be used as easily to justify mass immunisation and ID cards as local food and decentralised energy.. the key point being resilient-to-what? If we've enabled a serious discussion of this concept across the political spectrum in the run up to the election, then we feel that we're sowing potentially extremely useful beginnings of changes in the way many people think about the world. You might also be interested in the attached paper by someone active in transition, which offers an individual perspective on how transition could engage with power structures.
To me, part of the power of the Transition argument is that it doesn't start with a belief that growth, capitalism, whatever, are morally bankrupt and ethically malevolent.  Rather, I argue that in the light of peak oil and the economic meltdown, their implosion is inevitable and that we need to engage the same creative thinking that got us to this point in designing a new approach.  In conversations we have with local authorities, we say that if they actually want to meet their goals of affordable housing, cutting carbon emissions, creating local businesses and so on, with a business-as-usual approach, they are all unachievable.  With a Transition approach, looking at local businesses, local materials, building local resilience, they can achieve most of those aims (apart from the economic growth ones!!).
So when you write that Transition "must… make sure the movement is explicitly, consciously and primarily about nothing else than contributing to a global transition away from consumer – capitalist society", I find myself torn.  Ultimately you are right, but I think if it is "explicitly, consciously and primarily" about that, it will find itself stuck in a ghetto of its own making, ranting (or at least being perceived by many or most people as ranting) about how nobody understands, and when will everyone see the error of their ways and come over to "the rightside".  Any approach which came close to being like that would deeply deeply concern me.  I am taken with the idea of Transition coming in under the radar, and my experience is that the people who are picking it up and running with it are, in many cases, not people with a long background in anti capitalist work, but just people who often perceive themselves as apolitical and are taken by the vision of the whole thing.
You also state that you feel that Transition doesn't give enough guidance.  There is a fine line here.  We see Transition as a catalyst, something people start and then projects and initiatives emerge.  We are keen to not be prescriptive, and as a result, Transition looks different in all the places it starts.  We see our role as being more to gather the successes and failures of projects and to link to people already doing things so that wheels aren't reinvented.  We are doing a series of books, 'The Transition Guide to…' which do just that, the food one will be out soon.  You refer to Transition as being a 'procedure'.. we see it more as a 'process'.. the Transition Training is very much about seeing Transition as a process, one that works on both inner and outer levels, and for many that is the power of it.
Also, one brief point, I wouldn't hold the Kinsale EDAP up as an exemplar of Transition, it was a student project done 5 years ago, before we even thought of the Transition idea… it is largely a collection of ideas.  In terms of your take on local economies, "the Transition movement will come to nothing if it does not set itself to build such economies", that is a core aim of many Transition projects.  Your model of the Community Development Co-op is very similar to what a number of Transition initiatives are looking at doing, in their own different ways.  In fact I would argue that the Transition initiative itself, in working through the 12 steps and building up to doing its EDAP, will inevitably start doing some of the things you set out as things a CDC should do.  Once that EDAP is created, then the initiative might well decide that it should become a development company like you have outlined – or it might seek to find some other way or ways of setting out to catalyse the town to take up some of its findings and suggestions.
We feel that EDAP process is vital though, as it offers, in permaculture terms, a design to work from as well as a process which gets people to work together in building their understanding of what a resilient community would feel like.  I feel that what you set out as being the things that CDC should do are very tricky for an unfunded volunteer organisation – when designing such an organisation, given the power of the status quo, we have to be as inviting as we can in terms of what is achievable… many people would look at the list as you set it out and think they haven't a hope of achieving that.  However, there is very little difference between what you set out as being desirable for such an organisation, and what Transition groups are actually doing.
In terms of the section on local currencies, 2 quick points.  Firstly, these are all experimental, and no-one claims to have yet created the ideal model. … secondly, you state that just issuing a local currency will make no significant difference…. you may be right, but you underestimate, I think, the potential of a well-designed local currency scheme as an awareness raising tool that can start to get people asking all kinds of questions about money and our relationship to it.  It is, in effect, mindful money, and we rarely take into account the impacts of that.  You might be interested to know though that we're already talking to some transition initiatives and potential partners about other, wider, ways of looking at money and local economies.
With many thanks for raising these points, and with gratitude for all your great work.
(With thanks and apologies to whoever it was on Flickr whose picture of Ted, presumably in his garden, I have shamelessly plundered for the above image).