16 Feb 2010
'Churches in Transition' Launches with a Conference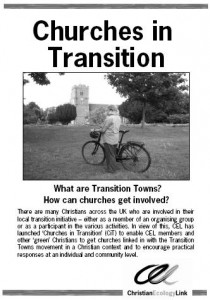 Here's a fascinating piece from Ekklesia about the recent Churches in Transition conference in Scarborough.
"Christian Ecology Link have launched a support network for "Churches in Transition", part of the Transition Towns movement, and has held a major national conference on the transition to low carbon lives.  At their bi-annual gathering in Scarborough this weekend, 50 participants from across the Christian spectrum came together to explore the implications of climate change and 'peak oil'.
Churches in Transition (CiT) is a broad interdenominational alliance of people who hear the call to cut carbon emissions and prepare for increasing scarcity of oil. It was launched at the parish church at Ottery St Mary, in Devon, a Transition Town, in November 2009.  Christian Ecology Link are encouraging individuals and their churches to start an 'ecocell' study course in lifestyle change, and take part in online conversations and collective spiritual discipline for Lent.
Led by Sam Norton, the Rector of St Peter and St Paul in Mersea, Essex, the Scarborough conference explored the spiritual roots of sustainable Christian living. The evening entertainment included showing the films "In Transition" and "Six Degrees"; and the holding of a Low Carbon ceilidh, complete with bagpipes.
Was anyone there?  Anyone want to give us a report on how it went?
For more information you can check out Churches in Transition (CiT)'s webpage here,  Christian Ecology Link's main website here, you can find Churches in Transition's leaflet here and the CiT online forum here.