8 Jun 2010
A June Round-up of What's Happening out in the World of Transition
Here we are again with a long round up of stories, links, film clips and much more that gives a flavour of the eclectic and diverse stuff happening out there in Transition initiatives around the world.  The time of year being what it is, we have foody things at the top of the list. TT Portobello kicks off this month's update with news of short courses in vegetable growing and raised bed construction.  For all those green fingered people in South London, can you help TT Brixton by training others on their Master Gardener training course?  These start mid-June, so get in quick and share your skills!  TT Sevenoaks was highlighted in 'This is Kent' for its rapid success, and news of its community projects including a seedling swap, advice on raising chickens and bees, as well as plans for a Food Hub information centre.  There's a wonderful Transition City Community Allotment going on in Canterbury: see here for lovely pics and the MOST beautiful pair of wellies!
TT Louth has a little story about their community garden and a yummy rhubarb feast, and I smiled to read that permablitzing has hit the UK!…(or did I miss something earlier?).  TT Worcester has been out blitzing and planting more fruit and vegetables. They've also been busy with a pub quiz and a woodland food forage. And what a lot of lovely food projects TT Shrewsbury has going on! New Forest Transition's Hale Local Food Market has been allowed to go ahead, so if you live close by then try to support it. TT Dorchester is very happy as they've been given access to 2 acres of the Duchy of Cornwall's Parkway Farm lands for their community garden. This is wonderful for increasing people's access to land and possibilities for growing their own food, not to mention increasing the resilience of their local food system (and decreasing CO2 and…and…)….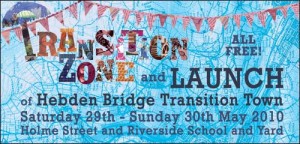 In other news, we've had a couple of TT launches, one at T Malvern Hills and TT Hebden Bridge, which also had lots of solar and pedal power. Congratulations to you both!  TT Forres in Scotland has started working with a project management group in order to free volunteers up and to enable the group to be more effective.  In case you missed it, TT Totnes recently launched its EDAP, which you can read all about here and here! And hooray hooray for Peter Howe of TT Stourbridge for bringing us the Transition Town Rap! It's fantastic! In case you missed it on Transition Culture earlier, here is a great short film about the Transition Scotland Gathering late last year….
TT Finsbury has shared lots of goodies with us this month. There are videos galore (24 to be precise), made during their 'Welcome to Finsbury Park Project', and they've also produced some step-by-step manuals for their video workshop and subjective maps workshop. And we have some wonderful wonderful footage from the Scottish Transition Get Together in December 2009.
TT Halesworth has been busily Upcycling… Yes indeed, what IS that anyway? Find out here and see why you should have a go too! TT Taunton had a similar event – make do and mend (see right) – and they'll have more of them following soon. TT Portobello is in the news again, this time going out and about doing home water checks and helping you save water (and keep the bills down). I like this: anyone for a Nappucino? It's TT Horncastle's accompaniment to a cappuccino…but a Nappucino? What on earth…???  Find out here!
Good luck to TT Berkhamstead's car free day… Let's hope the town is empty of cars and filled with bicycles. We have more wonderful footage from the Trashcatchers carnival preparatory workshops, which you can enjoy below…
In a similar vein, Transition Hexham recently held an even where people got incredibly funky with old rubbish… check this out…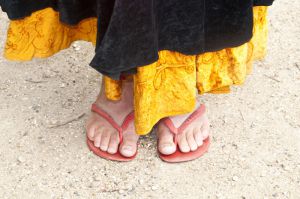 How is our wonderful Steph getting on with her epic journey through the highlands and lowlands, and the Transition cities and Transition Towns of the UK? Catch up with Steph here and see if she'll be visiting a Transition Town near you! Ah, we nearly forgot… here's a great picture of her flipflopped feet (see left) … Steph's chosen footwear for the duration of her trip, come rain come shine, come mud come stones… We should have laid bets on how many pairs of flipflops will expire enroute…cos it's a toughie on any type of footwear!
Transition Town Bridport recently held a 'design a logo for Transition Town Bridport' competition… and here is a short clip about the outcome of that….
Over to Europe, we have a new TT group that's started up in Witzenhausen, Germany. Thanks for the good news! And here's a little piece in French about the Transition Hub in Brussels. In Dordrecht in the Netherlands there is some Transition/permaculture stuff happening (including a rather fine herb spiral, although given that its all in Dutch its hard to figure out what it's all about….)….
In the US, we have more entertainments with 'Save the Secret of the Seasons', which is a participatory musical experience, or co-opera, organised between TT Putney and Sandglass Theatre. It's based on songs written for the Copenhagen climate conference, and there's a 3 song CD available too. Congratulations to TT Carrboro-Chapel Hill on their recent Unleashing! Read all about it here and here, and congrats also to TT Whatcome who Unleashed in April, and they've made a movie to share with you all (see below). Rob put in a showing in a very remote way…
Could there be another local currency on the way? T San Francisco met to hear about the bernalbucks, have some discussions and do some voting…so we shall see.  Jane Poyourow, Transition US blogger from T Los Angeles, offers five strategies for achieving CO2 reductions down to 350ppm. So what are we waiting for? Then, for the more techie minded amongst us (which excludes me instantly), you might be interested in this: web technology with resilience in mind.  Then we have a great clip from US TV, a show called 'Sustainable Today', with David Johnson and Jim Newcomer speaking about the Transition Towns movement in Portland, Oregon, and how it came to be….
Also, here is a great TV newspiece from the US, about Transition Lancaster…
Down under, the Permaculture Research Institute of Australia held a Transition Day gathering where permaculture co-originator David Holmgren was a special guest, and was also the star attraction at an event organised by T Kurilpa and the Brisbane Transition Hub.  The TT group 'West Hobart Environment Network' (WHEN) is supporting another local group to get land for a community garden where they can grow food and share skills…a very worthy cause for support.   In Sydney, Transition Towns (Leichhardt) and Permaculture Inner West volunteers have been establishing a 'street verge garden' outside Greg's house (he doesn't seem to mind..).
And finally, we have a resounding cheer for another new TT: Heidelberg west…we surely wish you all the best for the future!
Many thanks once again to Helen and to GoogleAlerts for pulling this piece together…..