2 Mar 2011
Transition and the cuts: a report from Camden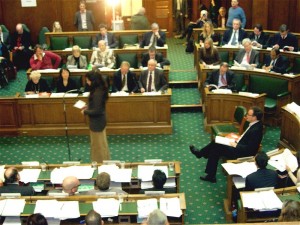 Here is a guest post by Sarah Nicholl and Marietta Birkholtz, on behalf of CamdenCAN, Transition Belsize and Transition Bloomsbury.
It was heartbreaking to be at Camden Council last night. Because of the government-imposed cuts libraries, playgroups, breakfast clubs and after school care are being swept away in a borough that has always prided itself on its public services, especially for the young. Protests outside the council turned into chaotic and ugly scenes and the police prevented demonstrators entering the building on public order grounds. A few made it in and loudly berated councillors for cutting services. Council had to be adjourned at one point.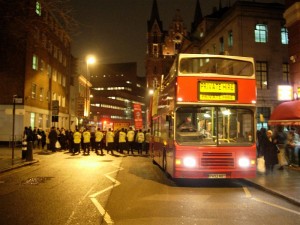 In the heart of the passion and chaos were representatives of many of Camden's green groups – Camden Climate Action Network, Camden Friends of the Earth, Camden Cycling Campaign, the Gaia Foundation, Jewish Community Centre, Transition Belsize, Transition Bloomsbury and Transition Primrose Hill – to beseech the council not to forget the future in this difficult present. With the sound of axes in our ears we argued for the council not to forget the good work already done on environmental issues in recent years and to do more going forward to uphold and continue this work.
Specifically we asked for:
A Peak Oil Report for Camden;
Camden Council not Tesco to carry out the Green Deal in our area;
A 20mph speed limit on all Camden Council-controlled roads;
Camden Council to back Friends of the Earth in calling for national legislation on local carbon budgets;
A Plan B in case the 50% of Camden's planned carbon cuts by 2020 do not come from decarbonisation of the National Grid; and
A sustainability strategy that was much more focused on public understanding eg pollution and energy saving not carbon dioxide, and one which put food at the very centre of its thinking.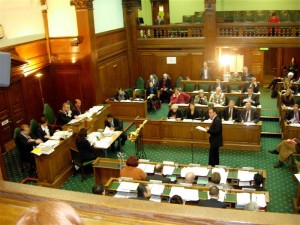 Our deputation was well received. Hopefully there's enough of a political consensus in Camden to keep action on sustainability and resilience to the fore. To help sweeten the pills, and to prove that we can help with the solution rather than just get angry about the decisions, we gave every councillor and the Chief Executive a copy of Alexis Rowell's new book "Communities, councils and carbon – what we can do if governments won't" – which we hope will inspire them to make a difference (if you look very closely in this picture you can see the odd copy…)
The title of that book feels more apposite by the day. Quangos working on environmental or social issues are being swept away. Those that promote business remain. Swingeing budget cuts are being imposed throughout the voluntary sector. And meaningless Big Society rhetoric is being deployed to cover an unprecedented rollback of the public sector. It's no surprise therefore that Lord Nat Wei has stopped doing his "Big Society Town Hall Tour" and decided to spend more time earning money for his family. And how right the Transition Network was to keep the Big Society at arm's length.
But still they will try to use us as a cover. A low point of our evening came when the leader of Camden Council's Tory group said: "We over here will not argue that there should not be public services, but we may argue that there should be alternative providers of services like private companies or maybe Transition Belsize who were part of the first deputation we heard tonight."
Ow!  We briefly considered taking over Belsize Library and turning it into a better community asset. But there are only so many hours in the day. We simply don't have the capacity to pick up the slack that's being created. We're not about to start running child care services, libraries and care homes in the five minutes available to us to take the decision. You cannot build a Big Society at the same time as imposing swingeing cuts to both the voluntary and the public sector.
In view of, and in spite of all this, now more than ever we would wholeheartedly encourage Transition Initiatives and green groups to come together and lobby the council not to forget about our future.