22 Jun 2011
Why localisation is a key part of the answer. An article from today's Guardian online…
Transition Network empowers local groups to promote sustainable issues by Rob Hopkins (appeared today in the Guardian's online Sustainable Business section).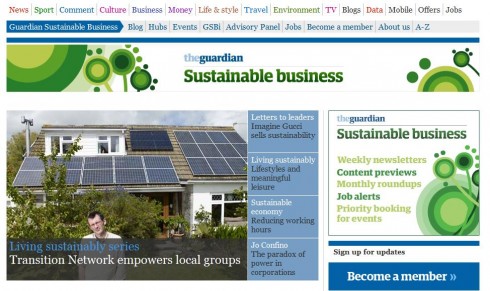 Last week it emerged that the Department of Energy and Climate Change, whose official position remains that "we do not have any contingency plans specific to a peak in oil production", was actually stating in internal documents released under the Freedom of Information Act that "it is not possible to predict with any accuracy exactly when or why oil production will peak".
Energy bills are going nowhere other than up, with knock-on effects across the economy. The fossil fuels of the future will be dirtier, more expensive and from less accessible places. At the same time, the need to decarbonise is urgent. The world's carbon emissions increased in 2010 by a record amount, in spite of many of the world's economies being in recession, and 19 countries recorded their hottest ever temperatures.
In March, Mervyn King, Governor Bank of England, said: "This is not like an ordinary recession where you lose output and get it back quickly. You may not get it back for many years, if ever, and that is a big, long-run loss of living standards for all people in this country." When something isn't working, it behoves us to question whether a different approach might be more appropriate.
One such approach, spreading around the world with great vigour, is the Transition movement. It suggests that within the challenges of peak oil, climate change, and our economic troubles lies a huge opportunity. In the same way that vast amounts of cheap fossil fuels made globalisation possible, the end of the age of cheap oil will inevitably put globalisation into reverse.
Yet, at a time where most communities across the country are scratching their heads and wondering where the economic development of the future is going to come from, it is argued that a significant and meaningful shift to thinking in terms of localisation contains a large part of the answer.
While the government speaks of localism, a devolution of power to local government or local communities, Transition focuses on localisation, on meeting more core local needs from things produced more locally, and on increased local ownership. Perhaps, Transition argues, we need to start thinking of localisation as economic development.
"Localisation as economic development." It's a phrase that contains a very big idea. At present, our local economies function like leaky buckets, into which pour wages, salaries, pensions and so on, but most of it pours back out again, through chain stores, supermarkets and so on, and its potential to make things happen is lost. Yet every outpouring is a potential local livelihood, local business, training opportunity. "Plugging the leaks", as the New Economics Foundation calls it, has huge potential for economic regeneration, as well as for making communities more resilient in increasingly uncertain times.
So what are Transition groups doing on the ground in 2011 to make this happen? Lewes recently raised £307,000 from a community share launch which will create the UK's first community solar-power station on the roof of a local brewery. Transition Town Kingston has set up a new food co-op delivering vegetable boxes to local households. Transition Norwich is building a new flour mill and new community farms, having carried out a strategic study called "Can Norwich feed itself?"
Transition Town Totnes, through its Transition Streets project, recently helped 500 local households reduce their carbon emissions by 1.5 tonnes each and build new social connections with neighbours, a project that was recognised with an Ashden Award last week. In Malvern, a Transition group known as the Gasketeers, is retrofitting the town's historic gas lamps so they use 84% less gas, create no light pollution and need a fraction of the maintenance. The group plans next to set up an an anaerobic digestion scheme and run the lamps from local food waste. Portobello Transition Town (Pedal) in Edinburgh has set up a new Farmers' Market and is planning the UK's first community-owned urban wind turbine.
Ten Transition initiatives are now part of REconomy, a scheme run by Transition Network which offers them support to turn ideas into viable new social enterprises. This identifying of the new economic opportunities presented by localisation is seen as where all Transition initiatives go next. What would it look like if meaningful investment were to be brought in to support these emergent enterprises? If, as in San Francisco, urban planning regulations were changed to recognise intensive urban food production as being as valid a form of urban land use as, say, car parking or housing? How would the world around us start to change?
A short film soon to be released by Transition City Lancaster opens with a slow pan around the landscape of the city, with a commentary by a woman who talks from 2030 about living in the powered-down Lancaster of the future. "Work started this week removing the motorway" she reports. "The county council said 'demolishing the M6 link will create thousands of jobs, return much-needed land to agriculture and improve food security and climate safety'." While we may be sometime from the UK's motorways being broken up to reclaim much-needed farmland, it beautifully captures how the decisionmaking and the everyday decisions of what Michael Klare calls "The Age of Extreme Energy" will be profoundly different from the age of cheap and easy energy that has shaped our lives.
The Transition movement is clearly not the only thing we need but, in acknowledging peak oil as a reality and designing and getting on with bottom-up solutions to it, it is way ahead of central government, whose official position is that we need not even start worrying for another 15-20 years. A more localised future may feel like a huge shift, and indeed one might question whether it is even possible. However, as events accelerate ahead of us and our dependency on the cheap fuels that enable globalisation becomes a key vulnerability, it may well prove to be our most promising strategy.