6 Sep 2011
Happy birthday TTT! & tools for stopping to ask 'how are we doing?'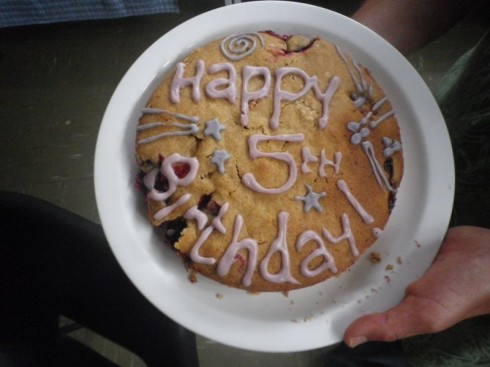 Today is the 5th anniversary of the 'Unleashing' of Transition Town Totnes. Feels like quite a landmark to me. On Saturday, TTT held an event to celebrate and reflect on the journey so far and on where we might go from here. In spite of it starting at 9am on a Saturday, over 70 people came, and we had a fantastic day. The day was chaired by Chrissie Godfrey and Paul Birch from Taunton Transition Town, who beautifully facilitated a very energising day. In the forthcoming 'The Transition Companion', one of the ingredients is called 'How are we doing?' and it looks at how groups can pause and reflect. What I want to do here is to set out the process we did on Saturday, in the hope that your Transition initiative might find it useful for having similar reflections.
Starting with a song
The day started with a group song as a four-part harmony, nothing too challenging, but very enjoyable.
Appreciations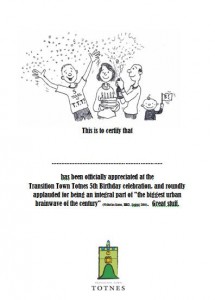 When everyone arrived, they were presented with a certificate (see above). The wording read:
"This is to certify that …. has been officially appreciated at the Transition Town Totnes 5th Birthday celebration, and roundly applauded for being an integral part of "the biggest urban brainwave of the century" (Nicholas Crane, BBC2, August 2011). Great stuff".
They were invited to write their name on them, and then someone pinned it to their back. Then, once everyone was together, people were invited to move around and write on each others' backs something they have enjoyed about working with that person over the past 5 years.
Then everyone stood in a big circle, and each person presented the person to their left with their certificate, and read one of the comments from it.
Creating the Transition Town Totnes timeline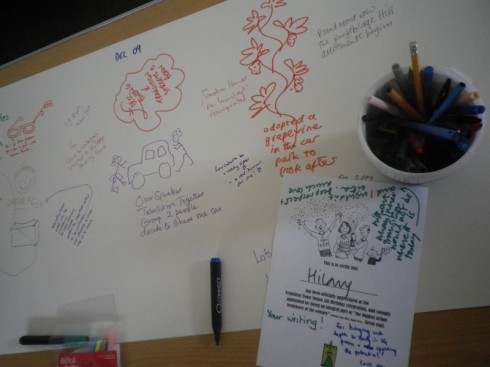 A very long piece of paper was laid out over several tables, with dates along it, and people were invited to add their memories of events, when they arrived in the process, and any particular developments, either written or drawn. Over the day this evolved into a fascinating record of the process so far.
Exploring the different dimensions of what we do
In advance of the event, the key areas of what TTT does were identified, and these (internal communication, outward facing communication, programme of public events, how we meet as groups and make decisions, how people join us, structure, personal and organisational resilience and wellbeing, and overall direction/mission/dream) we then laid out on the floor around the room.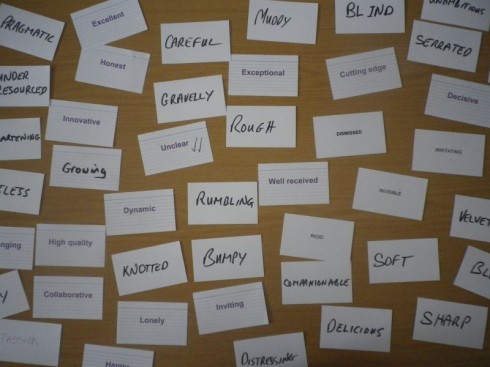 On another table, lots of small cards bearing single words were arranged, and people were invited to take some of these and place them where they felt they were relevant. The words captured a wide range of positive and negative qualities, and for about 10 minutes, people circulated, placing the cards where they felt most appropriate.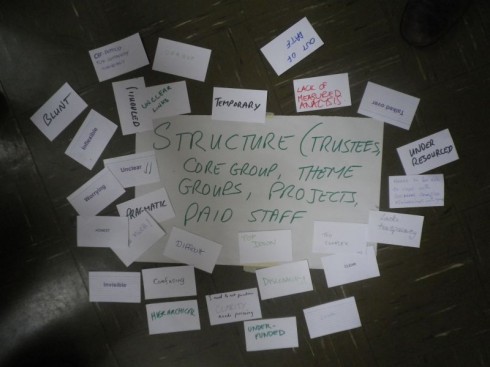 Then chairs were circled around each one, and a World Cafe-style session was run, where each group was asked to consider what is working well and not so well in that area of TTT's work, as well as strengths and weaknesses and learnings and intentions to take forward. These were then shared with the whole group.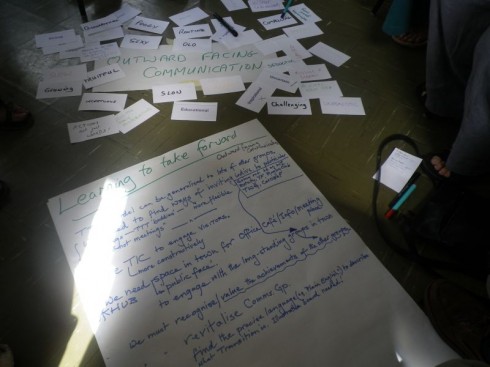 Then it was time for a fantastic lunch prepared by by the amazingly talented Holly, who's Brunch Cafe is highly recommended (next one in the Methodist Hall on Saturday 24th Sept) and the equally amazingly talented Sima, who will soon be starting her own catering company (watch this space) both of the TTT Food Group (naturally!).  During this break, people were able to contribute more to the Timeline and spend time catching up with each other.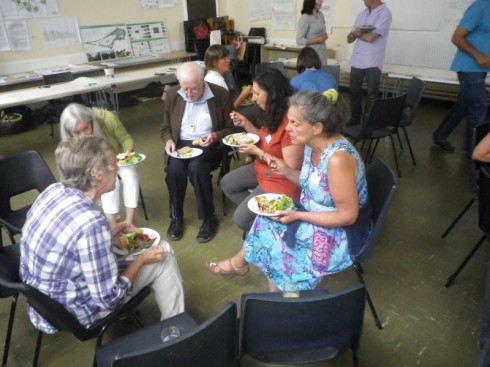 Mapping the external context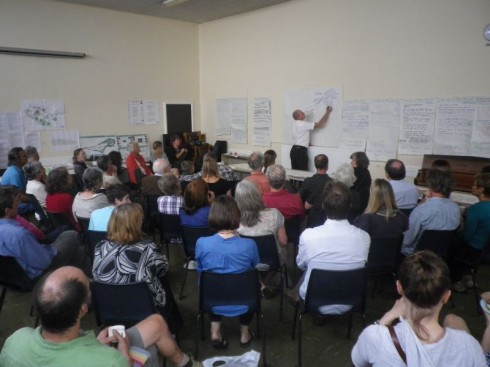 The first activity after lunch was a mapping of the external context of TTT, who we have created partnerships with, arranged in a big mind map. This identified the wide range of relationships that have been created, whether they are formal partnerships or more informal relationships.
Mapping with people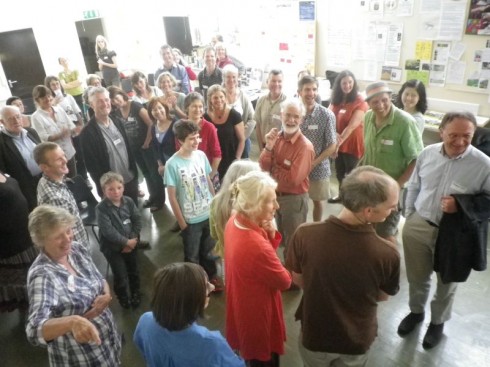 We then did a mapping with people, with one end of the room being focusing on individual change, on practical action at the household or very local level, and the other end of the room being focused more on structural change, big projects or impacting on the political scale. People arranged themselves in terms of where they felt they were putting most of their energy. Chrissie then moved among people, interviewing a few of them about where they were and how it felt to be there.
"Who don't you know yet?"
People were then invited to move around the room and to find someone they didn't know, to spend a minute introducing each other, and then to ask the question "if we knew each other better, what becomes possible?". This was done three times, I certainly got to meet people I have never met before, and it was great to hear what they are doing and their experience of being part of TTT.
Short visualisation about moving into the future
We then did a short imagination activity focused on the question "if everything TTT is doing now came to fruition in 5 years time, what would it look like?"  We were invited to try and imagine it in as clear detail as possible, and then to turn to our neighbour and to tell them what was most compelling for us in that vision.  We then re-mapped TTT imagining us in that future, observing if there were any differences between that and the earlier mapping.
The 'Timeline of Future Possibilities"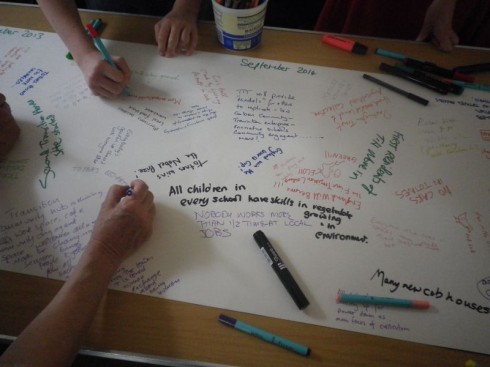 We then extended our timeline into the future over the next 5 years, mapping out developments we'd like to see and things we imagine happening at different stages.
So then, what next?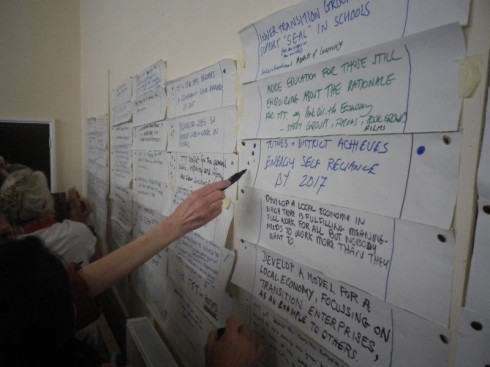 We then moved into small groups and discussed the most important things to take forward from this point.  Each group was given a number of strips of paper and invited to write down the tangible projects or initiatives that it would like to see/make happen.  These were then arranged on the wall and people allocated a number of dots they could use to 'vote' on those they had most energy and enthusiasm for.  People were invited to put their names next to the ones they felt most enthusiastic about helping to make happen.
The day closed with singing 'Happy Birthday' and having some of the wonderful TTT birthday cake.  It was a fascinating day, a real celebration of where we have come from, a deep appreciation of those working on this project, and a re-focusing and re-energising for the next 5 years.  Thanks to Paul and Chrissie for their facilitation, to Holly for the amazing food, and to everyone who has helped us over the last 5 years.  I left with a very powerful sense that actually, we're only just getting started.  I hope these activities (with thanks to Paul and Chrissie for letting me share them) might be of use in your Transition group's reflections.  Happy birthday TTT!
Most of the photos here are ones I took, but thanks also to Peter Redstone and Jonathan Crinion (get well soon!) for use of theirs.