8 May 2012
Filipa Pimentel on Transition in Portugal: "we try to reduce money exchange in everything we do"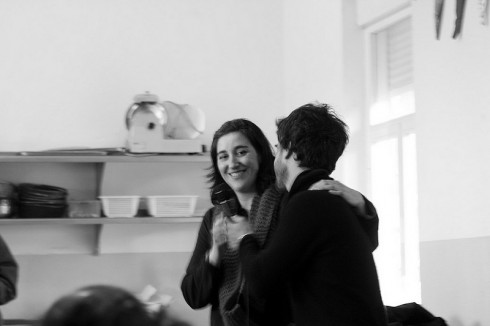 I wrote a while ago about Transition Network's recent one day conversation on 'Peak Money and Economic Resilience', and how it had included a session where people from Portugal, Ireland and Greece gave a sense of what is happening in each place.  Filipa Pimentel, who is co-ordinating the networking of the national Transition hubs, spoke about Portugal, and about how the economic crisis is shaping how Transition is emerging there.  Filipa was in Totnes recently, and I caught up with her for a quick interview at the station as she waited for her train home.  Here it is:
Shortly before we started recording, she realised that she had left her suitcase in the cafe where we had met and had had to go off and get it, hence the laughter about half way through.  She said that the crisis in Portugal is now one that you can really feel.  The average salary is €840, the minimum wage is €480, and some OAPs are on a pension of just €150.  This in a country where supermarket food prices are the same as in the UK.  People are already starting to hungry.
Transition is starting to spread in Portugal, but it has made a deliberate decision from the outset to base itself on the concept of the gift economy.  In areas which are in financial distress you cannot, for example, charge for film screenings.  The aim is to decouple money from the message of Transition, to, as Filipa puts it, "try to reduce money exchange in everything we do".
There are, she said, two reactions to a crisis.  If you really believe that the crisis will go away, you hold on and you hold your activities and you wait.  If you believe that it is here to stay, you start to adapt.  What Transition initiatives have done in Portugal is to accept that it is here to stay.  Initiatives in Portugal have been developing ways to organise low cost events, and to develop relationships with Councils not based on asking them for money, but asking them to share resources.  I hope you enjoy this interview, in which she also tells a few of the most fascinating stories from the emergence of Transition in Portugal.