14 Feb 2006
One man's efforts to prepare for the Peak.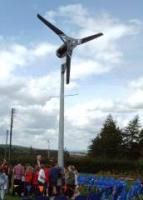 **Kicking Our Fossil Fuel Addiction: one man's efforts to live sustainably – by John Watson**
*This article is one of a series produced by the Totnes Sustainability Group that are published each week on different aspects of sustainability in the Totnes Times. This piece appeared two weeks ago.*
It is said that the most important thing in reducing one's energy demand is determination. If you lack this perhaps the following facts may help:
• Peak world oil production is considered to be likely to occur between 2000 and 2010, gas a decade or so later.
• Last year world oil production dropped by more than 1%. On recent projections China will need, and be able to pay for, all the world's exported oil in 10 years time.
When I started trying to reduce my own fossil fuel dependency, I thought I could produce energy by renewable means without changing my practices – the way we are going as a nation. Being in a rural situation I was able to install a small hydro plant, a small wind turbine, photovoltaics and a self-made solar panel for hot water. But all these technologies depend upon oil – the photovoltaic and thermal solar panels and the components of the wind turbine all require oil for their manufacture – so this is the wrong way. Realising this, I began to do what I should have done initially:
• First draught proof and double insulate everything.
• Use good economy light bulbs (some are better than others).
• Make a habit of shutting doors and switching off lights.
• Use curtains and shutters wherever possible
• Cut off cold areas such as patios (I use 1 in. cavity boards slid behind the curtains).
• Close off stairways by the same methods.
I put in a flat-topped wood-burning stove for cooking, linked to the hot water boiler and central heating. It requires two hours a week collecting waste wood and sawing it up with an electric chainsaw. Believing that careful recording is the basis of all improvement, I used to read my meter daily and mark the level of the oil tank (used then for cooking and heating) weekly. But now I use no oil, compared with what would five years ago have cost me £1,000 (at to-day's prices).
I also have a gadget that records electricity through a 13 amp plug so I can keep an eye on consumption. My freezer uses two and a half units a day in summer, less in winter because it is in a cold shed. A small fridge in the kitchen uses one unit, more than its rated load. It was possible to cut my washing machine's demand from 2 units to its rated use of half a unit by running a nearby tap until warm, so that the water was not heated electrically.
Living alone is really not efficient energy-wise, however I do my best by trying to generate my four units of electricity a day. Meanwhile if I can produce methane by anaerobic digestion to power my van – my current project – I should have escaped fossil fuel addiction with no loss of quality of life or comfort.
*John is a member of the Totnes Sustainability Group, and is a bit of a local legend. Founder of [Riverford Farm](htp://www.riverford.co.uk"Riverford") near Totnes, now one of the UK's biggest organic farming businesses (producing 26,000 vegetable boxes per week), John turned the farm organic when it was almost unheard of. A pioneer in many ways, John has been a great supporter of the Energy Descent planning work here, and has taken to the whole peak oil thing with great passion. I have yet to visit his home, but those who have describe it as a domestic scale CAT. He is currently working on an anerobic digestor in his back garden.*