8 May 2006
Why Nuclear Power in not a Solution to Peak Oil – The Final Installment. Because there are Just Too Many Other Reasons…
I'm going to move on from this nuclear thing now as I have some other great things to bring you (just wait for tomorrow's great **Transition Culture** exclusive!) and because once I've started I could go on for weeks. My final reason why nuclear power is not a response to peak oil is simply that there are so many other reasons. The list of reasons why this monstrous form of energy generation will do absolutely nothing to get us out of the yawning energy chasm is so lengthy that I can really do it no justice beyond scratching the surface as I have done over the last few days.
Many other people have argued against nuclear power far more effectively than I am able to. These include a good piece called Four Reasons Why Nuclear Power is a Terrible Way to Generate Energy,
one called Nuclear Power – too expensive to solve global warming, which sets out the whole case that actually just the cost implications alone should be enough to send any rational person back to the drawing board, and one of the best and most concise, recently produced by the Irish Green Party, Ten Reasons Why Nuclear Power Makes No Sense for Ireland, which sums up what I have been trying to say in this series, just far more concisely and with less ranty rambling.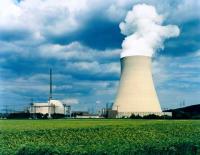 More worrying is an excellent piece by Andy Rowell in last week's Guardian called Plugging the Gap which looks at what is actually going on behind the scenes of the supposedly open-minded Energy Review currently underway within Tony Blair's administration. Not exactly surprising, but rather scary nonetheless. We are being bounced towards a new nuclear programme whether we like it or not.
Perhaps the single most compelling reason is summed up in this piece from The Sunday Herald. In a piece called Global warming scuppers Blair's nuclear power plans, Rob Edwards discusses a report by Nirex which states that "at least 11 of Britain's preferred nuclear sites are so low-lying that they could be drowned or damaged by rising seas, causing radio active waste to leak". So the logical conclusion of the study is that we cannot site new reactors at any of those sites, (and presumably by extension need to pull our fingers out with dismantling the existing ones), and so need to look for new sites. Many commentators expect that any new reactors will be built at existing sites to reduce planning complications and public opposition, but if that is not viable because they will soon all be underwater they will have to look for fresh sites inland. In that eventuality they can expect massive opposition.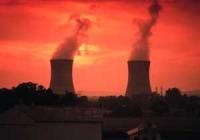 So, I draw my very personal contribution to the nuclear debate to a close. For me, nuclear power is the worst route we could go down, as it would mean that we can kiss a planned and co-ordinated Powerdown goodbye. Never mind the problems of cost, safety, waste disposal, climate change sinking the sites, the CO2 implications (far higher than officially acknowledged), the risks of proliferation and terrorism, the fact that it commits us to a centralised energy system, the fact that it creates only a handful of jobs compared to those that renewables can create, the fact that uranium is a depleting resource just like oil and so on and so on and so on, for me that is the key argument. Once we commit to that path, we are diverted from what we really need to do. I am also aware that it is almost certain that Blair will opt for a nuclear option (from his perspective he really has little choice….).
In that case we have no choice but to dust down our 'Nuclear Power No Thanks' badges and vow to fight a new generation of nuclear power with all our might and resources. Joanna Macy, in 'Coming Back to Life', argues that the Great Turning, as she calls it, will have three aspects. The first she calls *'holding actions in defence of life on Earth'*. The second is *'Analysis of structural causes and creation of alternative institutions'*, which is the critical analysis of what are the causes behind the mess we have got into, as well as the exploration of creating practical structural alternatives such as Energy Descent Plans. The last is *'Shift in perceptions of reality, both cognitively and spiritually'*, which means that the Great Turning cannot come about based on current values, but that they need a new set of values, a rediscovery of the Earth as sacred.
The vampiric resurrection of nuclear power from its copper and lead-lined coffin is a reminder that creating Powerdown does not mean that all of us will be able to focus on the positive stuff, decentralised energy and local food, but we will still need to maintain the 'holding actions', and I have a deep feeling that the most pressing 'holding actions' over the next few years will be preventing a new generation of nuclear power and of militarism. I'd like to leave the last word to David Fleming, whose excellent new paper triggered this whole series in the first place. He sums up what I've been trying to say thus, "The defining reality of the energy future … has to be an acknowledgement that no large-scale technical fix is available. Energy cannot any longer be delegated to experts. The future will have to be a collective, society-transforming effort". Amen to that.
Do let us hear the reasons you feel are the most compelling ones against nuclear power. What are the main points that I have failed to mention? Or do you think that actually we have no choice, and that we might as well just learn to live with it? Share your thoughts here, this is an important issue to debate.