18 May 2006
Leading the Way Conference and the launch of the D.A.R.E. Report (downloadable here…)
Last week at the Great Hall at Dartington saw a conference called **'Leading the Way – the Potential for Renewable Energy in the South Hams'** which launched a new report by the Devon Association for Renewable Energy. The report looks at all the renewable energy options for Totnes and the wider South Hams area, and assesses their feasibility and how much energy each option could provide. Its conclusion is that if all renewable energy options for the area were harnessed to the maximum they could generate between 30 and 40% of current demand, identifying conservation as the essential first step.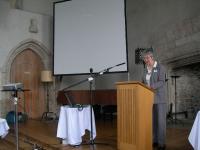 The event was attended by 160 people, and had been full weeks in advance. The audience was made up of Town and County Councillors, people from energy agencies, from a wide range of professional bodies. The speakers were Dr. Sheila Stark of the Met. Office who spoke about climate change, myself, who talked about peak oil and energy descent, Richard Pymm of D.A.R.E. (above right) who introduced the report and gave an outline of its findings, Myles Smith, Business Development Manager of Regen SW who talked about the opportunities for renewables in the South West, David Kelf, D.A.R.E. Director who talked about great work at a local school which has installed pvs and solar panels, and finally Susan Hannis, Chair of the Totnes and District Sustainability Group (left) who looked ahead to where the TSG might go next. It was all ably chaired by David Radford.
The DARE Report itself is a very important piece of work. It pulls together some essential data for the Totnes Energy Descent process, looking at all the options and how much they might be able to produce. It provides a great base for devising a renewables strategy for the town and the wider area, and could well prove to be a very useful tool for other communities.
The report is in two files, the first is the main DARE Report and then the

Categories: Climate Change, Energy, Localisation, Peak Oil, Technology