30 Aug 2006
Engaging Magic and Wonder in Energy Descent preparation.
"Magic" and "wonder". Not words we read too often in the peak oil literature. I contend, however, that if we are actually to engage people in energy descent as a positive transition on the necessary scale, we need to work magic and wonder into what we do. My mum recently passed on to me a video of an amazing thifrom BBC4 of a thing that happened a few months ago in London, called "The Sultan's Elephant", a huge piece of street theatre by the French theatrical magicians Royal de Luxe that took place in the capital in early May. The whole thing was prepared in the greatest secrecy, and took people by surprise, and the event that unfolded over the next 4 days brought magic and wonder to millions of people, and the film about it, I confess, brought tears to my eyes.
It began early in the morning of May 4th when a 'rocket', made of wood was found 'crashed' in a street in Westminster. Looking like nothing anyone had ever seen before, people were perplexed by it, some even believing it to be some kind of strange craft that had actually crashed. The news went around that the craft would be opened the following afternoon. Huge crowds gathered, and when it was opened, what emerged took everyone by surprise. A huge puppet of a giant girl, which moved in an incredibly lifelike way, came out and began a walk about the city. Later that day a huge elephant also appeared, the size of a 3 storey house, again incredibly lifelike, which also went walk about. There's a lovely bit of film of the giant girl here.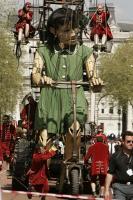 The story emerged that 100 years ago a Sultan decided to track down a magical girl lost in time, and had his engineers design him a time travelling elephant. The Sultan and his elephant travelled through space, and finally in London they met each other. The bits when the two first met each other were very touching, the girl in particular being amazingly lifelike, and the puppeteers behind her being amazingly skilled.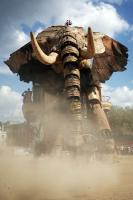 For the next couple of days the giant girl and the elephant walked around the city, the elephant spraying people with water adn trumpeting, and the girl riding her huge scooter, eating a lolly and spending the night sleeping in a huge deckchair in one of the London parks. She also gave lots of children rides in her hand. In the film, one woman observes how every child who climbs into her hand, the first thing they do is to look up into her face. Watching the faces of the young children watching her is to really get a feel for what magic and wonder really mean.
On the last day, she climbed back into her spaceship, which closed and then reopened…she had disappeared! People were in tears as she waved goodbye, and stunned when she vanished. They had so grown to love her over her brief time in London. it cost over £1 million to stage it, but it had such a hugely positive effect on the city.
It made me think about whether it would be possible to work magic and wonder into our work with our communities, engaging artists and theatre people in some kind of spectacle that brings the idea of a transition to a lower energy world to people in a way that is engaging and surprising. I have no ideas in mind, but The Sultan's Elephant shows the kind of thing that can be done. In the excellent new 40th anniversary edition of Resurgence, Tim Smit of the Eden Project, in a piece called 'Imagination Holds The Key', argues that we need to think big and think imaginatively.
We need to be bold and creative, and to engage people with the unexpected. I found the Sultan's Elephant, and the giant girl in particular, so enchanting and entrancing, so graceful and wonderful, in the truest sense of the word. Could we collaborate with artists and the local authorities to create an event where overnight, a part of a town becomes how it would be in a powered-down future? People wake to find the streets planted with carrots and solar panels everywhere? I have no idea if this would be feasible, but if something could happen on the scale of the Sultan's Elephant that would leave people with a sense of excited anticipation about
the emerging future, of localised food production and so on, it would be so so powerful.