18 Sep 2009
Brixton Pound Launch a Fantastic Success
There really was nowhere else to be last night.  Given the amazing amount of press coverage and the fact that this was the first urban complementary currency specific to an urban neighbourhood, Lambeth Town Hall was the place to be for the launch of the Brixton Pound.  I arrived after a day of giving a talk at Google's London offices, visiting Transition Tooting for a chat and a look around the place (thanks folks), and made it to the Hall for 6.30pm.  The event started at about 7.40, having been warmed up by some singing local teenagers and a small steel band.  Then, with the hall full to capacity, and hundreds of people crammed in around the walls, the event was underway.
The evening was introduced by Tim Nichols of the Brixton Pound group, who welcomed everyone and then introduced a film that has just been made about the Brixton Pound, an excellent piece of Transition film-making that was very well recieved.  Here it is….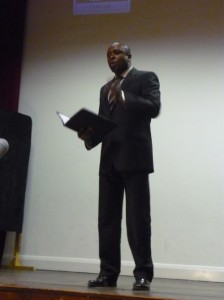 Then I spoke, and introduced the concept of Transition and how currencies like this are doing vital work around encouraging the telling of new stories.  I talked about how quickly this idea is spreading and how Brixton is pioneering the idea of urban currencies, and that many others around the world are watching what they are doing.  Then Derrick Anderson, Chief Executive of Lambeth Council (see right), spoke, and talked about how proud he was that Brixton was doing this before anyone else.  He pledged the full support of the Council, and said that his aim was for the Brixton Pound to become 'the currency of choice' in Brixton.  When I spoke to him afterwards, I asked if people would be able to pay for their Council Tax in Brixton Pounds.  "Of course" he said (apparently Brixton has one of the highest rates of people paying Council Tax in cash, so he didn't see there being any problem).  Now that is a precedent, and something that potentially makes a huge difference to an initiative like this….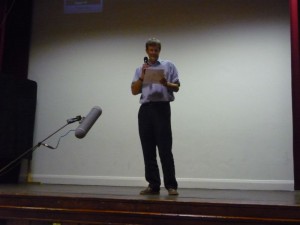 Then David Boyle of New Economics Foundation spoke and talked about why Brixton needed its own money, and how vital these models are.  His speech was very entertaining, and I have asked him to send it to me so I can post it here sometime over the next few days.  Then a second film was shown (the one I posted here on Transition Culture a few days ago) , and then it was time for the big launch.
On stage were large versions of all 4 notes, covered with a cloth.  The Mayor of Brixton, Cllr Christopher Wellbelove, came up on stage, and with great fanfare, the cloth was removed, to reveal the new £B1, 5, 10 and 20 notes.  They feature Olive Morris, Brixton Black Women's Group founder, James Lovelock, creator of Gaia theory, CLR James, political theorist and cricket writer, and Vincent Van Gogh (who apparently lived in Brixton for 2 years… betcha didn't know that!). Duncan Law gave the Mayor the first Brixton Pound, and then immediately exchanged it for a punnet of Brixton-grown tomatoes, the first transaction in Brixton Pounds…
Then Duncan and another member of the Brixton Pound team (whose name I didn't get, sorry!) talked about how the currency works, where to get it, how to spend it and so on.  Their enthusiasm was infectious.  Then that was that, and the drummers drummed, people bought notes, chatted, ate and then headed off into the night to the Dogstar pub to drink their first Brixton Pounds.
Will the Brixton Pound work?  Who knows, as I said in my talk, the Cheerful Disclaimer applies.  No-one knows, but if we wait for permission we will certainly never find out.  If the energy shown tonight is anything to go by, this thing may just work.  The team behind the Brixton Pound have done something amazing here, and they put on a wonderful event to launch it.  Huge congratulations to them all and all the very best of luck to the scheme…  Here are a few photos from the evening that didn't fit in the article….