9 Mar 2010
A March Round-up of What's Happening out in the World of Transition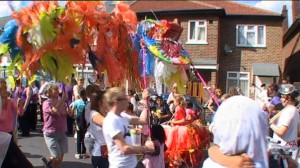 We've got so many wonderfully diverse and inspiring activities to show you this month…ideas for getting people involved and having fun! And they're here for the sharing…
In the UK, TT Luton is organising a series of Grow Your Own events to relocalise food production and consumption, with discussions and a quiz to encourage people to grow their own fruit and vegetables, while Southend-on-Sea in Transition organised a day's introduction to Permaculture with more events lined up that you're invited to get involved with. TT Leek is getting hold of allotments and orchards so they can plant more trees and increase production of native British apple varieties, while  TT Nailsea is sharing its gardening skills with other local people to increase self-sufficiency in food production, strengthen local resilience and encourage people to think more about their carbon footprints.  TT Totnes held its 4th annual seed-swap, together with the Heritage Seed Library, to improve availability of a diversity of seeds through saving and swapping of different varieties suited to specific ecologies and climates, a crucial activity for increasing future food security. TT Taunton went on a winter hedgerow hunt, a lovely way to brighten a winter's day.
TT Horncastle is in the news again: after their recent award of £140,000 from the British Gas Greenstreets scheme, the group is now getting local playgroups to transform old clothes and fabrics into colourful draught excluders that will not only improve energy efficiency in local homes, but also help raise funds for renewable energy projects in Malian villages. Green Energy has teamed up with TT Marlow to help make the town more energy self-sufficient and resilient through the fantastic 'Marlow 100 Solar Project'. In Leominster, Britain's first community-owned and operated anaerobic digester for renewable energy production is being developed as part of the town's Transition activities.
And more congratulations this month for Transitioners who have again been rewarded for their dedication: this time it's Lucy Neal who made the front pages of the Wandsworth Guardian for her Overall Green Champion 2010 award, and then eco-friendly architect Susan Venner has been awarded the Green Design Honour, both by the Wandsworth Green Champion Awards.
TT Kingston has partnered Artgym for their Our Kingston Our Future project, which will bring together 300 people from two generations (19-25 and over 55) to share their experiences of living in Kingston and create an inspiring vision of how to make Kingston a more liveable place for people and environment that they can share with the world. It'll all be filmed to make a documentary that celebrates the town. TT Tooting is busily preparing for their colourful Trashcatchers Carnival, and for a glimpse of what's in store, see the picture at the start of this post.
TT Lewes hit the Independent on Sunday as being an illustration of the 'slow and steady' approach to beating climate change as opposed to campaigners' 'big and bold' approach. TT Portobello has raised funds for three new project workers, focusing on food, energy and overall project management.  TT Dorchester is the first town in Dorset to pick up the old tradition of 'Green Drinks', an event that started in London in 1989 and is now a regular activity in many towns and cities. Let's hope they start a trend for wider Dorchester – and for other TT groups? Drinks and a chat about environmental issues sounds like a great way to spend an evening…
There's support for Transition from the Christian Ecology Link, which has launched a support network for 'Churches in Transition', and held a discussion at their bi-annual gathering in Scarborough to discuss climate change and Peak Oil, and the Transition to low-carbon living.
News from Australia and New Zealand tells us that volunteers from T Banyule are busily replacing lawns with food gardens in their regular permablitz events…and they'll do your garden too if you're nearby…  TT Pt Chevalier is about to cut their first corn on the cob and celebrate with a traditional Kiwi festival of barbecued corn. Can't wait to do th same in the UK! And have a look at this! An illustration of the mouth-watering vegan nibbly treats on offer at TT Grey Lynn's meeting, lovingly prepared by Alice Leonard (recipes supplied…yum)… TT Port Chalmers have been successful in getting agreement for their local train station, which last operated in the 1970s, to open for the Walk2Work day in March, fantastic! Make good use of it and maybe it'll open again…
In the US, one of the Denver Transition groups is organising regular 'Conscious Eating' cafes aimed at raising awareness about links between our food choices and their Impacts on the world and climate change, as well as the crucial issue of our future food security.  TT Albany had a lovely event, where they screened a film called Homegrown about a small off-grid organic farm, followed by discussions with a Ghost Town urban farmer, and then a seed and plant exchange.
TT Nelson in British Columbia, Canada, invited local people to submit video footage and perform live songs on their visions of how Nelson could look in 20 years time, but with a twist: they had to be dressed in the past… What a great idea! This was for their Imagine Nelson music and video showcase with prize awards for the top submissions in various categories.And then there are lots more Transition films for you to enjoy. Here's some more Transition talk for you to feast on, and here's the Visions of Transition film with German subtitles, and also for the German audience there's Arte's little film of TT Brixton, TT Totnes, and a T Training somewhere… Some of Transition Network and TT Totnes peeps are reflecting on COP15 in a nice little movie by Sara and Emilio at nu-project.  And some keen Transitioners are still not aware that your very own movie 'In Transition 1.0' can be watched on-line here…so if you haven't seen it yet, hurry up and give yourselves a treat!
Once again, my thanks to Helen for collating this….