15 Jun 2010
Reflections on the 2010 Transition Network conference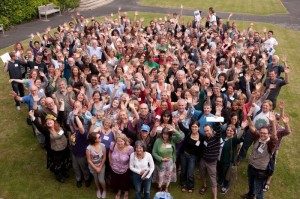 The Transition Network conference 2010, held at Seale Hayne Agricultural College, was an extraordinary few days.  It is a mark of how far come the organisation and the concept has come in its 4 year life that it can bring 300 people together for such a deep, challenging and nourishing 3 days.  I left feeling deeply honoured to be part of such a dynamic movement, and also of the team that organised the event, an incredible bunch of people.  I'm not going to write a blow-by-blow account of the event, partly because the event has already been ably blogged about over at the Transition Network site, and also at Transition Radio site, but also because I didn't get to that much of the workshops and Open Space sessions, due to dashing here and there and doing interviews, chatting to people, and other things including, occasionally, just lying in the sunshine!  However, I did want to mention a few of my own highlights of the event.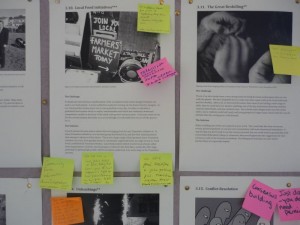 Firstly, here are a few links to some of the key bits of audio that were recorded during the event.  There's the conference's opening session, with myself, Peter Lipman and Sophy Banks welcoming the throng to Seale Hayne,  Naresh describing to everyone how Open Space works, and Pete North formally launching his new book, 'Local Money'.  There is also an embarrasment of Transition Conference audio riches over at Transition Radio, and a vast stream-of-consciousness sprawl over at the ttcon2010 Twitterfeed, in which Amelia Gregory out-tweeted all-comers.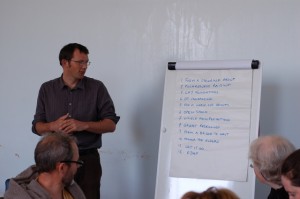 One of my personal highlights was the response to my workshops about 'Seeing Transition as a Pattern Language' workshop (see right), which introduced the work I have been doing for the past few months, exploring whether a pattern-based approach might be a more suitable way of explaining and modelling Transition.  You can hear a recording of my first workshop here, as well as see some photos.  It was great to get people's thoughts, critiques, suggestions and input, which will be worked through over the next few months.  Thank you so much to everyone who came, and who offered their input.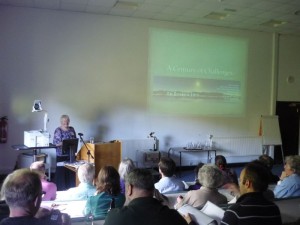 Another highlight (if that's the right word) was the talk by Stoneleigh (see left), called " Making Sense of the Financial Crisis in the Era of Peak Oil", which you can hear in full here.  Stoneleigh is one of two editors of the 'Automatic Earth' blog, and her talk was stark, stunning and very much strengthened the case that economics needs to become a third 'leg' of Transition alongside peak oil and climate change.  Her talk affected people deeply, and people's reaction to it went on to become one of the things that defined the rest of the conference.  Her prognosis was that the world is on the cusp of an economic collapse on the scale of the Great Depression as the debt bubble bursts.  Not much that would have been new to Transitioners, but the way she built her argument was very compelling.  You can read Shaun Chamberlin's reflections on her talk here, along with some insightful comments from other people.
Another highlight was the group of young people who came from Bro Ddyfi in Wales, to talk about the film they made called 'Spoilt', about the Canadian Tar Sands and the local indigenous people being affected by tar sands production.  They had the most amazing time at the event, their workshop was very popular, and at the end of the event they formed an International Youth Transition group, and made contact with another group of young people engaged in Transition in the US, in Minnesota, a part of the US that depends on tar sands oil for its transportation.  You can hear an interview with them here.  A very inspiring bunch.
Another inspiring bunch was 6 women who came to the conference from Brazil, who have been doing Transition there.  Less than a year ago, the first Transition Training was run in Brazil, and since then Transition has spread rapidly, across all sectors of society there, the wealthy parts, the middle class parts and in the favelas (the slums) of Sao Paolo.  On the lunch of the second day, I sat with the group and Peter Lipman and myself discussed Transition with them.  They asked how might be the best way for them to do Transition in Brazil.  We asked them what they are already doing, and they then talked about all the amazing stuff they are doing, to which we replied "well, you just need to keep doing that!"  Amazing people, and amazing work, and a really tangible, self-organising beginning to answering the question of what Transition looks like in the developing world.  You can hear an interview with them here.
Some other highlights included the wider age range of this year's conference, the singing group who wandered around serenading whoever they came across, many of the guest speakers from a range of organisations who came, including Nick Temple from the School for Social Entrepreneurs, and others from the Centre for Alternative Technology (about their new Zero Carbon Britain report), Soil Association, DTA and others.  Thanks to all.  Also, the group who formed in order to increase the youth presence at new year's conference, and the absolutely amazing place that Seale Hayne is.  Truly a stunning venue for this conference.
One of the most extraordinary events took place on the Sunday, and was a group process which invited participants to look forward into the future.  It emerged from an exercise we did at a recent Transition Network AwayDay, which everyone involved found very powerful.  People were invited, in their home groups (groups of 6-8 people they had met with regularly during the conference), to imagine themselves a year in the future.  What will have changed?  How will things be?  They discussed this in their groups and then were invited to draw or write what they imagined.  This was then repeated for 5 years into the future, and then 10 years.  You can here how Sophy Banks explained the process to people here.  It gave a safe space for people to explore the implications of Stoneleigh's talk, and to bring out into the open the hopes and fears that their time involved with Transition thus far had led to.
It was a very ambitious and brave thing to do, and a mark of the maturity of the Transition movement that it went so successfully.  The final stage of the process was that half the people held up the artwork that had been generated while everyone else was invited to walk around and view their work, as though in a giant art gallery.  Walking through the artworks gave a clear sense that the general feeling was that we are on the cusp of a process which is already underway, and which will see the next few years getting increasingly difficult, but at the same time will see the strengthening and increasing impact of the kind of work Transition, and many other organisations, are doing, building the post-peak, post-growth, low-carbon future on which our future depends.  As I walked through the 'gallery', I found the person who had been our main host from Seale Hayne standing, looking dumbstruck.  "This is absolutely amazing", he said.
My last highlight was the group song in praise of Ben Brangwyn who had, single handedly, worked to ensure the queues for lunch were as short as possible, and who was rewarded (to his great surprise) with a rousing closing singalong of a song about his queue-busting talents.  Sung to the tune of Janis Joplin's 'Oh Lord Won't You Buy Me A Mercedes Benz", it included lines such as "Oh Ben won't you find me some hot scrambled eggs, my friends all got coffee, and I just got dregs….".  Wonderful…
These events continue to surprise and amaze me.  Hearing the amazing stories of what people are doing in their Transition intiatives, seeing how the thinking is evolving and deepening, spending time with good friends and meeting lots of new ones, and savouring the richness of what has, in just 4 years, become a remarkably broad and rich movement; it is a fantastic few days.  Everyone I spoke to leaving said they felt 'full', and I feel much the same, it'll take me a while to digest it all…  Thanks to everyone to made it happen, in particular the Transition Conference team, an amazing bunch of folks.