18 Mar 2011
Transition in Action: Towards a resilient Taunton Deane – from then to now
On Wednesday I handed the CD containing the first completed draft of 'The Transition Companion' over the Green Books for the editing process to begin.  Phew!  Been quite a mission (due out in September).  Anyway, one of the things that runs through the books is 'Transition in Action' sections, drawing together inspiring stories from Transition groups of some of their projects.  I'll post a few of them, starting with this one, from Transition Taunton Deane, written by Chrissy Godfrey… have a good weekend.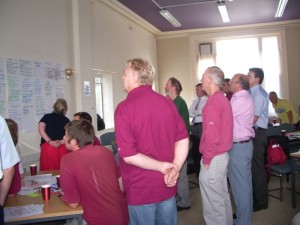 "Taunton Transition Town ran an exemplary visioning exercise with their local borough council between July and September 2009, at the request of the council's strategic director.  It brought together almost all the council's 375 employees, from senior management to plumbers, plus over half of the council's elected members, to create a vision for a post-oil Taunton Deane.  They were asked to respond to a number of inspirational "provocations" to get to grips with what the area needed to become resilient.
The resulting ideas were pulled together into a unique story by the two Taunton Transition Town facilitators.  "Towards a Resilient Taunton Deane" has kept the council buzzing ever since.  The strategic director instantly pulled together a Green Champions team of staff who volunteered to promote all things green across the organisation.  The Council joined the 10:10 campaign and by November 2010 had achieved a saving of 9.87% on their energy usage.  Each department now has its own Green Charter, and there are regular events such as quizzes, competitions and other initiatives to keep Transition alive for all staff.  A Transition favourite saw a planning officer and a car park attendant from the Green Champions team organise the planting of a new apple orchard on public land.  Without all this, they wouldn't even have known each other.
The council invited Taunton Transition Town to talk to the Local Strategic Partnership about Peak Oil and resilience, resulting in their giving the group a grant to repeat their visioning workshops in the community.  Run with parish and town councils, there have now been seven of these in rural areas, neighbouring towns and in Taunton itself. One was also run for the Taunton Deanery Synod.  For each event, the Transition facilitators pulled together the visions and ideas into a printed and illustrated story to give back to the community, highlighting their local priorities and intentions.
As a result of one workshop in highly rural Neroche Parish, their new parish plan now has a strong "green" element and a new green group exists for local action.  In Wellington, the workshop helped the existing Transition group raise their profile and membership and identify priorities.  At least four other Transition style groups are also emerging as a result.
The council arranged for the same workshop to be run by Transitioners for the Local Strategic Partnership, for with other local businesses.  About six organisations took part – a modest number who nevertheless valued the chance to share ideas.  Transitioners are meeting with the council soon to plan for an Open Space event on sustainability issues for businesses sometime in the spring – which Transition Town members will facilitate.
Another ripple saw Transition members work with the council's new climate change officer to recruit new volunteers to act as Home Energy Auditors.   10 of these, all trained to NVQ standards, roam the borough, providing free advice to householders on cutting their bills.  One final ripple:  one of the local council's political parties (we won't say which) called on Taunton Transition Town members to advise them on their manifesto for the local elections in 2011.