5 Oct 2011
A September Round-up of What's Happening out in the World of Transition
From West Yorkshire here's an exciting story to start with.  At the Colne Valley Local Food Festival, Marsden & Slaithwaite TT have joined forces with other local groups (Handmade Bakery, Edibles and Green Valley Grocer) to form a Declaration of Independence from the global network of food!  Go Colne Valley!  Here's a short film about the Green Valley Grocer:
Part of this process has been developing a Colne-U-Copia brand for locally produced food.  A bold initiative we'll keep an eye on in future round-ups.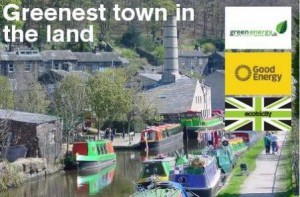 With the help of green energy suppliers, Hebden Bridge, also in West Yorkshire is striving to become 'The Greenest Town in the Land'. Following the publication of this article, an enthusiastic reader wrote to the paper offering support for the scheme and urge people to make the switch to green energy suppliers. Someone who (unsurprisingly) is not in favour of the scheme is Sir Bernard Ingham, the pro-nuclear former press secretary to Margaret Thatcher, who then railed against Transition in his column in the paper, stating "Let us make sure Hebden Bridge as a Transition Town is not in transit to joblessness and penury".  Bless 'im.  You can read more about the debates that ensued here.
Transition Town Winvenhoe in Essex held a Barn Dance to celebrate their many successes to date, read more in their local online rag The Daily Gazette. Four local Transition groups in Worcestershire – Evesham, Pershore, Malvern and Worcester, joined forces to put on an Energy Festival in Worcester Town Hall.  Transition Town Worthing are still progressing well with creating their Energy Descent Action Plan: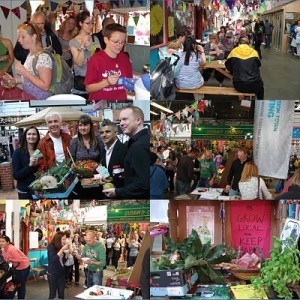 In Lincolnshire, TT Horncastle put on The Edible Garden Open Day and later in the month cycled, walked or roller-skated in aid of the global Moving Planet day on 24 Sept.  In London, TT Tooting celebrated their fourth annual Foodival (see left) where purchases were made using a prototype Tooting currency called the Tooting Root! The story was also covered here in the local press.
The Tooting Foodival is just one of the 'Transition in Action' case studies you can find in 'The Transition Companion' which was launched this week at an event in Totnes, and will be launched a second time at Food from the Sky in Crouch End at lunchtime on Wednesday 12th October.  Come along!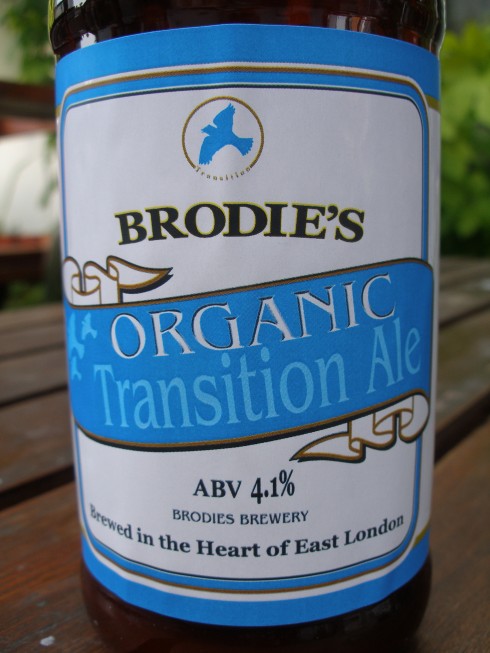 Transition Leytonstone and local brewer Brodie's teamed up to make a Transition Ale (see above) and had a launch event called a Lark in the Pastures to sample and celebrate this new eco-brew. The Transition Ale has not only been enjoyed locally and covered in the local press but Tate Modern restaurant in London has taken 50 cases on the strength of their sommelier's nose!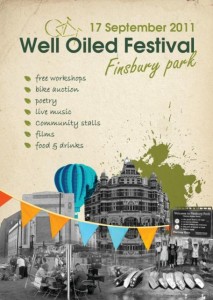 Transition Finsbury Park (London) held their second Well Oiled Festival which was attended by around 1,000 people who could enjoy live music, workshops a bike auction and much more..  On the left you can see the rather fine poster they made for the occasion.
Transition Stroud recently held a very popular Edible Gardens Open Weekend. Here is a film about the event:
… as part of which they held a workshop on keeping chickens …
They also held an Eco-Renovation Open Homes, which included an introduction to internal insulation…
… as well as offering participants some 'random energy-saving ideas'…
… and a workshop on how to make green roofs …
TT High Wycombe (Bucks) held a SuperHomes guided tour (see poster below) in conjunction with SEA (Sustainable Energy Academy) where people were invited to visit this local 1980's home with a huge 90% carbon saving.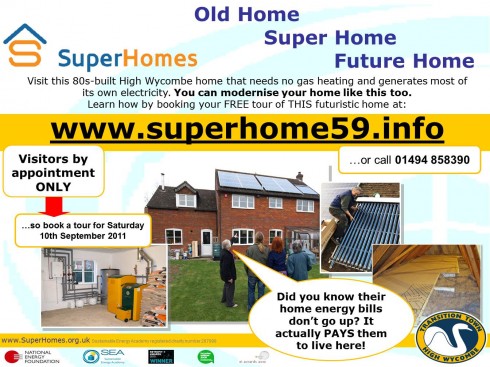 Exciting developments in Bath with the launch of the very ambitious Bath and West Community Energy who are holding their share launch this evening at 6pm at the Guildhall in Bath.  They are modelling a new approach to community energy companies that is very exciting.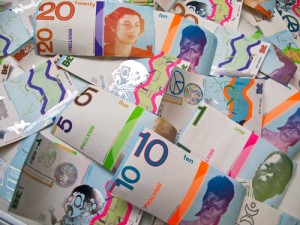 Another exciting development has been the launch of the Brixton Pound as an electronic currency, as well as the launch of a new set of notes. You can buy a collector's set of the new notes here, and have a first glimpse of them to the right.  Here is a short film about how the new electronic Brixton Pound works:
Transition Glastonbury in Somerset were one of several groups supporting the fifth annual Harvest Show at Glastonbury Town Hall.   Roz Savage, ocean rower, stopped off in Transition Town Totnes on day 142 of her journey to visit Isabel Carlisle and get the low down on her work in education for a Transition future.  Another recent visitor to Totnes was Joshua Tsai from Taiwan, who made this curious document of his trip…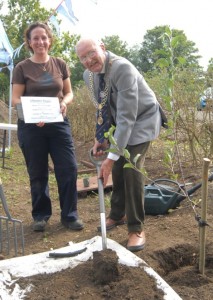 Stamford Transition Town in Lincolnshire joined several other community groups in orchestrating the opening of a community garden (see left).   TT Exmouth in Devon put on a Local Food Pot Luck to encourage people to network, learn more about the sustainability focused projects happening in and around  Exmouth and share locally sourced food.   The towns of Marlborough in Wiltshire and Honiton in Devon are both close to becoming official Transition Towns through support from the town council and a growing number of local residents.
In Scotland, Paisley TT invited local people to go along to Johnstone Town Hall and join a discussion about an EDAP (Energy Descent Action Plan) for Renfrewshire.   PEDAL – Portabello Transition Town in Edinburgh, Scotland held an event to celebrate one year of the Porty Organic Market. This event is one of 12 local food cel­eb­ra­tions in urban and rural com­munit­ies across Scotland being held as part of the Blasda Food Feast (Blasda is Gaelic for 'tasty').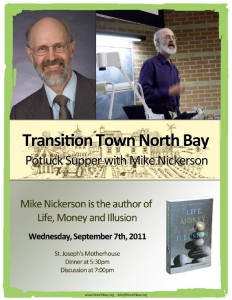 In Canada, Peterborough (ON) the Purple Onion Festival was held to celebrate local food and culture at Millennium Park.  This took place on the same day as the 350.org global Moving Together event on September 24 and began with a procession into the grounds which included representatives of First Nations.   TT North Bay (ON) held a Pot Luck Supper with Mike Nickerson author of Life, Money & Illusion (see right).
In Prince Rupert, British Columbia, Ken Shaw and Lee Brain gave a presentation to their local community about Transition.  Here is Part One of that presentation:
… and here is Part Two…
Transition Town Orilla (ON) holds monthly community forums open to all. This month the topic was the role of arts and culture in creating a resilient community in a post-oil world.   Alberni Valley (BC) Transition Town Society and another local community group are joining forces to bring awareness to the green space and outdoor activities available in their neighbourhood. Read the full story here.   In the wonderfully named Salmon Arm Observer, Shuswap in Transition (BC) highlight their upcoming Money as Dept film series.
For all things Transition US related, from Arizona to Washington, please check out their very own September roundup.  We'll start with this interview of Trathen Heckman of Transition US and Daily Acts:
Cat, Transition Network's Diversity Coordinator bought our attention to the wording used on the home page of Jamaica Plain (JP) New Economy Transition which addresses both inequality and diversity. Class, race and culture form an integral part of this Boston (MA) neighbourhood and as such it features in their mission statement. September events for JP included an event at a local church with panellists contributing to a report back from the Tar Sands Action at The White House.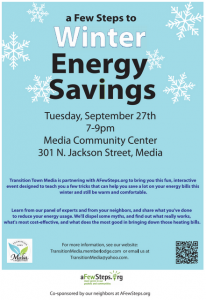 In Media, PA TT Media and AFewSteps.org teamed up for a Winter Energy Savings event (see right).  The movie premier for Within Reach, a kind of post-carbon, community-seeking road trip movie which features Transition,  was held in Berkeley, CA at the David Brower Center.   In case you missed Rob's Transition Culture post, here is a link to the audio recording of Rob's webinar (part 2) with Transition US centred around the ingredients of The Transition Companion.
In Chico CA, at the GRUB Cooperative, a Transition screening of The World According to Monsanto was held as a money raiser.   In Clayton GA, a Transition presentation was hijacked by two people who proceeded to question peak oil and then hand out literature aligned with Agenda 21 propaganda!
Let's whizz over to Europe now.  Check out this CNN iReport on the first ever German Transition Town – Kiezwandler.  From Italy, here is a great film of Ellen Bermann of Transition Italia giving a presentation:
Really exciting news from Turkey where the country's first ever Transition Training event took place at Pastoral Vadi ('Idyllic Valley'), a permaculture-based eco-resort near Fethiye. Read Lisa Munniksma's report for Urban Farm Online which Rob also blogged via Transition Culture. As part of it they built the clay oven you can see to the left.
Rob Hopkins recently did a whistle-stop tour to Belgium and Holland, you can read more about that here, and here are a couple of films from the talk he gave in Brussels to about 600 people in a very very hot venue (note his resemblance to a tomato).  Here's the last few minutes of the talk:
… and a bit from the questions and answers at the end…
… and here is a photo of some of the attendees from the 'Transitie Conferentie 2011' event in Deventer which ran over 3 days and was attended, during that time, by over 1,000 people.

Also from Holland, here is a film from Rotterdam of something happening in a place in the middle of the city with a rather fine urban food garden…
… and Transition Town Houten have been out picking apples, a practice which translates beautifully into Dutch as "applepluk":
Here, also from Holland, is a film about Transition which includes an interview with Ineke Wierden, who is described as being a "Transition Town initiatiefneemster"….
https://youtu.be/z5ESV8nckB8
… and here is a piece from Dutch TV about Transition Town Roermond:
https://www.youtube.com/watch?v=fJeYjU6Hb6Q

And finally, we received an e-mail from Robin Adams of Norfolk Island, a tiny island in the South Pacific just 5 miles x 3 miles (see their flag, right). As secretary for Sustainable Norfolk they have, in Robin's own words – "just completed a draft Community Economic Transition Plan, next step is to explore how that can tie in with the Transition Culture and the possibility of exploring becoming a Transition Island!" Scroll out from this Google map image to see just how remote this beautiful island is.  We'd all love to go and visit to support this initiative in person, but getting the trains to join up is proving a bit difficult!