8 Nov 2011
Local currencies, Transition Councils and Declarations of Food Independence: it must be the October Transition podcast!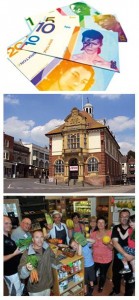 Here's the second Transition podcast.  The idea with these is that they will explore some of the stories from the month's 'Round up of what's happening in the world of Transition' in greater depth.  So, this month we hear from Brixton about the latest developments with the Brixton Pound, from the Wiltshire town whose Town Council just voted to become a Transition Council, and from the Yorkshire valley that recently declared independence from the global food system.  There will also be the occasional one that is specific to a particular event or topic, but these monthly podcasts will now hopefully be a regular feature, both here and at the Transition Network's site.  I hope you enjoy it, and do let us know what you think.
Some of these stories feature in 'The Transition Companion', and you can subscribe to Transition Network's monthly newsletter here.