29 Feb 2012
A February Round-up of What's Happening out in the World of Transition
This month's round-up adds in a new dimension for the first time.  Thanks to the newly established network of international Transition hubs, we have a number of international stories sent in especially for this roundup.  We'll start in Canada.  Here, sent in by Jennifer Rice, is a speech by Lee Brain, a young man in the community of Prince Rupert, BC.  He is one of the main coordinators for the Transition Prince Rupert initiative, still in the mulling stage about to become official.  His speech is in regards to a 1200km pipeline project being built from Alberta to the coast of British Columbia. He delivers riveting testimony to a government Joint Review Panel that is holding community hearings.  It has already been viewed nearly 37,500 times on YouTube.
You can also read a news story about it here, and you'll find a film of Transition Prince Rupert's first public event, which was included in an earlier round-up, here, and Lee himself appears in Part Two).  Michelle Colussi, a Transition Trainer and member of Transition Victoria, BC emailed to tell us that although there is no Transition Canada hub yet, there are over 20 official initiatives across the country and another 20 or so mullers, as well as 10 active trainers.  A summary of Canadian Transition projects in the areas of food and economy (both from last year) are located in blogs here and here.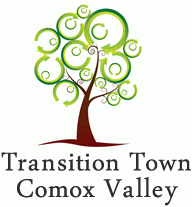 Also in British Columbia, Alberni Valley TT Society turned the spotlight onto consumerism by screening The Clean Bin Project, a couple's 'zero waste, consumer free year'.  TT-Comox Valley held their fourth meeting. Click here (scroll down) to see some photos of the trade show style event.
We've heard of Transition Towns, even of Transition Universities (more to come on that later), but a 'Transition Bus'?  From Quebec comes news of The Transition Bus.  The 'Another World is En Route' project comes to us from Charlotte and Camille who blog here about their latest on the road exploits from Québec province to Key West Florida.
And so to France.  Thanks to Kitty de Bruin who provided this story:
"In our community garden of 3000 m2, where we will grow old varieties of vegetables and herbs based in old kiwi storage boxes, given to our Transition group by a organic kiwi producer.  The garden sculpture will be made entirely from recuperated and recycled materials collected by the artist. Driftwood, plastic bottle caps, fish nets and lines, shells, recuperated metal wires and screws, as well as these little wheel-like pieces of plastic that have been washing up by the hundreds of thousands onto the Aquitaine coastline for the past few years now. For the longest time nobody knew what they were or where they were coming from. Now we know that a company in Portugal makes them. They use them in a mechanism to purify used water. When they are finished with them they are dumped into the ocean where they are later found in fish, birds and all over our beaches.

Using these little plastic wheels she is created a sort of picture diagram telling this story. It is mounted on a driftwood board. This board will be on top of a 3 or 4 walled structure made from many pieces of driftwood. Under it will be a hand-carved inscription "No More Pollution in our Oceans" in Portuguese and French.  It's a little hard to describe in words, but the sculpture will be like a statue of mother earth. On top will be the head like the Earthglobe made from a lot of recycled plastic bottle caps. Built into the sculpture there will be birdhouses, refuges for insects, and shelters for rodents and other little animals.

The sculpture should also be interactive and visitors of the garden could carve their own environmental message onto any of the driftwood walls. It is work in progress, the design is made, and the photographs are the little "wheels".
To read this story in French click here.  There's a lot of Transition happening in Germany.  Our thanks to Gerd Wessling for this excellent 19 minute video feature (in German) about Transition Town Witzenhausen (one of the first official TT Initiatives in Germany) and the Transition Training course done there. To watch it click here.  Here is a great photo of TT Witzenhausen demonstrating solar cooking!
From Holland here is a short film of a talk given by Transition Town Houten, and I think them talking about their website?
From Ireland, Davie Philip from the Ireland and Northern Ireland Network sends this story:
"Although this was not an official Transition event, last weekend's Community Supported Agriculture (CSA) conference in Cloughjordan Ireland was a great success and was attended by many of Irelands Transition initiatives.  On the weekend of the 17th to 19th of February hundreds of people from all over Ireland, and seven European countries, participated in a three day community supported agriculture (CSA) conference – Growing Together – in Cloughjordan, home of Ireland's largest ecovillage. With panels hosted by Irish Television's Ella McSweeney and Peter Young from the Farmers Journal and Open Space sessions facilitated by Cultivate Ireland's Davie Philip, participants that included people from organisations like the Irish Seed Savers, Organic Centre, GIY (Grow it Yourself), and numerous Transition Towns – discussed what exactly a CSA is, and how they could go about setting one up.  Transition Skerries outlined how they went about setting up their local CSA and Transition catalysts from Dublin, Omagh, Kerry and Kinsale shared their experience in building food resilience in their areas.

Community farming is a relatively new concept to Ireland, with the Cloughjordan Community Farm being one of the first in Ireland. With community farms, a relationship is built between the farmer and consumers. So both farmer and consumer share the risks, rewards and responsibilities of farming and growing food. Local members invest some of their time and money in the farm, usually as a weekly or monthly payment and some volunteering, like planting, harvesting or weeding. For this, they receive fresh, local, seasonal food and the farmer gets a guaranteed, regular income. Sessions included how CSAs can help strengthen community resilience were outlined by economic think tank FEASTA, the Foundation for the Economics of Sustainability and URGENCI, the global CSA network. There was also a specific session for farmers and growers on the mechanics of setting up and maintaining a CSA, hosted by NOTS – the National Organic Training Skillnet and films and a wonderful presentation from Amanda Daniel from the UK's Soil Association. A network of communities and growers wanting to progress CSA in Ireland was launched and a training handbook on community farming is being produced from the findings of the event. Click here for more details.
Also from Ireland, here is a short film about a World Cafe event run by Transition Town Kinsale, the place where Transition all began:
From Japan, after the earthquake and resulting tsunami that hit Japan last year, the option of rebuilding the country using renewable green energy is being seriously considered. In this Aljazeera article reporter Brendan Barrett talks about the Transition movement in general and also to Hide Enomoto of Transition Fujino.
We have this great story from the Portuguese National Hub: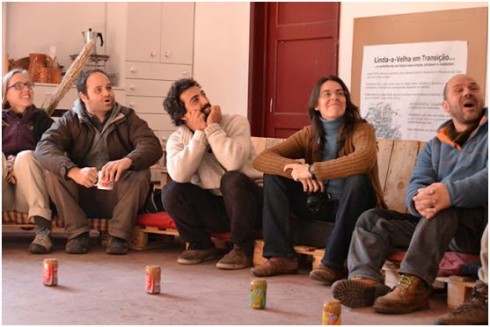 A team composed of TIs from Lisbon invited all the Portuguese initiatives to gather and discuss the future of the National Network and the creation of the National Hub. It was a sunny, chilly day (5th Feb) with a beautiful blue sky.

That was a creative, inclusive and fun group! The truth is that, even in a country going through a widely known serious economic crisis, it is in fact possible to feel positive, to build very strong connections within a heterogeneous group, dreaming the ideal network and, at the same time, being with friends, laugh, sing, dance. All this while keeping in mind how incredibly challenging and serious the role of Transition Initiatives is NOW, in this social context.

In the end, the Portuguese TIs adopted, with success, the new concept of a 'Transition National HUG" – the Portuguese hub is expected to be a particular one, responding to these particular local challenges – soon enough, there will be news about it (new chapter of this story planned to happen in April)!  For more pictures, music and dance check the video below (if you are not fluente in Portuguese do not worry, just wait for the first couple of minutes and you'll get there!).
Here are a couple of stories from Australia.  From Tasmania, Andrew Olivier has sent out Sandy Bay's first newsletter. It was interesting for us here at Transition Network to see a familiar name in there – Adrian Porter, ex resident of Totnes and once active in TTT who was invited to Waimea Heights School as guest speaker! Here is a pdf of their newsletter. Also, Transition Bellingen hosted its first World Café for 2012 and looked at what Coffs Harbour might look like in 2020 if they were a community that embraced the Transition model.
In Prince Albert, Great Karoo, Western Cape, South Africa, 22 people including Hélène Smit gathered and held a meeting to discuss the possibility of the town becoming a Transition Town! Read Hélène's blog piece here.
And so now to the UK.  Transition Network has been chosen as one of Britain's 50 New Radicals – read more in Rob Hopkins' blog post on Transition Culture or here on the NESTA site. NESTA is the National Endowment for Science, Technology and the Arts – an independent body with a mission to make the UK more innovative.
From Essex, here is a video clip sent in by Kamil from Transition Southend.  It features Ian Hurd talking about The Fantastic Food Exchange. This took place back in December, however this bartering and skill share fest could be enjoyed at any time of year and is well worth a watch.
TT Musselburgh are making plans to plant fruit and veg along the river Esk and even get a community orchard going on an industrial estate! Read more in the East Lothian News (see above).  TT Cheltenham are using a £5k govt grant to look at the prospect of the River Chelt providing small scale hydroelectricity.
Transition Town Worthing have made this short film about their recent Seed Swap.  The film uses 'Atmosphere' by Joy Division as its soundtrack.  What's not to love about that?
Transition doesn't always manage to gain a foothold or generate enough interest to move it forward.  We were sad to hear that TT Sevenoaks are facing the prospect of closing down next year due to lack of interest from the local community.  If you have any helpful thoughts or suggestions for TT Sevenoaks, please send them here.  The Kirkbymoorside Environment Group, part of the Transition Town movement within this small North Yorkshire market town, outline in this short film how their recently purchased infra-red camera can be used by residents to detect heat loss from their homes.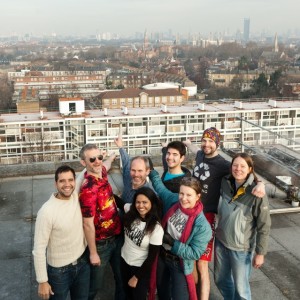 One of the most fascinating stories of the past month has been the launch of Brixton Energy (see right).  TT Brixton's Energy group are pushing for London's first co-operatively owned solar power station and have a launched share option!   A very exciting initiative, the first Transition initiative to launch an energy company for a distinct urban neighbourhood.  We wish the all the best with it.  As we go to press, they just tweeted the following, "Printed Copies of our 100% recycled Share Offer are ready! "They look good enough to eat!.."professional, sleek & energised. Just love it!".  You can follow them on Twitter @BrixtonEnergy.  There are lots of Transition initiatives on Twitter, it can be a good way to keep in touch with what they are up to between these round-ups.
Volunteers from TT Crystal Palace and Friends of Westow Park are clearing a park to make way for an edible community garden.  TT-Shrewsbury has been awarded £42,725 via the government backed Local Energy Assessment Fun (LEAF) scheme. Read more in this BBC news story.
From Hebden Bridge, West Yorkshire, you can read this story about their Transition Trees project (see left), a truly joint effort between the TT's Working Woodslands group, Blackshawhead Optimistic Gardeners, Blackshawhead Environmental Action Team and Hebden Royd Town Council.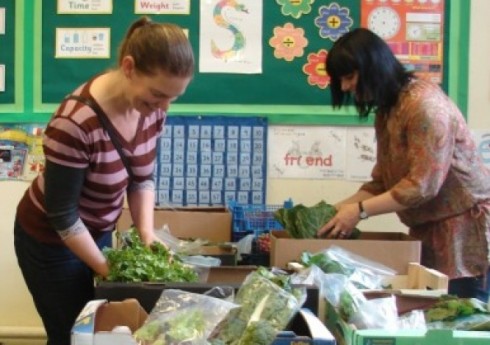 Also in Hebden Bridge, read more about their HebVeg CSA box scheme (see right). From that part of the world, from the Leeds University Union, here is Ben Jackson, LUU's Education Officer, to tell us more about the launch of their Transition University campaign:
… and here are Rhianon and Martha from People and Planet Leeds explaining Transition and how they're involved in the campaign:
… and lastly Sam from People and Planet Leeds giving a really short summary about the idea of "Transition Universities":
Now let's hop across the pond (metaphorically, no flights were taken in the making of this round-up!).  You can read the official Transition US February roundup click here.  In Vermont, T-Brattleboro is hosting a 'sense of place' series exploring connections to the natural world, mentoring, and regenerative community relations. The series concludes next month with lessons from The Peacemaker and The Haudenosaunee, a fascinating story of tribal war to peace shared  here in Culture for a Healthy World by Sophy Banks of TN.  From Washington State, here is a film of Judith Alexander talking about the Transition initiative she is part of in Port Townsend.  In California, Transition Sonoma Valley has had to turn eager people away due to their highly popular film nights which this month screened The Next Frontier – Engineering the Golden Age of Green. Read more about the collective genius of T-Sonoma Valley here (see pic right).  Here is a film about them too:
In Alisa Viego, local resident Kimberley Leeds's (left) desire to feel more connected to her neighbours was the driving force behind her starting up a Transition group. Opening up her home for regular pot luck meals served as the perfect catalyst.
In Telluride, Colorado, monthly Green Business Roundtable discussions are taking place. The first session, led by  Michael Brownlee of Transition Colorado and Woody Tasch of the Slow Money Alliance looked specifically at building a more resilient community.  Here is a video of the event:

In Florida, an Occupy Tallahassee event held a presentation on Transition Towns and a Daily Kos reporter who is new to the whole concept of Transition went along to find out more.
From Massachusetts, Orion Kriegman, founder of Jamaica Plain (JP) New Economy Transition (who featured in last month's Transition podcast, which I'll embed here in case you missed it), talks about the local Egleston Community Orchard in this great Q&A session featured in local paper the JP Patch.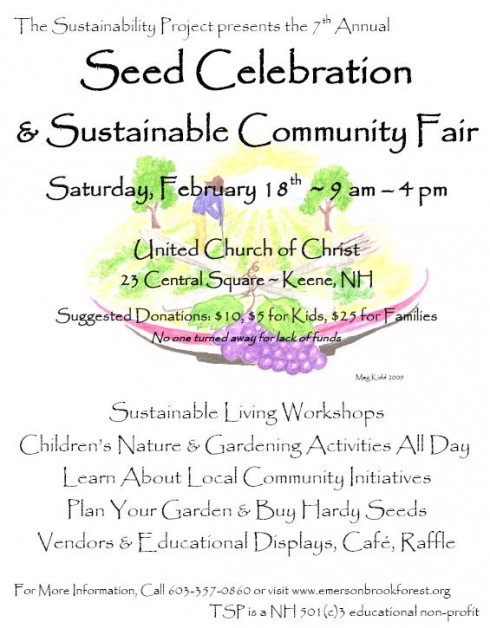 In North Carolina, the folks who attend the United Church of Chapel Hill are not only deeply committed to their faith; they are also committed to a carbon fast for lent! This article delves deeper in to the journey of one congregation and the steps they are taking to Transition to a more sustainable way of being.  In New Hampshire, Keene Transition held their 7th annual seed celebration and sustainable community fair which included workshops, an open space event and a poster competition.
If you would like any stories included in next month's round up do let us know.  Also, if you have any thoughts as to which of these should be gone into in more depth in this month's Transition podcast, do put a comment below this piece.