15 Nov 2012
What happens when local authorities ask "what if the economic situation doesn't get better?"
Today's guest post is from Fiona Ward of Transition Network's REconomy Project: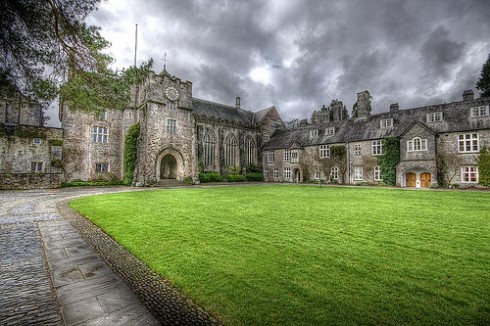 The question in this post's title was one of the challenging questions asked at the Solace South West Autumn Seminar, held at Dartington, Devon in early November.  The event was called "Room to Think" and to that I would add "about the things we don't really want to think about".  The event organiser for this year was Richard Sheard, CEO of South Hams District Council and West Devon Borough Council. He said:
"Within these 2 days, I wanted to raise some important questions about the difficulties we face in local government in these increasingly uncertain times. Besides questioning growth, should wellbeing rather than GDP be our measure of success? And what's the role of communities in leading their own future and delivering local solutions? I wanted to provide some challenges to the status quo, and also look at some of the potential solutions that are emerging."
… and so 25 CEOs and other senior figures from local government across the South West arrived in the beautiful setting of Dartington, to explore this unchartered territory.  We started with a brief economic forecast from each attendee – are we headed for blue skies and a return to economic growth, will it remain unsettled for quite some time or is even stormier weather ahead? About three quarters of the group didn't believe that we would be getting back to growth as we have known it in the past, and some of the forecasts included:
 "If we ever get out of this recession, nothing will be as it was in the past"

"Each generation has had things better than the last one, but not anymore"

"Future generations will look back and say this was the start of the end of the West"
Interesting to compare these to the generally accepted economic forecasts from the government and traditional economists that it's only a matter of time – though it may be long and bumpy – but ultimately we will be back on track for growth. But perhaps they know something we don't?
The event format was much more interactive than in previous years, with short presentations followed by discussion and challenge in small groups or plenary. The speakers were outstanding, each giving a fascinating insight into a piece of the puzzle: Jules Peck (New Economics Foundation,  nef), Nigel Jump (Strategic Economist), Mel Usher (Leader of Frome Town Council), Maxwell Wide (iPower) and Rob Hopkins (Transition Network).
I was invited to help shape and facilitate the event, and here I'm going to attempt to capture the sense of the debate overall. As someone unfamiliar with the culture and workings of local government (I am from a large corporate business background, and now work for the Transition Network – part of the community-led solution), it was an eye opening insight into the world of local government.
In one corner of the debate, participants subscribed to the view that  the issues we face are mainly based on an economic growth system that is incompatible with the finite planet we call home; there's an urgent need to reduce carbon emissions to avoid catastrophic climate change (we aren't doing anywhere near enough, don't be fooled by what you hear to the contrary); we need to reduce inequity to avoid social unrest (because it's unfair) and we are living beyond our ecological means, and it's not even making us happy – evidence shows wellbeing is down, and ill-being is up. Actually, we likely won't have a choice about whether we keep this system going on not. It's based on large supplies of very cheap energy, and we know this supply is in decline while demand continues to grow.
In the other corner, participants reflected the wider view that people are being over-pessimistic about economic growth; that the planet can accommodate lifestyle choices; that climate change is not a serious issue and we needn't worry about living within our ecological means.
The good news is that macro-economic growth may not be required to deliver wellbeing after all. Our belief in growth is being questioned by nef, and other credible economists and organisations, who are calling for a new type of economics, one based on prosperity through wellbeing. For example, it's been shown that earning over about £15,000 per year does not add significantly to an individual's wellbeing. And while we have certainly seen a rise in living standards, we know that 'trickle-down' is more like 'hoover-up' in reality.
But without growth, and tax revenues from good incomes, how will public services be delivered? This is where we are already seeing local community organisations across the country stepping up with viable solutions, many of these linked to the Transition movement (a grass roots community-based movement that started in Totnes in 2006, and has since spread to over a thousand places in 34 countries), or to proactive community organisations operating at a very local place level.
These projects are building social capital, exploring ways to bring more people into a voluntary caring role, re-skilling people in practical ways to transform their livelihoods, reducing carbon footprints of households, launching renewable energy companies and other local businesses in which communities can invest, and developing community-led economic strategies that support local job growth and real opportunity, in the energy efficiency sector for example. In other words, community led, local action is the living embodiment of wellbeing with its five fundamental ingredients: connecting; being active; taking notice; keeping learning and giving – and reason enough for councils to start thinking different about their role.
New ways of working like Co-production provide structure to joint design and delivery of community services. Democratic participation at the local level can increase; 10 of 17 town councillors in Frome are a united independent party who committed to make significant impacts within their 4 year term. Voter turnout increased by 75%.
"Collaborative consumption", where people share goods and services between themselves, often supported by online tools such as Whipcar which lets you rent your neighbour's car, or Zopa which enables people to people lending, with no banks involved is gaining increasing attention. This emerging trend, this desire for sharing and meeting mutual interests while reducing consumer consumption seems to have potential for public services too, though we didn't have enough time to explore this in detail.
There are new opportunities for councils to invest their pension funds, for example, in credible low risk community owned local energy companies. Some councils are reviewing their procurement spend and finding ways to ensure more of it reaches their own local economy, supporting local livelihoods. The new Localism laws can further support community participation around ownership and operation of assets, though there is a concern that central government is moving away from promotion of Localism, and now promoting growth at any cost.
So – is any of this remotely viable? Was the group inspired by the ideas and stories of practical projects already underway? Can and should local government take on these ideas, and potentially, radically transform the way they work?
Our final reflections as a group were perhaps surprisingly upbeat and positive.  Having stared our very real problems in the face, we started to explore  potential solutions and generally, were lifted by a sense of optimism that local solutions can be found and are already being demonstrated, balanced by a concern whether these solutions can scale up to meet the size of the problem. Some were enormously positive this was the case, while others had some reservations but were willing to keep an open mind.
The level of self-reflection and honesty from the CEOs and other senior officers was impressive. Many in the group felt they had the potential to be more powerful in their leadership role, that taking the time to address these issues was essential, and the challenge was not to get sucked back into the day to day smaller issues (e.g. local pigeon problems!).  However, the average CEO term of only 2 years and 7 months can impact greatly on their capacity to influence significant change and level of risk taking. We noted that it is not a low risk strategy for a council for stay as it is, in fact, this is possibly the highest risk strategy of all?
It was suggested that it needs to be increasingly acceptable that in addition to some strategic activity across its area, a council will need to do more selective, better tailored work at neighbourhood and individual level to meet the priority needs and make best use of scarce resources. It also needs to be more acceptable to explore different ways of working and partnering. Some of these innovations will not work out, and we need to find ways to allow failure in the interests of experimentation, without making political capital out of it.
Some had concerns about whether their members would engage with this agenda, given the potential for transfer of more power to communities – not all members are so willing to walk the Localism talk here? It was recognised however, that if the attendees had been members they would probably raise the same concern about their officers, and that it's easy for us to assume it's 'the other' that's the problem.
While relevant everywhere, and at all levels, I see more clearly that issues of power are particularly influential within local government, both political and personal. These inner (invisible) issues need to be addressed as much as the visible changes we need to see in our systems and infrastructure.
While 1 or 2 attendees were less convinced, the majority felt the event was a great success, and a help towards finding ways that local government can proactively adapt to ensure it can thrive and survive in these increasingly uncertain times.
Richard Sheard summarised his experience as "I'm unsettled, but in a positive way" and as the next step, he and some of the other CEOs have offered to organise a 1 day session open to both officers and members in early 2013, where this work to re-imagine local government can continue.
Fiona Ward, Transition Network, 8th November, 2012.