5 Mar 2013
Three days in Germany
I am just back from 3 days in Germany, and great fun it was too. I spoke on Wednesday evening in Bonn at an event organised by Bonn im Wandel (Bonn in Transition) at the University there, and on Thursday evening I was the guest of the Heinrich Böll Foundation in Berlin.  I am currently teaching myself to make short films, and here is my first (I'm doing a proper course in 2 weeks).  Nothing fancy but hopefully it captures some of the spirit of both events.
Some additional information on what's going on in the film might be useful…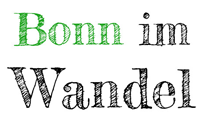 The Bonn event was called 'Potentials of the Transition movement for creation of a sustainable society', and was held in the University.  Around 280 people came. It was the first birthday anniversary of the group's first event, so members of the group introduced themselves and what they were doing and there was a cake with a single candle and the singing of 'Happy Birthday' (or rather "Zum Geburtstag viel Glück").
Then I spoke and there were questions and discussion, then there was a screening of Nils Aguilar's excellent film 'Voices of Transition'.  In the film above you see, in order, Gesa Maschkowski from Bonn im Wandel, Gerd Wessling of Transition Bielefeld and the German Transition Network, Kathleen Battke of Bonn im Wandel and Matthias Wanner, a Transition Trainer involved in creating a national hub and Transition Münster.
Here's the trailer for 'Voices of Transition', in case you haven't seen it:
After talking to lots of people and sampling the delicious local beer, I headed off to spend the night in a beautiful cohousing project (on the left in the photo below…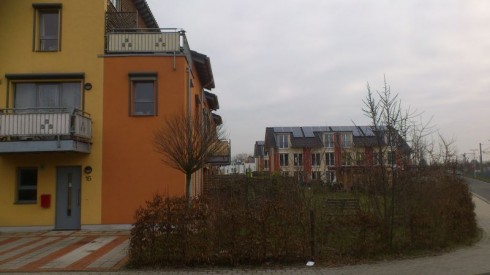 The Berlin event next day was held in the offices of the Heinrich Böll Foundation.  On their main stairs they have this very funky sheep carpet: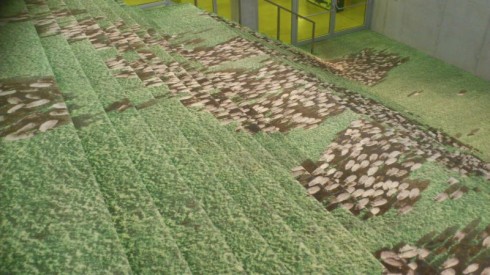 The evening was chaired by the Foundation's President, Barbara Unmüßig, and featured Renate Künast, one of the two Green parliamentary group leaders in the German parliament (a kind of German Caroline Lucas), who gave a response to my presentation.  Here is the video of the whole event:
Here is the audio just of my talk…
… and then of the whole thing
The evening rounded off with another screening of 'Voices of Transition' followed by a short discussion. Can't say I saw much of Berlin, but met loads of really great people and there was a fantastic buzz around the whole event.  It was great to meet people from different German groups, including some of those doing Transition in Berlin.
I'd like to thank Nils Aguilar for the invitation and for his film, Heinrich-Böll-Stiftung for sponsoring the trip, Gerd Wessling for his companionship and kindness, Kathleen and Thomas for their hospitality and to everyone else I met for a great couple of days.